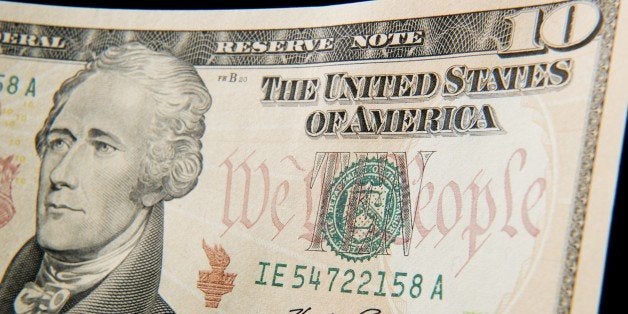 The survey shows few Americans particularly concerned about the fact that paper money currently doesn't feature any women. Just 23 percent said it's unfair. But 51 percent approve of the plan to add a female portrait to the $10 bill when it's revamped in 2020, while just 37 percent disapprove.
Women are 8 percentage points more likely than men to like the idea: 55 percent to 47 percent. There's a greater divide along party lines, with 72 percent of Democrats and only 34 percent of Republicans supportive of the change.
The $10 note, which now honors the first Treasury secretary, Alexander Hamilton, happens to be next in line for Treasury to revamp. But petitions from the nonprofit Women On 20s have been calling for a woman to replace President Andrew Jackson on the $20 bill instead. Some Americans expressed disappointment at the decision to leave the $20 note as is for now.
"Hamilton's demotion is intended to make room to honor a deserving woman on the face of our currency. That's a fine idea, but it shouldn't come at Hamilton's expense," former Fed Chairman Ben Bernanke wrote in a blog post Monday. "As many have pointed out, a better solution is available: Replace Andrew Jackson, a man of many unattractive qualities and a poor president, on the twenty dollar bill."
Most Americans, though, don't feel so strongly about replacing Jackson. Asked which politician they'd most like to see replaced on the currency, 14 percent named Jackson, while 12 percent would prefer to bump Hamilton from the $10 and another 12 percent wanted to drop Ulysses S. Grant from the $50.
An online survey conducted earlier this year by Women on 20s solicited opinions on which woman should be chosen and came up with four finalists: Underground Railroad conductor Harriet Tubman, first lady Eleanor Roosevelt, civil rights activist Rosa Parks and onetime Cherokee Nation chief Wilma Mankiller. In the Huffpost/YouGov survey, 25 percent chose Roosevelt from that list as the woman they'd most like to see on the $10 bill, while 17 percent picked Tubman, 16 percent named Parks, 2 percent chose Mankiller, and 39 percent wanted someone else or weren't sure.
Whichever woman ends up on the $10 bill, Americans may not see her face all that often. Just 23 percent said they make cash purchases on a daily basis, while 38 percent reported using cash less often than once a week.
The HuffPost/YouGov poll consisted of 1,000 completed interviews conducted June 19-22 among U.S. adults using a sample selected from YouGov's opt-in online panel to match the demographics and other characteristics of the adult U.S. population.
The Huffington Post has teamed up with YouGov to conduct daily opinion polls. You can learn more about this project and take part in YouGov's nationally representative opinion polling. Data from all HuffPost/YouGov polls can be found here. More details on the poll's methodology are available here.
Most surveys report a margin of error that represents some, but not all, potential survey errors. YouGov's reports include a model-based margin of error, which rests on a specific set of statistical assumptions about the selected sample, rather than the standard methodology for random probability sampling. If these assumptions are wrong, the model-based margin of error may also be inaccurate. Click here for a more detailed explanation of the model-based margin of error.
Calling all HuffPost superfans!
Sign up for membership to become a founding member and help shape HuffPost's next chapter
BEFORE YOU GO
PHOTO GALLERY
Treasury Secretaries Through The Years