Restaurateur Ken Friedman has been accused of sexual misconduct by 10 women, according to a New York Times report on Tuesday.
According to accusations in the Times piece, Friedman regularly groped his employees and asked them for nude photos, sex, and to join him in group sex. He allegedly once shoved an employee's face into his crotch in front of Amy Poehler.
One of the most disturbing details from the report focused on the Spotted Pig's third floor, reserved for V.I.P.s and called "the rape room" by employees.
Along with the Spotted Pig, Friedman and chef April Bloomfield own and operate four other restaurants in New York, one in San Francisco and one that just opened in Los Angeles.
After the Times article appeared on Tuesday, Friedman's company announced that he was taking an indefinite leave of absence.
In statement to the newspaper, Friedman said, "Some incidents were not as described, but context and content are not today's discussion. I apologize now publicly for my actions."
The article also said that Batali was a frequent presence at the restaurant, and that employees nicknamed him "the Red Menace."
Batali "tried to touch my breasts and told me that they were beautiful," a server told the Times. "He wanted to wrestle. As I was serving drinks to his table, he told me I should sit on his friend's face."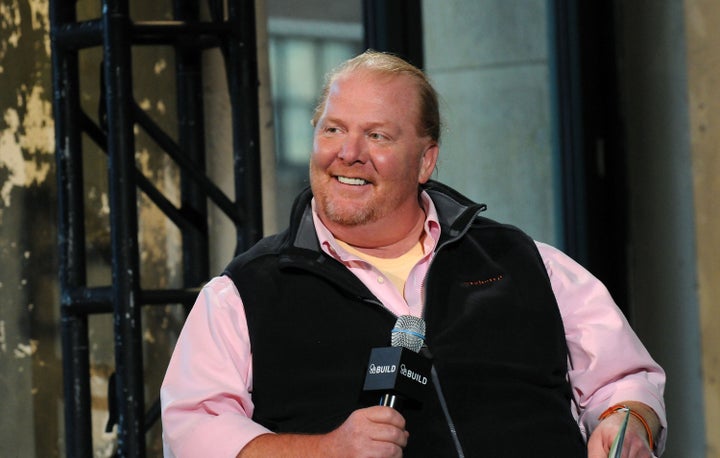 Jamie Seet, a former manager at the Spotted Pig, described for the Times an incident involving Batali on the third floor in 2008. She said that during a party, "she intervened when she saw on the security camera feed that Mr. Batali, who was drunk, was groping and kissing a woman who appeared to be unconscious," the report said.
Batali stepped away from his restaurant group and talk show duties on Monday after Eater published a report documenting his sexual misconduct over the past two decades.