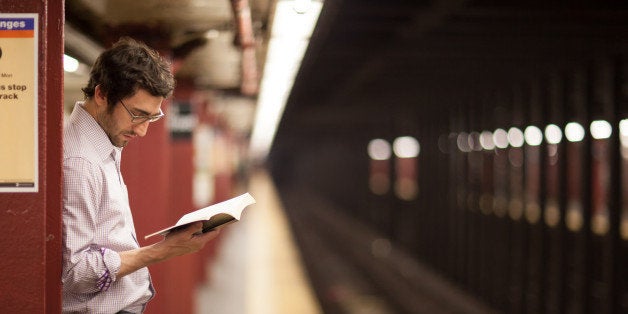 The word for a book-lover is a 'bibliophile,' a word first recorded in print -- according to the Oxford English Dictionary -- in 1824. Alternatively, there is the word 'bookworm,' which is of an altogether older pedigree: it first appears in 1580. (The poet and playwright Ben Jonson went on to use it in one of his plays, a satire which bears the pleasing title of Cynthia's Revels, or The Fountain of Self-Love.) But what words should every good bibliophile and bookworm know? Here are some of my favorites.
Well, if you like words, you're probably guilty of EPEOLATRY, which means 'the worship of words.' This word first appears in an 1860 book by Oliver Wendell Holmes Senior. If you consider yourself an educated or 'lettered' person, you might be described as a LITERARIAN, a word adopted from the French in the 18th century and probably modeled on similar words such as 'librarian' and 'antiquarian.'
Some people consider themselves highly educated and lettered literarians, but in fact they are often ULTRACREPIDARIAN -- a word which refers to someone who gives an opinion on things s/he knows nothing about. This rather useful word is first recorded in a letter of 1819 written by influential critic William Hazlitt (indeed, he applies the word 'ultracrepidarian' to a critic here in its inaugural use). This word also has an interesting etymology: it literally means 'beyond the sole,' an allusion to a story involving the ancient Greek painter Apelles. According to Pliny the Elder, a cobbler criticised Apelles' painting of a shoe, stating that it was inaccurate. Apelles promptly redid the painting. The cobbler, spurred on by the effect his first criticism had had upon the artist, proceeded to criticise the way Apelles had painted the leg above the shoe. But this was too much for Apelles, who reportedly warned the cobbler, 'Let the shoemaker venture no further.' The cheeky cobbler had ventured 'beyond the sole' -- i.e., beyond his own field of expertise. (This story is doubly apt, given that ultracrepidarians often talk a load of cobblers.)
Another word for this sort of person, whom you may overhear mouthing off about books, films, politics, or, indeed, anything at the next table in the pub or the coffee house, is MOROSOPH. A 'morosoph' is a would-be philosopher -- a fool who thinks he's clever than he is. The word comes from the French writer Rabelais, where the 'moro-' is from the Greek meaning 'dull' or 'stupid' and the '-soph' from the Greek for 'wise.' Morosophs are foolish for thinking themselves so wise.
If you're not only an avid reader, but one of those people who simply cannot leave the house without a tome stashed in your pocket or bag, then it may interest you to know that Scottish novelist and poet Sir Walter Scott coined the phrase BOOK-BOSOMED to describe someone who carries a book at all times. The phrase first appears in Scott's celebrated 1805 poem The Lay of the Last Minstrel.
However, beware you don't get accused of overdoing the books: BIBLIOBIBULI was American humorist H. L. Mencken's coinage, and it refers to people who read too much. Is there such a thing as reading too much? Well, Mencken thought so: 'There are some people who read too much: the bibliobibuli. I know some who are constantly drunk on books, as other men are drunk on whiskey or religion. They wander through this most diverting and stimulating of worlds in a haze, seeing nothing and hearing nothing.'
Perhaps now would be a good time to head to the library and view the INCUNABULA. This word can be used generally to mean something in its early stages; however, it also specifically means any book printed before 1500 -- that is, in the early stages of printing. 'Incunabula' comes from the Latin for 'swaddling-clothes.'
If you've read this far, the chances are you're a voracious reader, someone who might be described as a BIBLIOPHAGIST -- literally, a devourer of books.
I'll leave you with my own suggestion, BIBLIOSMIA -- meaning the act of smelling books, especially as a way of getting a 'fix' from the aroma of old tomes. Let's get this coinage out there -- I reckon there are more bibliosmiacs out there than many people would realise. It's time we stood up, book in hand, to be counted.
Related
Popular in the Community