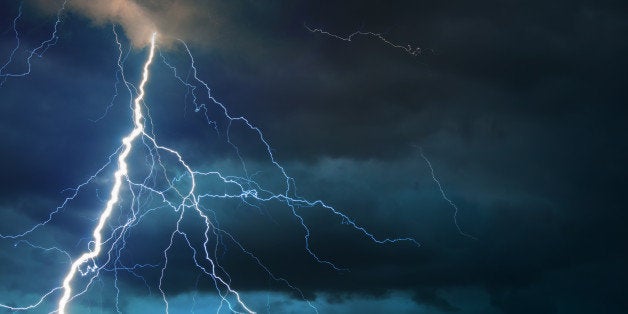 Ten years have passed since my divorce, an easy number for me to remember as it was the year of my son's birth. It was also the year that the economy started tipping over the cliff; I felt the signs of an impending crash while unsuccessfully attempting to sell our house. Since then I've remarried, become a successful sales person and sent my daughter off to college.
I distinctly remember a dream that I had back when the divorce happened. In that dream, I was with a younger women, a bit more reserved and nervous. She was sitting on a pedestal. I was older, louder and feistier than she was. We were about to venture into a new world and I asked her to stay back a while. I asked her to hang on and let me build a career, a home and a strong foundation for us. When I woke up and thought about that dream, I realized that both women were me. I asked the side of me that once depended on someone else to go away for a while. I would bring her back as soon as I built a life for us.
The thing is is that we are many people in our lifetimes, often defined by the club that we are in (married with kids) or career that we have (sales executive). When those clubs change, our personalities sometime go along with it, often by default. It takes real effort maintain a sense of identity or remember yourself, despite the rapidly changing altitudes that exist in.
When I became a single mother, I hung on to my career without even letting my colleagues or managers know what was going on. In fact, my boss at the time only suspected something was off when I asked for a corporate credit card (as mine was no longer accepting charges). As they might say in popular psychology, I transferred all of my needs for power and community onto the one constant in my life, my career.
What an incredibly powerful move that was for me, despite the hell that we were all about to go through. I held on to my skyrocketing career with one hand and with the other onto my kids, for dear life. It was as though we were in a bouncy house during a storm, with our foundation falling below us. I was catupulted straight out of my comfort zone, through the most unstable and scary phase in my life.
I recently had another dream (oh these pesky dreams) where I was at a convention of corporate and military women celebrating achievements, and ranks were being given out. I saw other women who had become very high ranking. I was at the first, lowest rank, (1 out of 100). I felt so much pain in that dream and woke up to the same feeling. I should mention that I just left my last corporate job, after 17 years of being 'corporate' to work with a smaller group of people in a much more entrepreneurial role. This role brings me back to my authentic self, back to doing what I love, and back to enjoying my life. Despite this, the pain of losing that piece of my career identity takes me right back to 2006.
What I have learned is that we need to embrace that pain as a sign of our growth and evolution of wisdom. We will never have all of the things that our many selves wanted. But we can become the women that we need to be to thrive and the authentic person that our many selves can hold in high regard. Everyone gets older, and as divorced women we may have the added responsibility of putting ourselves on pedestools, when none else can.
This morning I dreamt of reuniting. I reunited with my younger, dependent self. My life is finally ready for her to join me.
Rena Cohen-First is a VP of Sales who has sold in the Food Ingredient Industry for the past 17 years, selling to the largest food and beverage manufacturers in the world. She is the author of The Authentic Sale, A Goddesses Guide to Business. She has taught online business and leadership classes as an adjunct instructor, studied Professional and Executive Coaching, completed her MBA and Served in the US Army. She resides in San Diego with her two children and husband. Her goal is to show every woman that she can become a Sales Goddess in all circumstances. See more about Rena at: www.thesalesgoddess.com