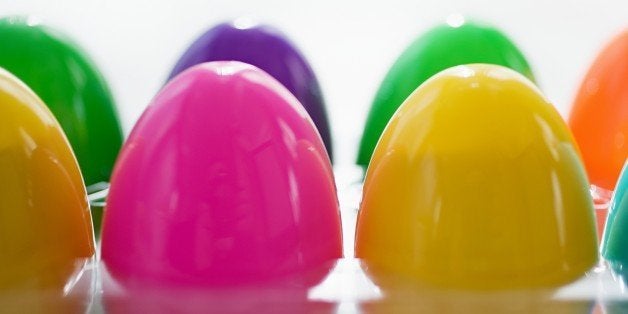 If your kiddos are anything like mine, by the time Easter Sunday rolls around, they've already gorged themselves silly on candy from town egg hunts and classroom parties.
While my boys still get a bit of candy in their baskets, I am always on the lookout for non-edible, fun treats to fill the plastic eggs for our family Easter egg hunt.
I am sharing my top 50 cavity-proof easter egg stuffer ideas here. Some are generic ideas and others are brand-specific -- prices range from .10 to about $10.00.
All of these items will fit in either a small or medium-sized plastic egg. Have fun, Bunnies!
1) Marbles (the indie bookstore in our town has a large bin of assorted marbles that cost .10 each!)
2) Cool rocks and minerals (check indie bookstores or toy stores for these)
3) Lego Minfigures (take them out of the packaging)
4) Handmade vouchers for special privileges (such as "Good for one pick-up from school by Mom, not bus.")
5) Matchbox cars (again, take out of the packaging. Smaller-sized cars will fit in the medium eggs.)
6) Vera Bradley Colorful Hair Elastics
8) Stickers (scratch and sniff are a bonus!)
9) Play-Doh mini containers
11) Two-dollar bills (get them from your bank.)
14) Plastic fire, police or Army people (drug stores often have inexpensive bags of these in the toy section.)
17) Hot Wheels Monster Jam minis
18) Schleich animal figurines
22) Kaskey Kids Mini Football, Hockey, or Soccer players
24) Seed packets (if folded, they fit in the medium eggs.)
26) Mini canvases (They fit in medium eggs! Available at art stores)
27) ALEX Toys -- Bathtime Fun Draw In The Tub crayons
28) CHARM IT! kids charms (about $5 each and these will remind you of the popular chunky, plastic, charm necklaces of the 1980s, but cuter. Available at nordstrom.com)
29) Playmobil figurines (buy an individual package and put the pieces in a medium egg, not built.)
30) Homemade voucher for items (example. "Good for one free song download on iTunes.")
34) Hexbug Nano Robotic Bug
38) Jibbitz Shoe Charms for Crocs
39) Finger puppets (IKEA has some cute ones that will fit in eggs.)
40) Mattel WWE Wrestling Rumblers Mini Figures
41) Cute pencil sharpeners
43) Little cookie cutters for Play-Doh or cookie baking
44) Melissa and Doug Wooden Stamps
47) Silly Putty (a bonus is it already comes in an egg!)
48) Soft pastel crayons (available at art stores)
49) Cute spring, enamel earrings like lady bugs and flowers
50) Make your child something special. You know how excited we get when our kiddos bring home a special, handmade, holiday gift for us from school! Find a special rock or shell, paint it, and put it in an egg with love for your kiddo.