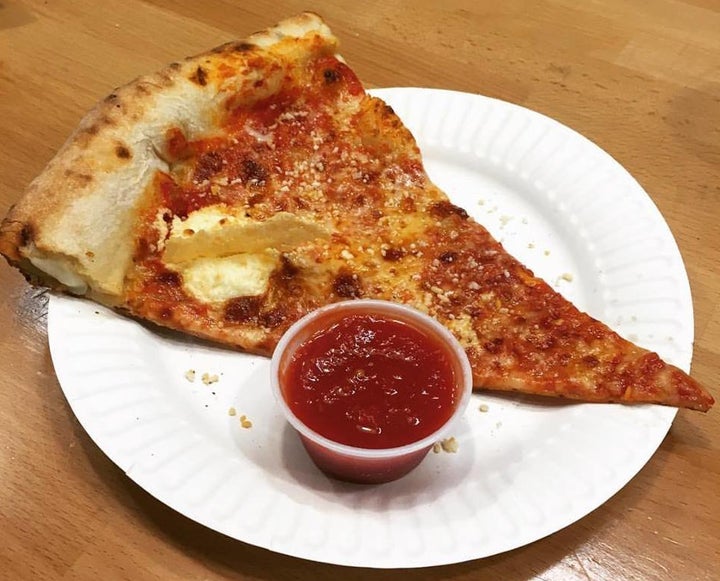 Update (May 1): The final count is in and it's even cheesier than we thought.
Scott Rivera tells HuffPost that after comparing photos of each individual cheese with multiple iterations of invoices and receipts, he arrived at a tally of 102 cheeses.
"That means that the whole time we thought we were serving the 100-cheese Cento Formaggio pizza, there were actually 101 on it, and then on Stuffed Crust Sunday when we thought we were at 101, we were actually making a 102-cheese pizza. How ridiculous is that??" Rivera wrote in an e-mail.
Previously: If Cheetos are dangerously cheesy, this is downright diabolical.
A pizza shop in Oregon put its clientele's lactose tolerance to the test this week, offering a pie with over 100 varieties of cheese.
Scottie's Pizza Parlor dreamed up the gooey masterpiece in honor of the "Ninja Turtles" and the 2017 Portland Pizza Week. The specialty pie with a stuffed crust was available for one day only at two dollars per slice.
Owner Scott Rivera actually used so much cheese for the pizza, he may have lost count. When reached by HuffPost, he conceded that there actually may have been as many as 103 cheese varieties on the advertised 101-cheese pizza. Rivera was still in the process of finalizing that count.
Regardless, to illustrate just how much cheese that is, here a screen grab from Scottie's website listing the many varieties of cheese on the pizza.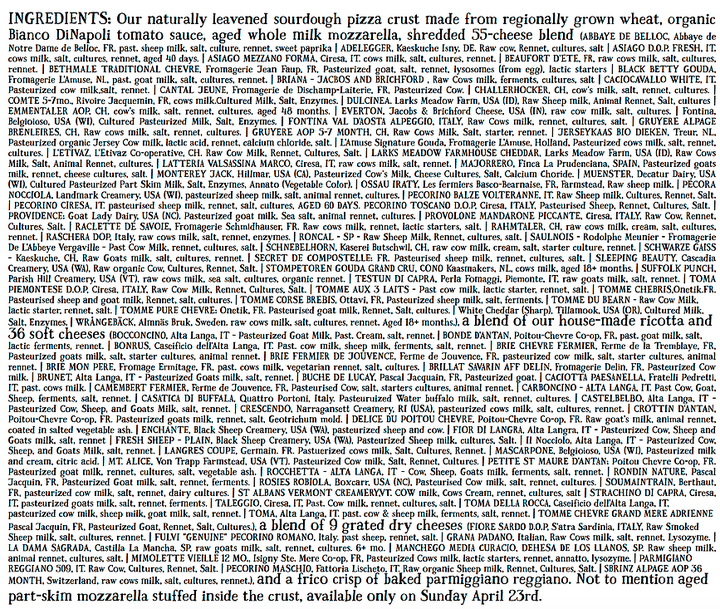 The cheese list included a 55-cheese shredded blend, house ricotta, 36 additional soft cheese varieties, nine grated cheeses, and aged part-skim mozzarella in a stuffed crust. A version minus the stuffed crust was available for the rest of pizza week.
"The Centouno Formaggio pizza is inspired by the Novantanove Formaggio (99-cheese) pizza which was depicted in 2014's Teenage Mutant Ninja Turtles film," Scottie's explained on their website. "The year of the film's release, world champion pizzamaker Johnny di Francesco of 400 Gradi Pizzeria in Melbourne, Australia created a 99-cheese pizza, simply to provie that it was not a 'culinary impossibility,' as exclaimed by Donatello in the film."
"That's fine with me," he told the newspaper. "We know we broke the record."
Even so, Rivera is still in contact with Guinness and hopes to make it official. He says that the record for most cheese varieties on a pizza would be a new one for the Guinness books.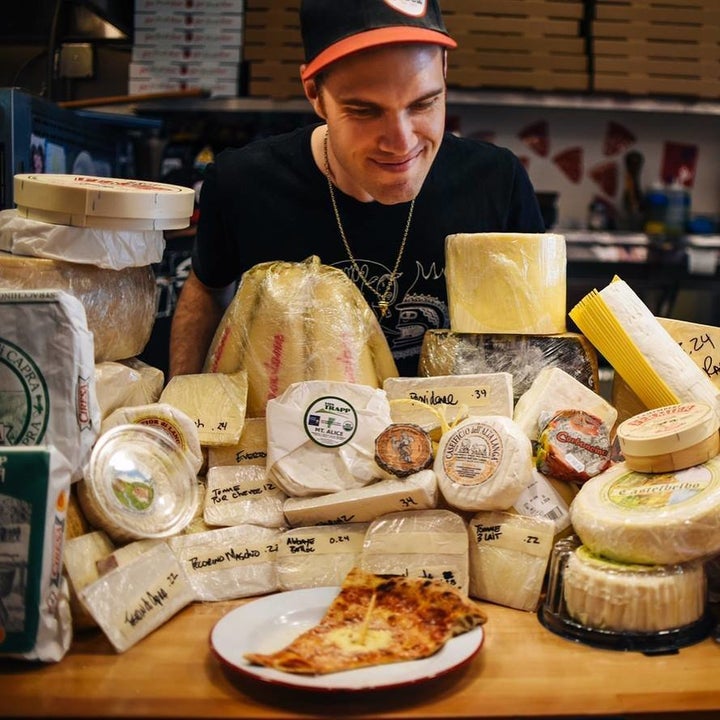 World records aside, Rivera is especially proud of his staff and the pie they put together.
"All the cheeses in the 100 cheese pizza are really nice cheese," he said. "Our cheese supplier is a huge cheese buff and worked really hard selecting them for us. He tasted every single one."
And in the end, that hard work paid off.
"There's twelve of us including me and my wife and we were all just working so hard non-stop," Rivera said. "Everyone worked overtime that week. My wife and I were up until 4 a.m. shredding cheese."
After all that hustle, Rivera is fairly sure he will never make the 100-plus cheese pie again, but he is certainly sharper for the experience.
"There's so much story behind each cheese, it's been such an educational experience," he said. "It kind of blew my mind."
Popular in the Community