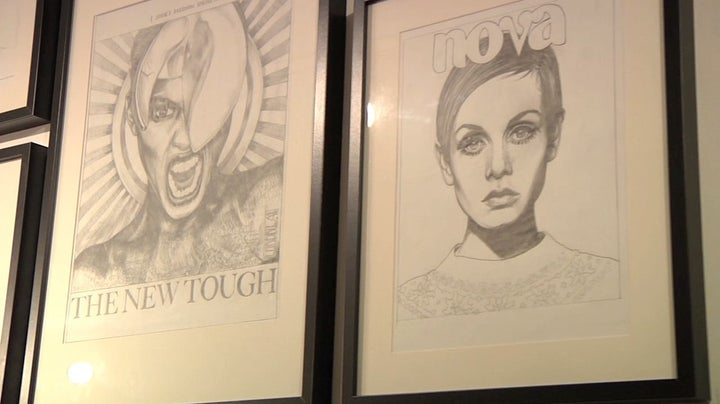 Once again does London find the precise lines and realistic style of John Paul Thurlow's creations wash up on its shores - Crane.tv are the first at the scene.
The talented illustrator and art director once again showcases his latest works to rave reviews - we last saw him at his undeniably popular solo exhibition 'Covers' at the Sketchbook Pop Up this April. With his current '100 Covers' at KK Outlet, London, we see a collection of Thurlow's favorite magazine issue and record covers translated into a medium that not only reveals his incredible technical skills as an artist, but also and more importantly exposes an underlying current that is his own artistic expression - injecting personal thoughts and neurotic additions to his renderings.
He speaks of enjoying "occupying the space between Art and Design, Illustration and Fine Art" and not wanting to categorize himself. Yet this was not always the case. His current style and focus stems from his experience being made redundant, depressed and retreating to spend time in a Buddhist Temple in Japan, away from the stresses that come with living in London. There he took up drawing again: drawing what was around him, which was where he came across an Elle magazine he picked up from his plane journey. He found that through imitating these images he was able to introduce changes, "it was a tool for me to say something about myself or how I was feeling."
Commenting on his distinct ashen style, Thurlow explains that he uses color non-stop in his day job; his covers in comparison contain a level of vandalism and graffiti that portrays the autobiographical meaning, which to him replaces the need for color. His central piece: Cover 100, reveals his own conception of what September Vogue 2016 might be. As an act of homage, he wanted his final image to reflect the work of Helen Thurlow, who as an American illustrator designed British Vogue's first cover.
"Magazine covers are designed to stop you in your tracks, that is their purpose." I can say that in our case at least, they well and truly succeeded.
Watch
's video
:
Crane.tv App now available for Nokia devices from the