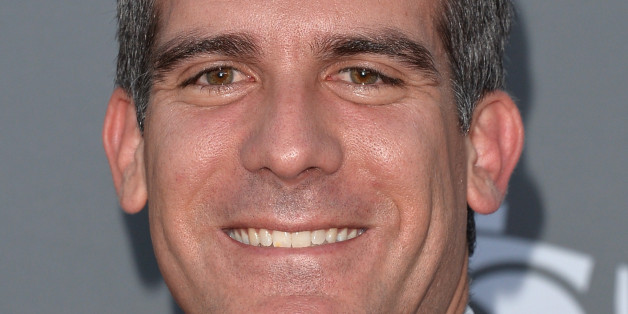 Mayor Eric Garcetti is drawing high marks for his first 100 days in office even as he continues to introduce himself to city residents, according to a poll released on Monday.
The survey of 501 registered voters conducted by the Pat Brown Institute at Cal State L.A., showed Garcetti with a 56 percent approval rating -- and a 5-1 edge of positive over negative feelings of how he is performing his job.
At the same time, the survey found voters are still getting to know the new mayor, with a third saying they are still developing an opinion on how he is doing.
"Though the majority of voters have positive views of Garcetti personally, relatively few offered specific reasons for either liking or disliking him," said Raphael Sonenshein, executive director of the institute.
"The voters do not yet know him well, but they seem to be giving him a strong opening to be successful."
Garcetti had served on the City Council for 12 years and as its president for six years, positions that are not well known by voters.
Even with his strong marks, voters were nearly evenly divided by whether the city is headed in the right direction. It showed a 42-41 percent split, with most saying the city is on the wrong trajectory.
The survey also showed a marked level of support for the Los Angeles Police Department. It received a 64-30 percent approval among those surveyed, even though suspicion continues to be a factor in the minority communities.
The Department of Water and Power also drew voter support by a 55-38 percent level but did show a rise among those who strongly disapprove of the agency.
One of the major issues faced by Garcetti in his first 100 days was a new contract with workers. Even though there was heavy media coverage, roughly three-fourths of those surveyed said they did not have enough information to form an opinion.
Garcetti's approval was strong across the city, but he received the most support in the Valley, where 57 percent said they approved somewhat or strongly in how he is performing.
At the same time, there are questions about their impression of the mayor, with 58 percent in the Valley and 53 percent outside the Valley saying they need more information about him.
REAL LIFE. REAL NEWS. REAL VOICES.
Help us tell more of the stories that matter from voices that too often remain unheard.
BEFORE YOU GO
PHOTO GALLERY
Eric Garcetti 101