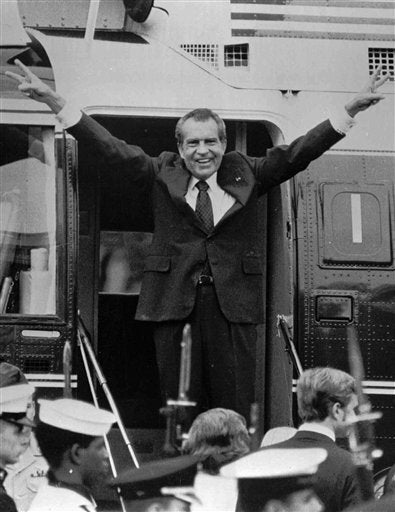 In 1992 National Public Radio's Talk of the Nation program announced that Richard Nixon, in a surprise move, was running for President again. His new campaign slogan was, "I didn't do anything wrong, and I won't do it again." Accompanying this announcement were audio clips of Nixon delivering his candidacy speech. Listeners responded viscerally to the announcement, flooding the show with calls expressing shock and outrage. Only during the second half of the show did the host John Hockenberry reveal that the announcement was a practical joke. Nixon's voice was impersonated by comedian Rich Little.
Taco Liberty BellIn 1996 the Taco Bell Corporation announced that it had bought the Liberty Bell and was renaming it the Taco Liberty Bell. Hundreds of outraged citizens called the National Historic Park in Philadelphia where the bell was housed to express their anger. Their nerves were only calmed when Taco Bell revealed, a few hours later, that it was all a practical joke. The best line of the day came when White House press secretary Mike McCurry was asked about the sale. Thinking on his feet, he responded that the Lincoln Memorial had also been sold. It would now be known as the Ford Lincoln Mercury Memorial.
In 1976 the British astronomer Patrick Moore announced on BBC Radio 2 that at 9:47 AM a once-in-a-lifetime astronomical event was going to occur that listeners could experience in their very own homes. The planet Pluto would pass behind Jupiter, temporarily causing a gravitational alignment that would counteract and lessen the Earth's own gravity. Moore told his listeners that if they jumped in the air at the exact moment that this planetary alignment occurred, they would experience a strange floating sensation. When 9:47 AM arrived, BBC2 began to receive hundreds of phone calls from listeners claiming to have felt the sensation. One woman even reported that she and her eleven friends had risen from their chairs and floated around the room.
Popular in the Community