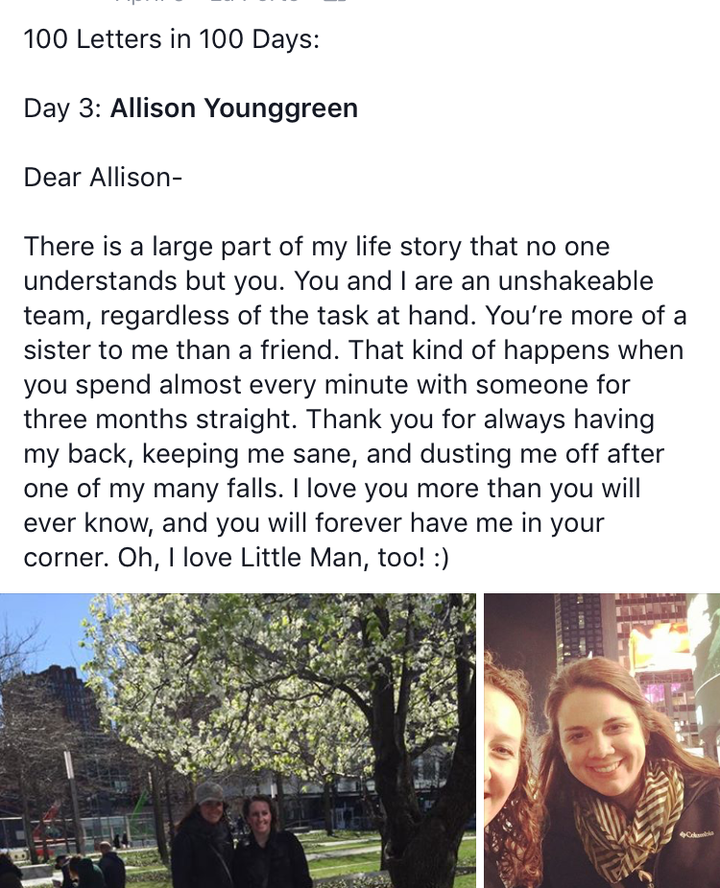 I feel safe in saying that I am not the only one who gets stuck in ruts of "Woe is me." I find myself frustrated over the littlest of problems that truly should not cause as much of a disruption to my life as I allow, but alas, I will find my days sometimes led by frustration, annoyance, and a desire for more. I am slightly ashamed to admit that I was knee deep in this for a large portion of this year. I could not enjoy what I had because I could not see past what I thought I was missing. My "life is unfair" attitude was quite unbecoming and wildly unwarranted because I have been profoundly blessed in my life; however, I never truly realized or understood the magnitude of those blessings until recently when I decided to join a small project.
I did not know what I was getting myself into. I simply wanted to join in on one of my favorite author's/artist's annual 100 Day Project--a period of 100 days where creatives are pushed to carve time out each day to honor their craft and put it out for others to see. Because my artistic ability peaked when I was five and never moved past stick figures and drawing birds in the shape of an "M," I leaned on the creative side of me that brought the most joy: writing. I decided I would merge my love of words with my love of people and spend my 100 days writing a letter each of those days to a person who has impacted me in some way, shape, or form.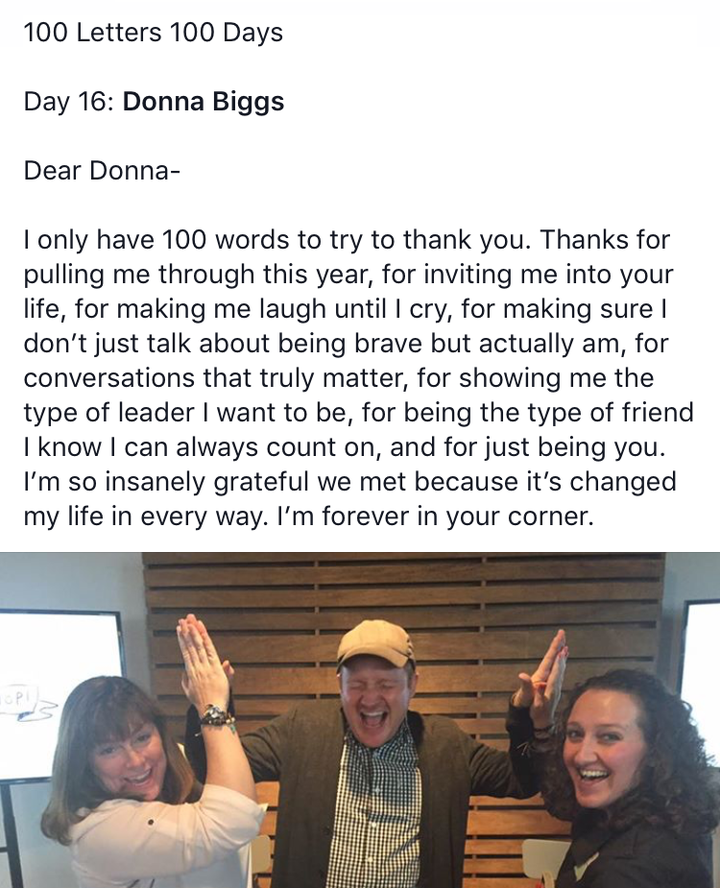 From April to July, I crafted personalized letters, trying to adequately thank people for their part in my life. From April to July, like clockwork, I'd wake up around 5:00, groggy and squinty-eyed, and get my token of gratitude up and out on Facebook for the person and all others to see. I set a limit of 100 words per letter, but each word came straight from my heart, often directly from the place that particular person touched. When I started, I did not think it would impact me with the magnitude that it did.
It was during this time and through this project that I felt a fundamental shift in my life. These letters forced me in the beginning to start my day from a place of gratitude. I could not wake up with the "woe is me" attitude because I had to get a message of thanks out to someone I genuinely cared about. To start the morning by sending out appreciation set me up for a day focused on love, connection, and abundance, and it was not long before waking up grateful became a habit. I woke up looking to recall cherished memories and moments that left an imprint on my heart, giving me no time to think about how much I had to do or what I "thought" was missing from my life.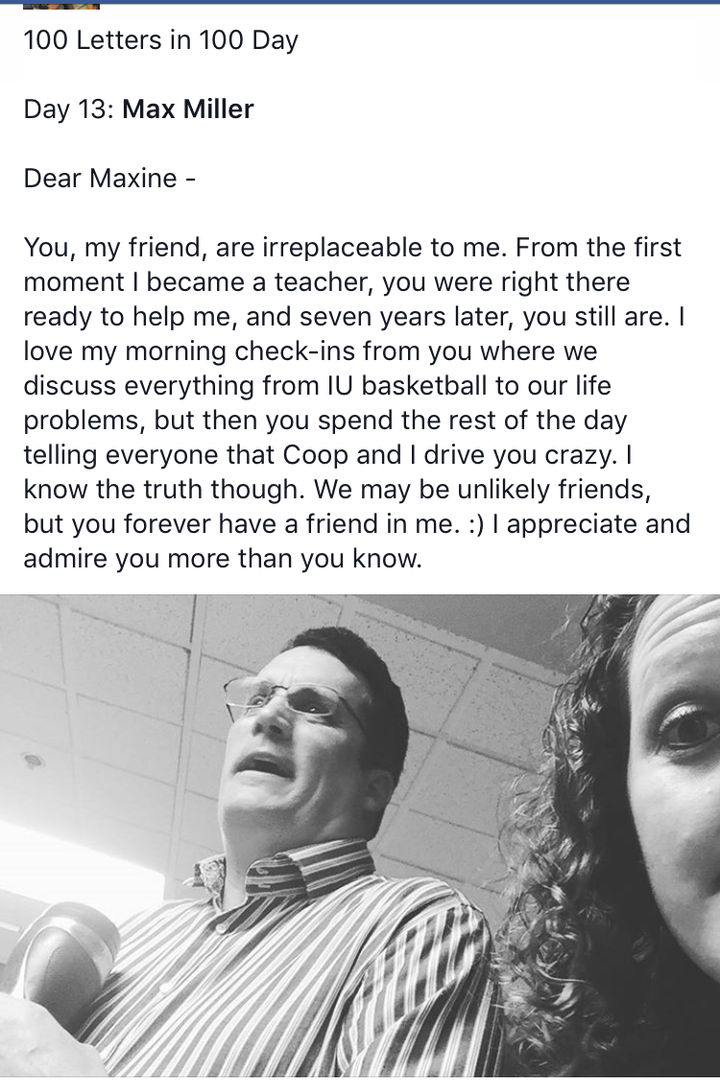 That's when I figured out that there was nothing truly missing. There was no gaping hole in my life that could not be filled with the love of the people I am blessed to be surrounded by. The ease at which I could think of someone each of the days was a daily reminder of how lucky I was. I was humbled. There was not a part of me that was not understood by someone. There was no annoyance that could dismantle the joy of being cared for so deeply and doing the same in return. The greatest gifts of my life could not be bought. The greatest gifts of my life loved me at my best and somehow even more during my worst. They met me for coffee dates. They walked into my classroom every morning. We played games and spent holidays together. They showed up for the moments that I had worked so hard for, and it was their faces I looked for in the crowd.
I knew how much I had been affected by these people. The problem was that many of them did not. Even though I am not known for rationing love, there was a great deal of surprise from people when I posted their letters. They seemed shocked that they deserved my praises, but to me, it was as obvious as breathing. We, as a society, tend to whisper love and shout our discontent and dislike for others. I found gratitude for others to be as much as a gift for them as for me. These letters allowed love to be louder. These letters became a daily gathering place for many who just wanted to hear about my appreciation for another person and who wanted to heap their own praises on the chosen recipient. On many days, the comments would pile on because that person had not just touched my heart but the heart of countless others, too. I think we all began to see the power in sharing our love and gratitude.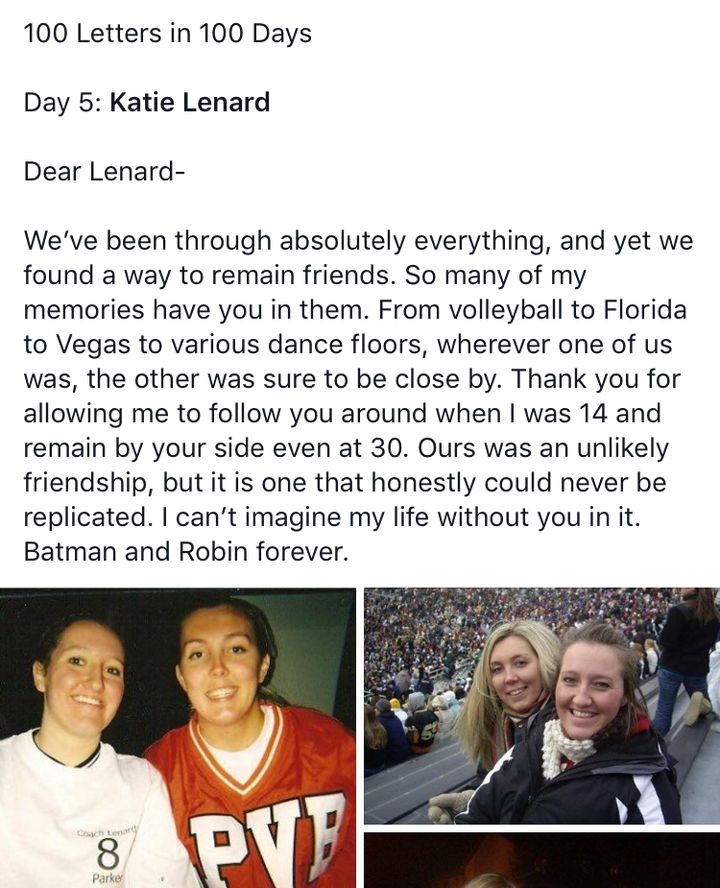 I did not know what I was getting into by saying yes to this 100 day project and choosing to let gratitude lead my day. It brought me joy, a deeper sense of appreciation for others, and stronger connections with those around me. There is a profound power in saying, "Thank you for being a part in my life," and this experience taught me that, and maybe a simple thank you or letter does not completely cover the impact on me, but I knew it was a start. It also was a reset for my life and how I wanted to live and what I would choose to give my attention to. Love. That would be the beginning and end of my day from now on. I cannot think of what I could be more grateful for than an abundance of love because that is what picks me up on bad days, gives me strength on daring days, and adds joy on the beautiful days. Today, tomorrow, and forever, I'll be grateful for love.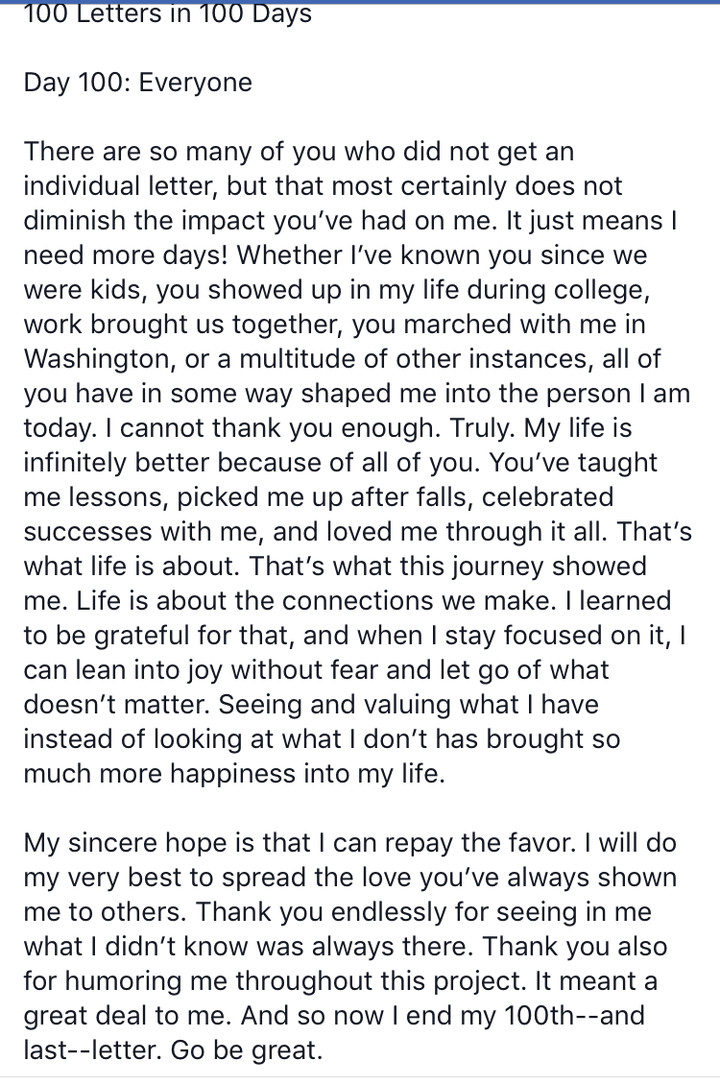 Related
Popular in the Community