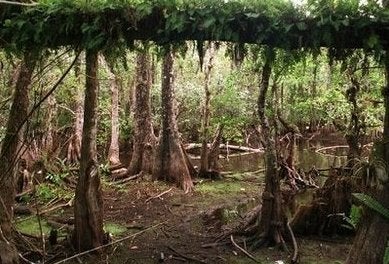 This week, U.S. Secretary of Agriculture Tom Vilsack traveled to Florida to announce the commitment of $100 million of U.S. funds to restore and protect wetlands in the Northern Everglades Watershed. Combined with a project of similar scale completed in the same area last year, the USDA initiative is an innovative approach to working with cattle ranchers to save the many values of one of America's most important large natural systems.
In this time of debate over the use of federal funding, the project is a good example of the kind of return we can expect from well planned investments in the conservation of our land and water.
The Federal funds, which come through the Wetlands Reserve Program (WRP) within the Conservation Title of the Farm Bill, will be used to purchase conservation easements over 24,000 acres of privately owned ranchland in four Florida counties. (A conservation easement is an agreement in which a private landowner voluntarily sells the right to develop his or her land and then permanently maintains the land in agriculture and open space). In this case, federal funds are also being used to help landowners restore damaged wetlands on these properties.
It will protect wetlands that store water in times of drought, hold it in times of flood and filter out nutrients that would otherwise be harmful to downstream areas. Along with wetlands protected on public lands, the ranch wetlands are critical to the health of the Everglades downstream and to drinking water supplies for the millions of people who live in central and south Florida.
The sale of conservation easements helps to sustain the ranching economy and the viability of rural communities. Agriculture remains one of Florida's most important industries, and the state's productive agricultural lands will be needed in a world that will have to support 10 billion people by mid-century.
The Northern Everglades provide exceptional habitat for game and non-game wildlife species. The easements will contribute to the connection of public and private open space and will help create a conservation corridor from the restored Kissimmee River to Everglades National Park, home to a wide range of species including the highly endangered Florida panther.
The Northern Everglades initiative is an example of a new approach to conservation in America -- federal agencies like USDA working cooperatively with other government agencies and with the private sector to conserve whole watersheds and other natural systems for their multiple benefits for people and the environment.
In this case, the investment by USDA in conservation easements and wetlands restoration in a focused area will ensure long term jobs in agriculture, safeguard the public water supplies that support the economies of central and south Florida's cities and provide habitat that is the base for still more economic activity from hunting, fishing and other outdoor recreation.
From my perspective, this approach once again demonstrates that our economy and environment need not be in conflict -- when managed properly, healthy natural systems are a foundation for a healthy economy.
It is particularly important to remember this at a time when this country is looking so carefully at the federal budget and at the utility of federal expenditures. The Northern Everglades project demonstrates the very positive return on investment of programs like Wetlands Reserve and the overall Conservation Title of the Farm Bill.
Of course, conservation must shoulder its fair share of budget reductions needed to control the deficit, but all conservation and environmental spending by the federal government amounts to just a little more than 1% of the federal budget. The Northern Everglades project is a good example of what that 1% gets us -- a nation that can prosper through stewardship of its remarkable legacy of natural resources cared for in ways that respect the needs and hopes of future generations.

Popular in the Community