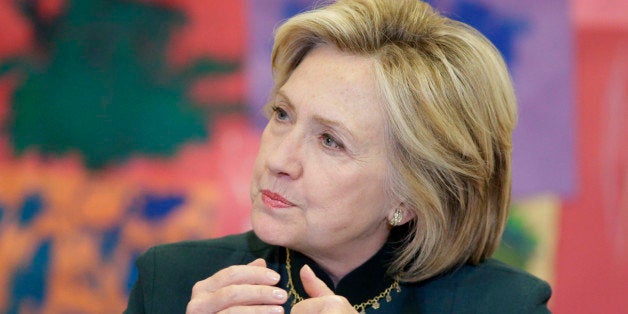 And with Forbes' release of its annual ranking of the 100 most powerful women, there's no better time to recognize the influential women running the world today.
The list highlights some of the biggest female business leaders, celebrity icons, billionaire activists, financial big wigs, heads of state and more--all ranked by money, media momentum, spheres of influence and impact.
Today, just 23 C.E.O. positions in the S&P 500 are held by women--and as of January 2015, only 10 women served as heads of state. But while these stats may seem discouraging, the number of influential women--and their share of influence--is undoubtedly growing.
To learn more, we decided to round up the five women who snagged the top spots on Forbes' list:
1. Angela Merkel, German Chancellor
For the ninth time, Merkel was named the number-one most powerful woman on the planet. This past year, she was elected to a third term as chancellor, making her the longest-serving E.U. head of state. And her time in office has been particularly productive: she worked to fight off a national recession and is now moving to bring an end to the Russia-Ukraine crisis, among other tasks.
2. Hillary Clinton, Presidential Candidate
No stranger to the list, Clinton has been labeled one of Forbes' most influential women every year since 2004. During that time, she has been recognized as a U.S. senator, secretary of state and influential personality. She has most recently taken center stage as the Democratic front-runner for the 2016 presidential election--which could make her the first woman president in the U.S.
3. Melinda Gates, Philanthropist
After donating $3.9 billion to philanthropic efforts in 2014, Gates took bronze on Forbes' 2015 list. All told, she's helped to contribute more than $33 billion through the Bill & Melinda Gates Foundation since its inception in 2000, with much of her work focusing on championing women and girls around the world.
4. Janet Yellen, Chair of the Federal Reserve
Yellen made waves as the first female head of the Federal Reserve in 2014. During her short term in charge, she has already worked to get the Fed on track after a tough economic recovery--while also increasing the organization's oversight of big banks.
5. Mary Barra, C.E.O. of General Motors
In 2014, Barra became the first woman to head a Big 8 automaker. In her new position at GM, she has faced a challenging first year handling massive national recalls. In October, she finally got to spell out her strategy for the future, including making the company more financially disciplined, and continuing to grow the brand.
LearnVest Planning Services is a registered investment adviser and subsidiary of LearnVest, Inc., that provides financial plans for its clients. Information shown is for illustrative purposes only and is not intended as investment, legal or tax planning advice. Please consult a financial adviser, attorney or tax specialist for advice specific to your financial situation. Unless specifically identified as such, the individuals interviewed or quoted in this piece are neither clients, employees nor affiliates of LearnVest Planning Services, and the views expressed are their own. LearnVest Planning Services and any third parties listed, linked to or otherwise appearing in this message are separate and unaffiliated and are not responsible for each other's products, services or policies.
PHOTO GALLERY
Magazine Covers Of Powerful Women
Calling all HuffPost superfans!
Sign up for membership to become a founding member and help shape HuffPost's next chapter