How do you live to be 100 years old? Never pass up an opportunity to dance.
Take it from Katherine Lowe, a Hawaii woman who just celebrated her 100th birthday with a luau and live hula performance.
Instead of simply sitting and watching the hula dancers who were performing at her birthday celebration, Lowe, who is known affectionately by friends and family as Tutu Lowe, decided to ditch the audience and join in the spotlight, clearly surprising some of the dancers.
After removing her sandals with a little bit of help, Lowe, who is of Hawaiian and Chinese descent, danced the only way she knows how: on her own two feet, with hula hands as graceful as a tropical breeze. 
"She sang and danced gracefully with a twinkle in her eyes and a spring in her step," Siana Burgess, a family friend of Lowe's who filmed the video, told The Huffington Post.
While Tutu Lowe's gracefulness and determination is impressive, it's certainly not a surprise, given her background.
"We were rugged," Lowe told NBC News in 2011 after a photo of her and other female defense workers emerged. "We carried heavy stuff, oil drums, bags, anything that needed to be stored."
Although Lowe could only recall one time they had to actually put out a fire, she said training back then was "a lot of fun. We'd shoot water at one another."
It was also displayed at the greeting table during Lowe's birthday luau, reminding guests that of the 100-year-old birthday girl's fearless spirit.
"It was truly one of those 'Aloha' moments when you catch a glimpse of the true Hawaiian heart in all of its beauty," Burgess said of Lowe's spontaneous hula. "It was shared and received with so much love appreciation and joy."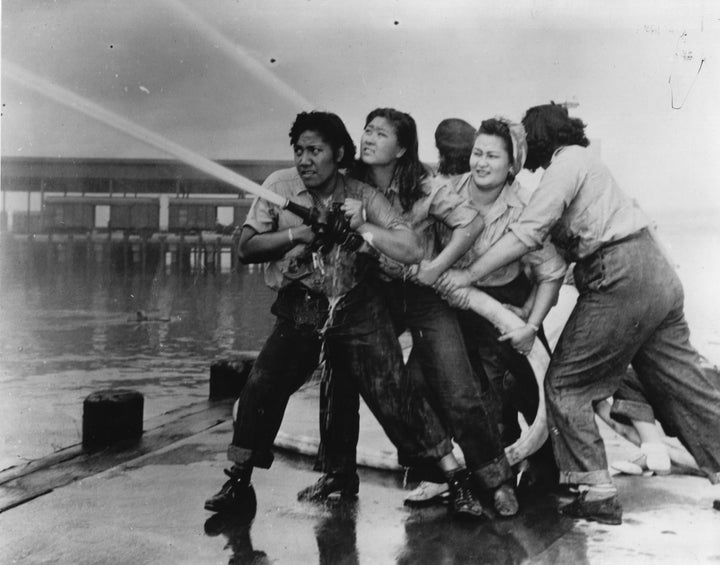 PHOTO GALLERY
Women Working, 100 Years Ago
Calling all HuffPost superfans!
Sign up for membership to become a founding member and help shape HuffPost's next chapter