Maria Ester Villanueva Lopez is a stunning figure of grace and style as she poses for a picture as she drops her voting ballot in the automated box.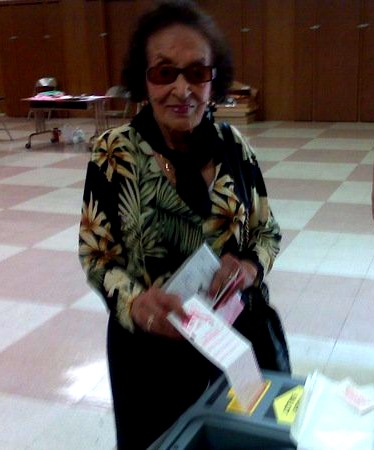 At the tender age of 100, Maria Ester gently dabs the "I Voted" sticker onto her bamboo flower green and black silk blouse.
A black hanker-shift nestled around her neck lends a glimpse to the shimmering gold medallions underneath. Her lightly pink coated fingernails accentuate the olive complexion of her thin hands and fingers which are adorned by a wedding band she wears despite becoming a widow twenty years ago. Square diamond trimmed sunglasses decorate her face and eliminate some of the glaring sunlight streaming through Harrison Elementary in East Los Angeles.
"Oh well, let's see," she recalls, "I don't even remember how long I have been voting! But it's been a lot!"
She laughs and exclaims in fluid Mexican-American bilingualism, "Estoy viejita!" (I'm an old lady!)
Maria Ester was born in Upland California in 1910 when the small community was just an agricultural rural town that grew fruits and grapes.
At the age of two, the family moved to Guadalajara, Mexico where her mother widowed and later remarried.
The time frame of her young life escapes Maria Ester as she tells me her story. She was just a child when her mother fell ill and her step-father moved all of her three half brothers and two sisters to East Los Angeles. As a little girl, she buried her mother and fell to the care of a local priest who placed her at the care of nuns at La Preciosa Sangre orphanage in Guadalajara.
"Those were such trying times for me," she says as her voice quivers.
"I felt so alone and didn't know what was going to happen."
Her step-father eventually returned for her and she was able to see her three brothers return from WWII in 1946, a year she clearly remembers.
"Oh they looked so handsome in their uniforms!" she exclaims, "I was so lucky, so many friends from the neighborhood were fighting, and not everyone was coming back."
All of her siblings have past on and Maria Ester buried her last brother three years ago. Like so many years ago, she is again, all alone.
"So much of my life I have lived alone," she shares, "I like the solitude, I am happy in this old house that my husband left for me, may he rest in peace."
I asked her if she remembers the first time she voted and as she takes a trip down memory lane, Vaguely, she remembers the assassination of President John F. Kennedy and his brother Robert Kennedy.
"What happened to them was a tragedy, a real tragedy," she says.
With the easy transition of someone who has lived a long life, Maria Ester changes the mood of our conversation and gets excited again.
"Today, I was sitting there in my home, all alone, and I said to myself, 'yo soy American Citizen, voy a votar. (I'm going to vote.)'"
Determined, she explains she got dressed, got her voter ballot and began reading and circling who she wanted to vote for. Her neighbor, Chuey, saw her through her door and offered to give her a ride to her polling place.
"He is such a nice man!" she says.
"So I got all nice and ready, me puse bonita, (I got dolled up), and I went to go vote."
"To me," she explains, "Voting is such a privilege. In my heart, I am Mexican because of everything I lived. But now I live here, y pues bueno, I vote here."
"But," she continues with a laugh, "I can't even tell you half the things I have voted on, they are stored in my memory somewhere, with the years, pues tu sabes, it's hard to remember."
She pauses for a moment and teases, "but you know who I did vote for?"
"Who Doña Maria?" I ask with the intrigue of a child waiting for the best part of the story.
"That young man a few years ago... Obama."
"And who did you vote for Governor today?!" I ask exhilarated.
"Oh pues niña, eso no se dice!"(Come on child, some things you don't say!)
Thank you Doña Maria for reminding us that no matter how young or old, each vote matters. Thank you for being such an inspiring American.

Calling all HuffPost superfans!
Sign up for membership to become a founding member and help shape HuffPost's next chapter