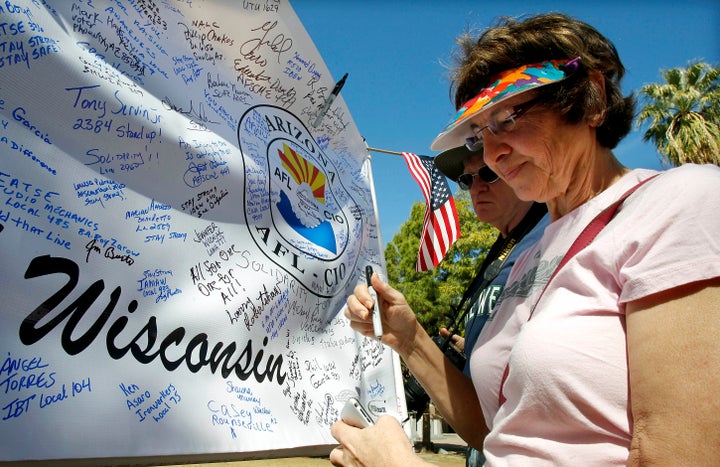 A thousand union members and supporters rallied on the lawn of the Arizona State Capitol March 1 to protest a suite of anti-labor bills currently being considered by the state Legislature.
The statewide AFL-CIO called for a Day of Action on March 1, 2012 and bussed hundreds of workers to the capitol to talk with lawmakers, hear fiery speeches by union leaders and protest bills attacking labor rights.
Several speakers, including Arizona AFL-CIO Executive Director Rebekah Friend, called out the American Legislative Exchange Council (ALEC) and the Goldwater Institute as the creators of the union-busting bills SB1484, SB1485, SB1486, and SB1487, which are reminiscent of legislation in Wisconsin, Ohio, and other states.
"I never voted for ALEC or the Goldwater Institute on any ballot," James Baker of the Communication Workers of America (CWA) declared. But they are drafting our laws, he added.
"Why does the Goldwater Institute want unions gone? Because their corporate partners want to privatize your government," Friend declared defiantly.
Using Arizona's private prison industry as an example, Friend said, "Look at the private prisons. What do you need in a prison to keep it functional? Inventory. Prisoners. So what do you [as a legislator] start to do? You start to make laws that criminalize behavior that hasn't been criminalized before because you have to keep inventory, because [private prisons] get paid by the person."
Arizona has some of the toughest drunk driving laws and immigration enforcement laws in the country. Not surprisingly, Arizona also has four private prisons that offer treatment for drunk drivers: Kingman, West Florence, Marana, and Phoenix, and a private prison for federal offenses, which primarily detains undocumented workers.
"Follow the money...read what ALEC and the Goldwater Institute are doing. Then talk to these legislators and tell them to represent you--their constituents--not their corporate friends," Friend urged the crowd of unionists.
In addition to members of public employee unions, several private sector unions were represented at the rally, including the United Steel Workers (USW), the International Association of Machinists and Aerospace Workers (IAMAW), and the Brotherhood of Locomotive Engineers and Trainmen (BLET). The leaders of those unions recognized the threat to their organizations if the Arizona Legislature successfully dismantles public sector unions.
"What happens to public sector unions will trickle down to others," said Manny Armenta of the USW. We are "behind public employees a hundred percent."
"We need to preserve the labor movement so that they [our children and grandchildren] can live in a middle class America," said John Tolman, vice president and national legislative representative for BLET, recognizing the nationwide, epic battle to keep unions alive and protect middle class incomes.
Several speakers also reminded the demonstrators that Arizona's government is strapped for cash because of multiple years of corporate tax cuts--not because public employees make too much money, which is the case Governor Jan Brewer and the Legislature's Republican majority are making.
Following a chant of "no justice, no peace," Friend declared to the crowd of cheering workers, "We are united as a labor movement, and we won't run."
See the video of of the rally here or below:
Popular in the Community