Just how rare was the deluge in Colorado that resulted in the deaths of as many as 10 people, hundreds unaccounted for, nearly $2 billion in property damage, the evacuation of more than 10,000 people that affected at least a 200 mile stretch of the state, north to south?
Very rare. So rare that the amount of rainfall is likely to occur less than once every 1,000 years.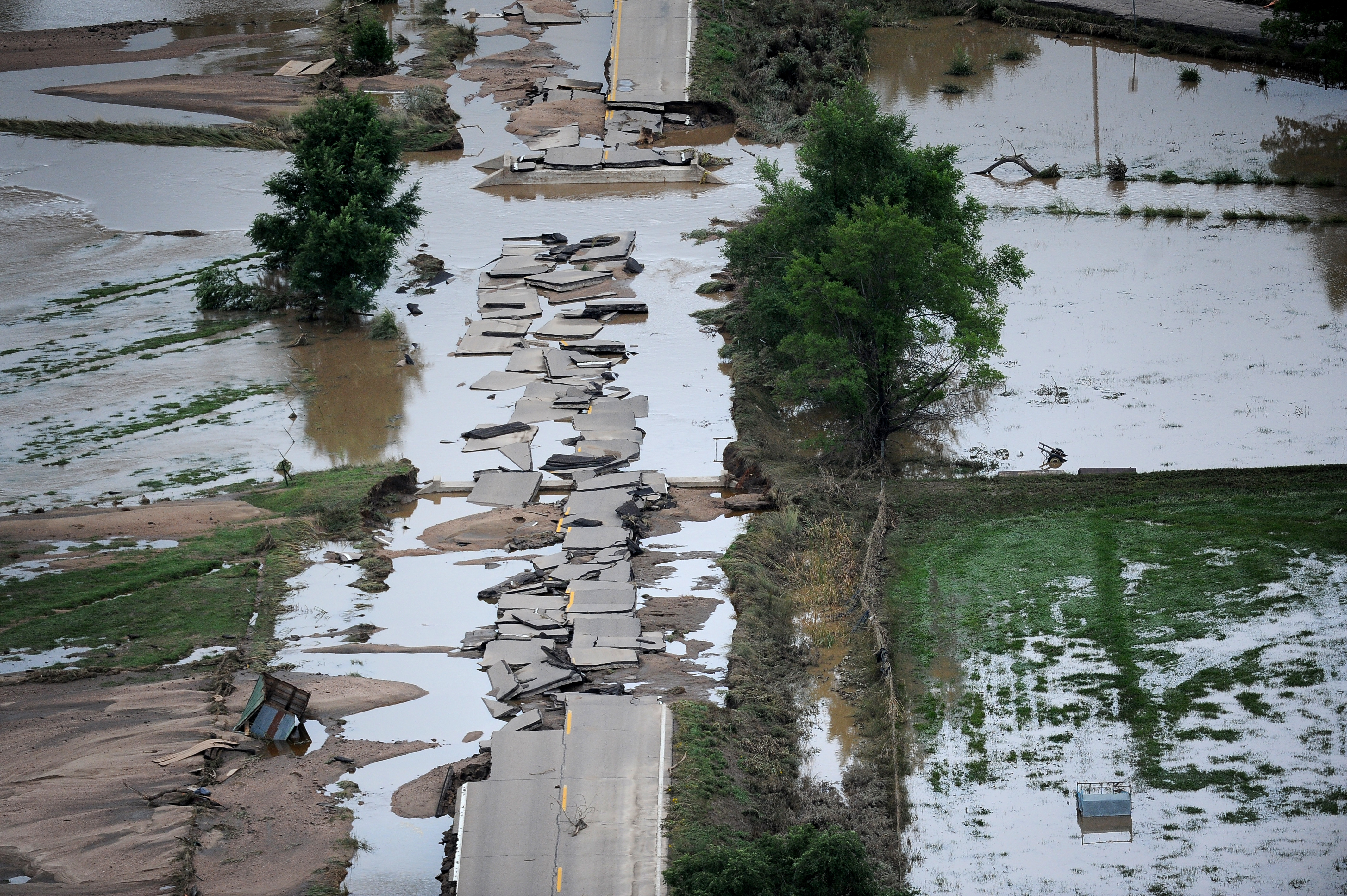 GREELEY, CO. - SEPTEMBER 16: a section of U.S.34 outside Greeley is crumbled into pieces in the flood waters. Aerial photographs of the South Platte River flooding cities and farms in Weld County Colorado. (Photo By Tim Rasmussen/The Denver Post via Getty Images)
That's according to new analysis from the National Weather Service which found that two regions -- one extending from Boulder to Estes Park and the other around Denver suburb of Aurora and areas south -- experienced once-in-a-millennium amounts of rain.
"As it kept raining and kept raining and kept raining, this thing kept getting more and more rare, in terms that we use for evaluating," said Geoffrey Bonnin, chief of the Hydrologic Science and Modeling Branch of the NWS, to Reuters.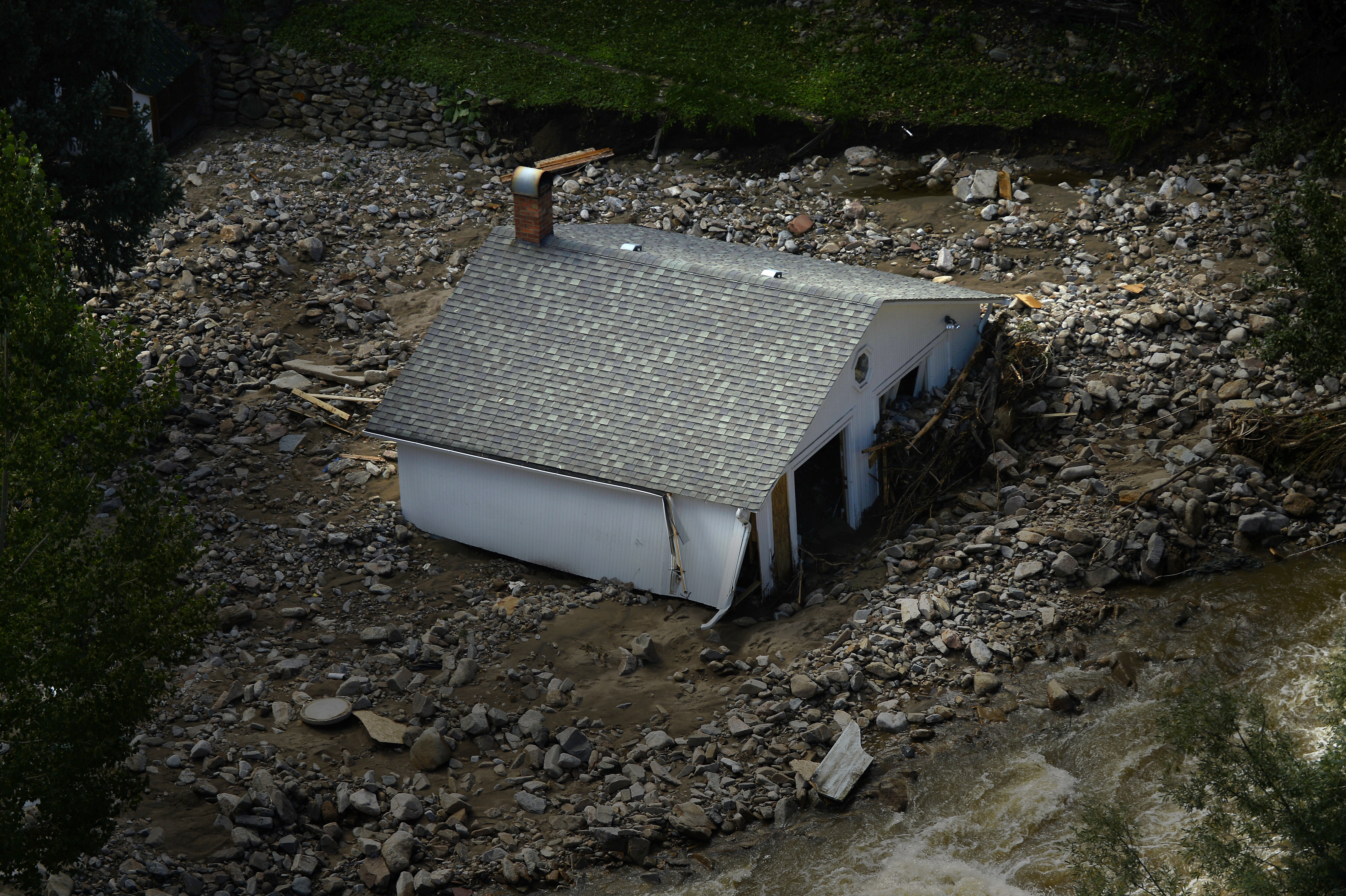 BOULDER, CO. - September 17: Flood damage as seen from a UH-60 Black Hawk during search grid flights of the foothills west of Boulder by members of the 2-4 GSAB with the 4th ID of Fort Carson September 17, 2013 Boulder, CO. (Photo By Joe Amon/The Denver Post via Getty Images)
It was so much rain that the NWS itself was compelled to describe the amount falling in the once-in-a-millennium storm as "biblical" last week as flood waters continued to rise.
The City of Boulder received so much rain that it already broke its yearly record for precipitation with three months still left in 2013. Jonathan Dipert, 9, walks through a puddle as he strolls through his neighborhood, where people's lawns and driveways are loaded with rotten flooring, walls, and other resuse left after massive flooding swept through Longmont, Colo., Wednesday Sept. 18, 2013. As water recedes and flows east onto the Colorado plains, rescuers are shifting their focus from emergency airlifts to trying to find the hundreds of people still unaccounted for after last week's devastating flooding. (AP Photo/Brennan Linsley)
TIME's Bryan Walsh points out that the once-in-a-millennium rainfall doesn't literally mean this kind of rain only happens once every 1,000 years; rather, a flood of this magnitude has only a 0.1 percent chance of happening in any given year.
The floods were triggered by widespread torrential rains of 4 - 6" that fell in less than twelve hours, thanks to a flow of extremely moist air from the southeast that pushed up against the mountains. These sort of upslope rain events are so-named because as the air flows uphill, it expands and cools, forcing the moisture in it to fall as rain. Balloon soundings from Denver last night and this morning recorded the highest levels of September moisture on record for the station. A home leans into flood waters that have destroyed a section of U.S. Highway 34, top, near Greeley, Colo., Tuesday, Sept. 17, 2013. The surrounding area was especially affected by recent flooding, with more than 400 lane-miles of state highway and more than 30 bridges destroyed or impassable. (AP Photo/John Wark)
First, look for the counter-clockwise circulation pattern over the western United States. A monsoonal flow like this is not unusual in Colorado — during the heart of the summer. But it usually dissipates by late Labor Day. This year it has not. Instead, it has been on steroids. Add to that an anticyclonic circulation (clockwise) in the Midwest. This has been pushing water vapor into the Front Range region as well.

In other words, two circulation patterns have come together in just the right way and just the right time to draw large amounts of water vapor into Colorado.

All of that water vapor has pushed up against the Front Range (the easternmost extent of the Colorado Rockies) and has had trouble getting over it. In addition, a stationary cold front that had moved in from the north also has tended to keep the moisture pinned over us.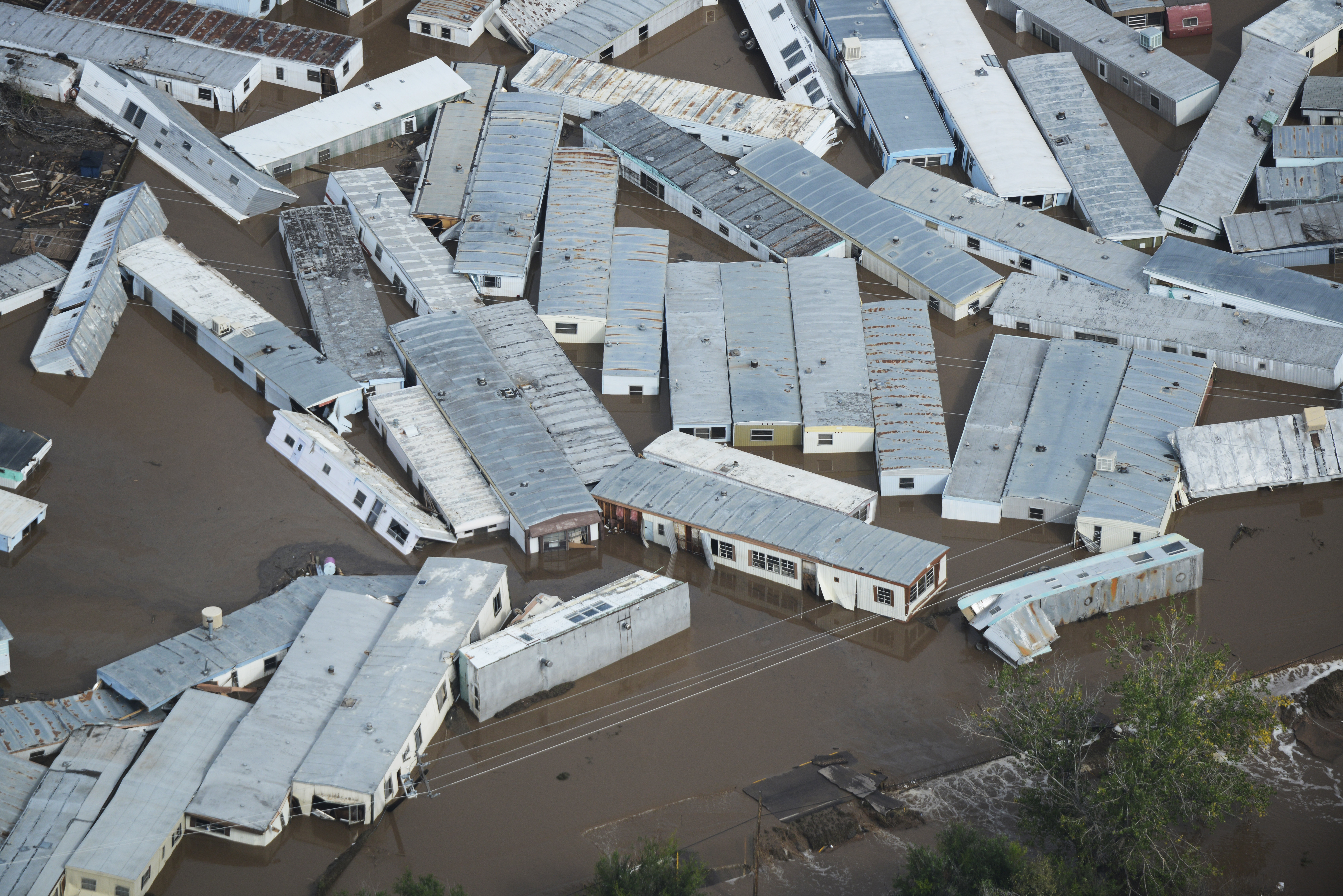 WELD COUNTY, CO - SEPTEMBER 14: A trailer home storage lot now with floating trailers home after reccent flooding in Weld County Colorado Saturday morning, September 14, 2103. (Photo By Andy Cross/The Denver Post via Getty Images)
"The main thing that occurred was just the huge amount of rain over such a large area," Dr. Russ Schumacher, Assistant Professor of Atmospheric Science at Colorado State University, told KDVR when asked which main factor caused the flooding. "As meteorologists in Colorado, the events we always think about are the Big Thompson flood of 1976 or the Fort Collins flood of 1997, and these are a lot of rain but over a very localized area. The difference here is that the rain fell over entire counties essentially at that same amount of rain, so it's just an overwhelming amount of water for any of these creeks or streams to handle."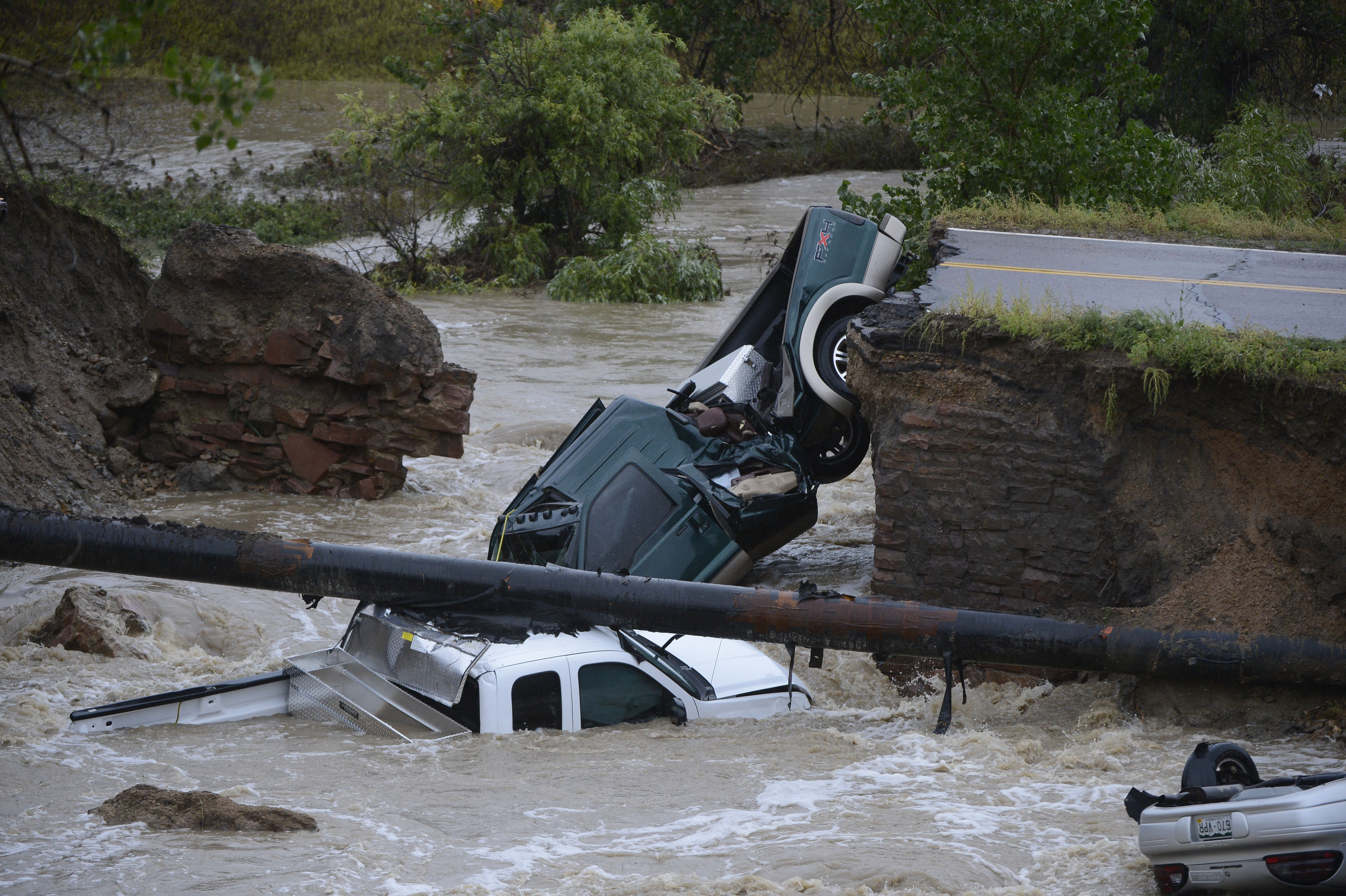 BROOMFIELD, CO - SEPTEMBER 12: Three vehicles crashed into a creek after the road washed out from beneath them near Dillon Rd. and 287 in Broomfield Colorado, September 12, 2013 in heavy flooding. Three people were rescued. (Photo By Andy Cross/The Denver Post via Getty Images)
The 1976 Big Thompson flood, although localized as Schumacher said, was incredibly devastating to the region, resulting in 139 deaths. A slow-moving thunderstorm dumped a foot of rain in under five hours, producing a catastrophic wall of water through the canyon, Climate Central's Andrew Freedman wrote.
The flooding was so bad that it destroyed three of five river gauges designed to measure floodwaters, said Robert Kimbrough, hydrologist at the U.S. Geological Survey in Colorado, to LiveScience.
Justin Lewis, a Colorado-based geo-developer, took the USGS river data that lasted through the flood and graphed it out showing the dramatic increases in water discharge in the rivers.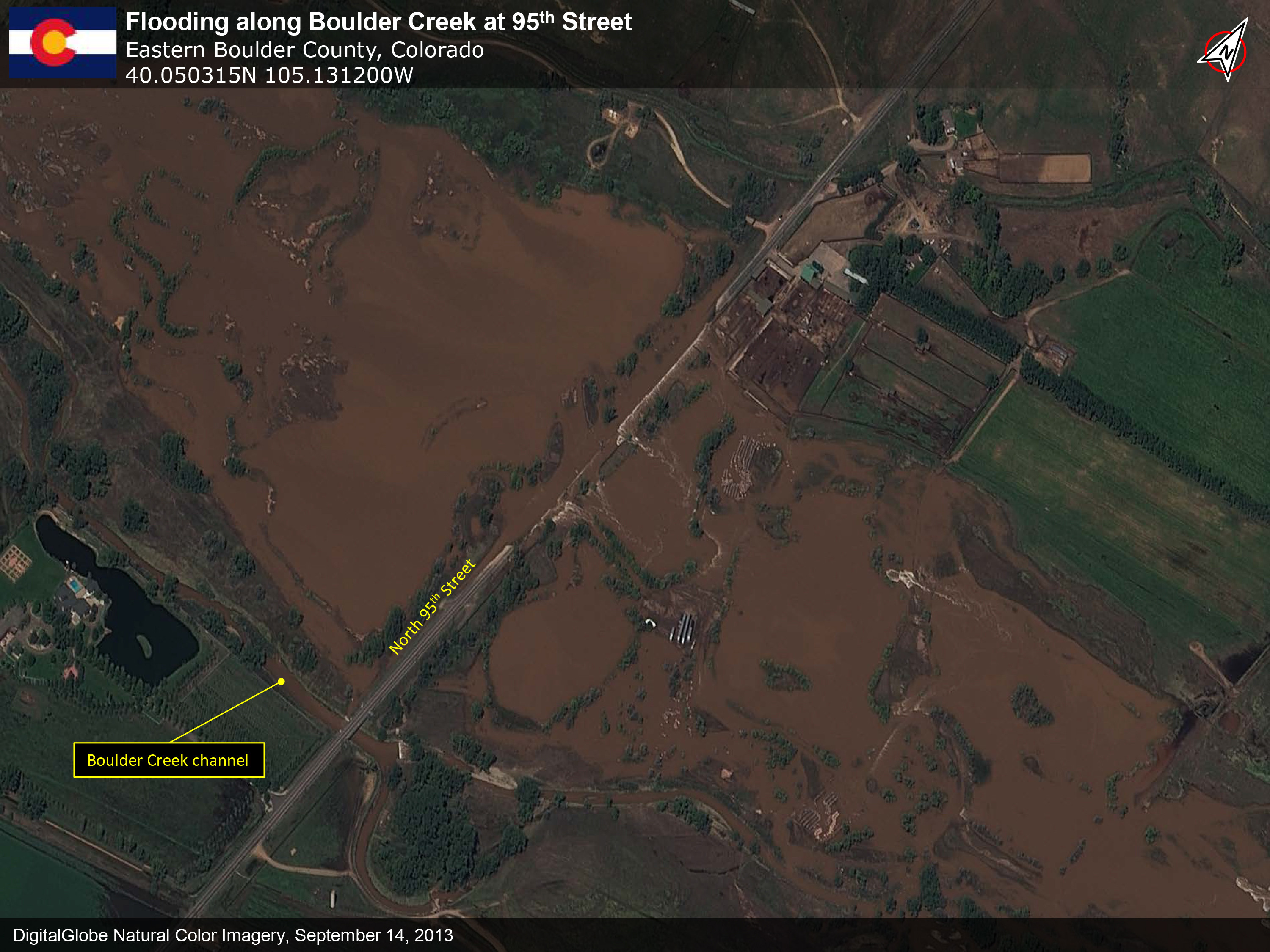 SEPTEMBER 14, 2013: This is a satellite image of Boulder, Colorado showing the severe flooding that has occured collected on September 14, 2013.
On Sept. 11, Boulder Creek, measured near Longmont, went from around 500 cubic-feet-per-second (cfs) -- already over 1,000 percent higher than average -- to 5,170 cubic-feet-per-second, or 19,785 percent over average at its peak on Sept. 13, according to USGS data and Lewis' graph.
During the same date range, the Big Thompson River measured near Estes Park also saw dramatic increases from under 100 cfs to over 1,000 cfs at its peak. The Big Thompson measurement at Loveland is incomplete due to the damaged stream gauge, but the last measured water volume was 4,670 cfs -- up from under 100 cfs, a 16,003 percent increase from average.
Related
Before You Go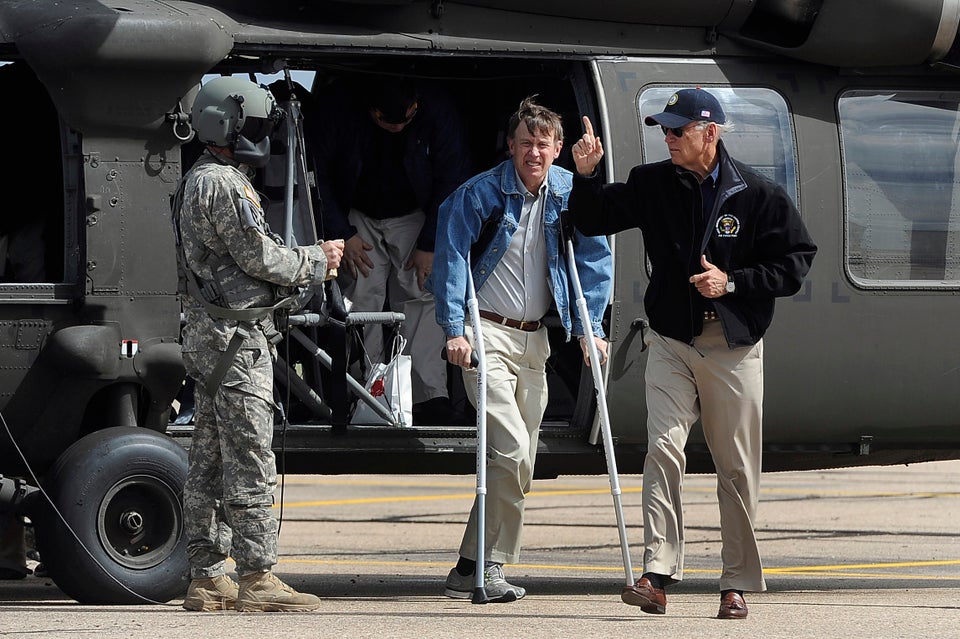 Colorado's Historic Flooding
Popular in the Community