The number of reported deaths in Syria continues to rise relentlessly. This time last year the figure was hovering around 20,000. That was bad enough -- but no one could have imagined that within 12 months the total would have topped 100,000, with more, inevitably, to come.
I have worked in the humanitarian world for almost a decade now -- from Haiti to Somalia, the tsunami of 2004 to the conflict in Gaza -- yet the numbers behind the Syria crisis still never fail to shock me. Too many lives have been lost, too many futures shattered.
The international community's failures to tackle the Syria crisis are having monumental ramifications on the lives of a generation across the Middle East. For the world to simply stand by while 100,000 people lose their lives -- and more than six million people lose their homes - is more than just negligence. It is unforgivable.
One hundred thousand lives lost. Proportional to population, this would be the equivalent of 1,570,000 Americans being killed.
This statistic alone needs to be a wakeup call. Now is the time to put an end to this suffering. The long-overdue Geneva peace conference proposed by Moscow and Washington still offers a much-needed glimmer of hope on the horizon. However, the conference -- and its outcomes -- must not be allowed to become collateral damage in a wider diplomatic game.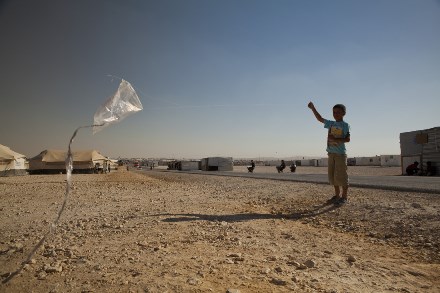 I recently returned from Lebanon and Jordan, where Oxfam is providing fresh water and sanitation facilities to thousands of Syrian refugees. I visited Zataari camp in Jordan, the single biggest refugee camp I have ever been to, with more than 100,000 people living there. In Lebanon, I visited Syrian families living on the outskirts of a cemetery.
Day-to-day life in a camp in the middle of a desert is grim. Inside the tents or steel shipping containers (called caravans) which offer families shelter from the sun, temperatures can reach 122 degrees Fahrenheit (50 degrees Celsius) during the day. It is simply unbearable.
This has what has become reality for families living in Zaatari. And it could be their reality for a long, long time to come. With no end in sight to the crisis and funding in such short supply for the humanitarian response in countries hosting Syrian refugees such as Lebanon, Iraq, Turkey and Jordan, it's hard to see how life is going to improve for these families in the near future.
At last month's G8 meeting in Northern Ireland, leaders demonstrated that in spite of significant political differences among them, there is still a fundamental recognition that the conflict and bloodshed in Syria must end.
The international community must end its dithering. Discussions around Geneva have so far lacked the urgency that this crisis demands. U.S. Secretary of State John Kerry recently suggested that it will be at least September until such a peace conference can take place. Russia and the US need to overcome their differences, stop the talks about talks, and get down to the business of finding political solutions and making peace a reality.
The people I spoke with in the region say they can't bear to wait much longer for a peaceful end to the conflict. As the sand blows into their eyes and their skin cracks and burns in the hot summer sun, they say they feel the world has forgotten them.
While they want to go back home in safety, at the moment, that is but a distant dream. We can't wait any longer. Let's make it a reality.
Note: The UN recently launched its largest appeal ever -- calling for $5bn of funds for the response to the Syrian crisis. It's a massive amount and so far, the appeal is only a third funded. Please be generous and donate HERE.
Calling all HuffPost superfans!
Sign up for membership to become a founding member and help shape HuffPost's next chapter