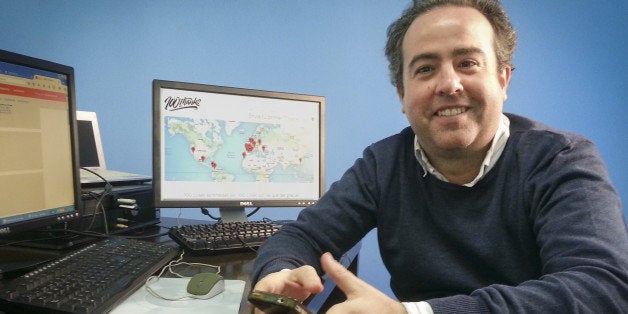 What would happen if we decided to create a global chain of gratitude?
A new initiative out of Spain, called 100Thanks, aims to build this chain with the power of the Internet. Its motto is "100 things learned are 100 things for which to be thankful." Its objective is to spread the spirit of thankfulness around the world.
The man behind the plan is Jose Luis Caceres, an industrial engineer based in Madrid who, like so many others, has suffered the consequences of the recession. "In 1997, I made a website as my graduation project. It went so well that I started making a living from it. But three years ago I started losing clients, like a lot of businesses, and everything collapsed. I went through a bad period," he told HuffPost Spain.
Caceres, however, came to a realization: He needed to remember the good things.
"I would send myself an email every night with the things from that day that I should be thankful for, and I would read it the next day. Sometime later, I realized that it's a very powerful form of psychological therapy," he said.
He thought others, too, would benefit from saying "thank you" more often, and so the idea of 100Thanks came to Caceres.
The 100Thanks platform offers a space where people can create their own notebooks with things to be thankful for. Although the individual entries are private, the locations of those creators are tracked on a map that shows the newly forming network's reach around the world. There are also options for people to share their entries through social networks and to send certificates to those they wish to thank. "At a time when individualism and the loss of values are being highlighted, 100Thanks proposes a change," the website says.
"The project has a lot of potential and quite a bit of acceptance among people," Caceres said. The website was publicly launched in late May. The event in northwest Spain included talks with people such as athlete Victor Tasende, who overcame a horrible childhood accident that left him unable to walk, and surfer Aitor Francesena, who coaches the best Spanish surfers despite the fact that he is blind.
The 100Thanks site is a nonprofit effort. "If it made a profit, it would lose all the magic. We want everyone to use it and to free themselves this way," Caceres said. "I've been asked several times if I was inspired by the movie 'Pay It Forward.' But the idea of gratitude is older than this film."
"I encourage everyone in the world to try it," he said.
Related
Popular in the Community