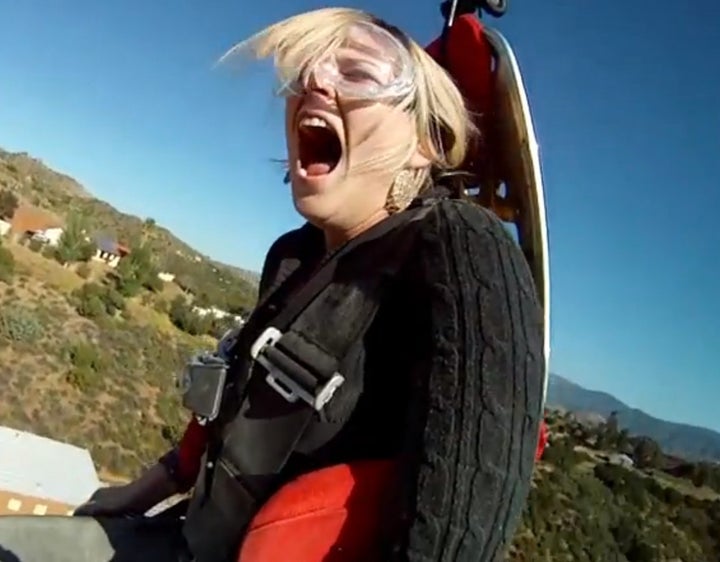 There has to be an easier way to make $50,000.
ABC's new reality TV series "101 Ways To Leave A Game Show" is a trivia contest with a twist.
101 Ways to Leave a Game Show will feature contestants competing in one of the most insane game shows in history for a chance to win $50,000. In "101 Ways," contestants will match wits in a series of multiple choice questions, with one contestant being eliminated every round. But unlike any other game show in the world, the eliminated contestant will then be ejected from the show in spectacular fashion, i.e., being flown away strapped to the wing of a biplane, shot out of a cannon, pushed off the top of a moving semi truck, dragged underwater by a one ton anchor or yanked off a dock by a speed boat.
AdAge writes, "Great! Starting Tonight, ABC Will Literally Torture Game Show Losers."
ABC's David Goldberg sees the show as a trail blazer.
"Incorporating action packed stunts that will eject contestants so outlandishly within the show is sure to keep contestants and viewers on the edge of their seats, having no idea what to expect next," Goldberg said. "This concept is definitely the next generation of game shows, and we are thrilled to be on the forefront of it."
WATCH a preview of the show which airs tonight at 9/8 Central:
REAL LIFE. REAL NEWS. REAL VOICES.
Help us tell more of the stories that matter from voices that too often remain unheard.