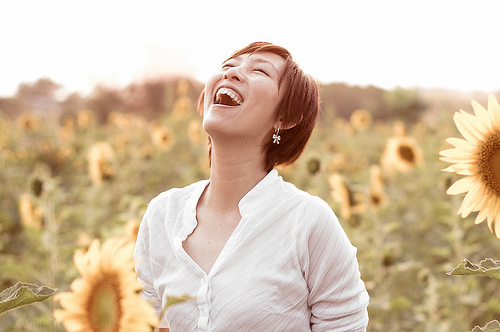 photo credit: Among the Sunflowers via photopin (license)
When life gets tough it can be all too easy to give up on the wonder and magic we once felt as young children. As adults we often get caught up in solving problems, putting out the proverbial fire, and simply surviving from one moment to the next, all the while forgetting that the magic of life ever existed.
While there may not be a silver bullet, special formula, or one-size-fits-all approach to create the 'happily ever after' that so many are searching for, there are a few things you can do to unlock the magic of life starting right now no matter how busy you are.
Below are 11 brilliant ways to help you do just that.
1.Know that it exists. As a child there was no doubt in your mind that magic and miracles existed. You likely immersed yourself in a world of wonder and amazing possibilities where you knew you could be, have, or do anything your heart desired. Everything felt like a miracle, from the way planes flew in the sky to going on an adventure through the woods, yet as an adult you've some how forgotten. Step into the knowing that magic exists for you no matter how old you are, and I guarantee you will begin seeing, feeling, and experiencing the magic again instantly.
2.Be present. Have you ever watched a child so immersed in their current activity they have no sense of past or future? If so, you may have also noticed the light shining from their very soul as they bring all of their awareness into the present moment. As adults, we tend to split our attention by worrying about the past or the future while completely missing the magic of the moment. If this is the case for you, it's time to reconnect with the present moment and take in the amazing experiences right in front of you.
3.Infuse your life with love. Love in and of itself is a magical feeling. Whether it is expressed in romance, friendships, or familial connections, love is what connects us all. Give love. Share love. Speak love. And if you aren't already doing what you love, go do it now! Love is the highest vibration you can feel and it is from that place amazing opportunities and experiences emerge. Love is magic.
4.Own and honor your truth. You are a beautiful mixture of cells, soul, and energy combined with your many experiences from this lifetime and beyond. It's time for you to stand in your place of power and own your truth. What do you stand for? What do you believe in? What is the vision you hold for your life? Embrace it. Cultivate it. Be proud and be you! After all, standing in your truth is the elixir of living a magical life.

5.Look for miracles. Miracles, both large and small are happening around you every single day. Unfortunately, most people tend to overlook or ignore them altogether. Want more magic in your life? Look for it! Recognize the magic, miracles, and blessings that surround you and you can be sure that by doing so, they will multiply tenfold.
6.Cultivate an attitude of gratitude. Gratitude is the foundation upon which magic is born. It makes even the tiniest morsels of joy worth celebrating and makes you a magnet to attract more incredible experiences and opportunities to you. Never underestimate the power of a simple 'thank you' to another person or to the Universe. It makes all the difference in the world.
7.Reconnect with your inner child and get a little curious. Life is too short to stay stuck in the mundane responsibilities of life all the time. If you are feeling a bit uninspired and stuck, it might be time for you to shake things up and get a little curious about life again. Ask questions, learn a new hobby, join a meet-up group and get involved in your community. Travel to new places and try new foods or simply take a stroll through your local library to learn about a topic you've always been curious about. Seeing the world through the eyes of a child is often enough to put the spark back in your seemingly dull life.
8.Play! There is nothing more magical than letting loose and having a bit of fun. Life is an adventure that is meant to be enjoyed, so grab your bucket list and start ticking things off and if you don't have one, make one! Give yourself permission to have fun every single day and watch how it shifts every area of your life for the better.

9.Find your high vibe tribe. Surrounding yourself with other high vibe people is priceless when it comes to cultivating magic in your life. When like-minded souls connect there is an energy and vibration that is palpable and contagious. It not only changes lives, but it has the power to change the world. Join a mastermind, workshop, or better yet start one! Building a community of people who can share, connect, and celebrate one another creates a magnificent ripple effect across the world.

10.Don't forget to dream. It's easy to get so wrapped up in life's day-to-day responsibilities that you forget about your own dreams and aspirations. When was the last time you allowed yourself to really dream of the life or career you desire? What is your soul craving in this very moment? Give yourself permission to dream again and then set a plan to make your dreams a reality. There is nothing more magical than living the life your soul craves.
11.Lean into the unknown. For some people (myself included) not knowing what lies ahead can often be a scary thing and that is usually because we have come to expect the worst. When you shift your focus to expect the best in life, there is no need to fear the unknown. Instead, you can lean into it with the same sense of wonder and magic you had as a child. The world is full of amazing opportunities and when you expect the best, that's exactly what you receive.
I'd love to hear from you! What are some of the ways you have learned to unlock the magic of life? Share in the comments below!
Lamisha Serf-Walls is a empowerment coach for soul-centered women who are tired of trying to fit into lackluster beige boxes and crave the freedom of standing in their truth and living life from the heart. Her mission is to create a community of empowered, free flowing, lovers of life who live a life of freedom with ease and inspire others to do the same. You can learn more about Lamisha and what she offers by joining her free community, visiting her Online, on Facebook, or Twitter or grab her free audio 5 Ways to Break Free From Stuck.
Related