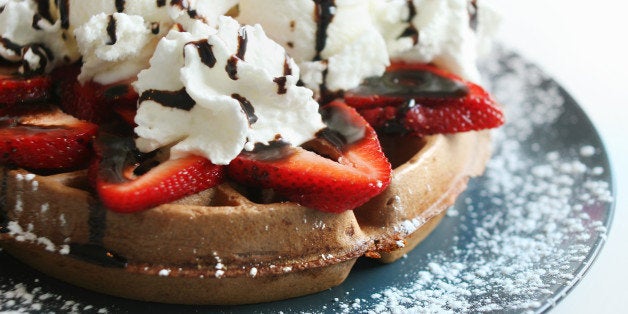 Waffles have been popular part of American food culture since they arrived stateside in the 1700s. A tasty tradition brought over by Belgian immigrants, the humble waffle has risen to celebrity status over the past few years, popping up in gourmet restaurants from coast to coast, topped with everything from caviar to fried chicken. And it makes (awesome) culinary sense. The patterned confection -- made into its characteristic shape by cooking dough between two hot checkerboard-patterned plates -- is the perfect vessel for carrying both sweet and savory goodies. Whether you're a sucker for a classic with maple syrup or itching to try a more inventive take, here are 11 waffle dishes that'll make you go bananas:
Yona delivers a savory variation of the typically sweet breakfast food, serving waffles with uni (sea urchin), a schmear of taramasalata (cured roe spread) and a touch of caviar to share at dinner.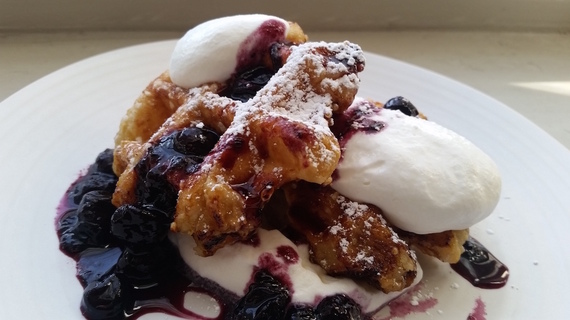 Photo provided by The Winchester.
Easy on the eyes and on the palate, the Liege Waffle at The Winchester oozes with juicy blueberries and dollops of cream.
A standout selection on The Sinclair's New American brunch menu, the Waffle Bar offers sweet and savory options depending on your preference -- toppings include bananas, caramel, pecans, fried chicken, berries, bacon and Marshmallow Fluff -- plus a waffle flight delivering mini versions that are perfect for sharing.
A Southern-fried comfort classic, the Chicken & Waffle at The Pig, prepared with Mikie B's fried Tennessee hot chicken, honey butter and dill pickles, is a popular selection on the pork-centric brunch menu.
A lovely complement to the freshly pressed juices and brunch cocktails at Little Park, the Multigrain Waffle wows with walnuts and seasonal strawberries.
Treat yourself to Amis Trattoria's rustic, Roman-style dishes and mouthwatering desserts, including the Belgian Style Waffle with Nutella, vanilla semifreddo and toasted hazelnuts.
The ideal end to a comforting, flavorful American meal, the Waffles and Ice Cream dessert at The Franklin Room is served with fresh fruit, caramel and honey, plus a side of vanilla ice cream and puffs of whipped cream.
A sweet confection on the savory, island-style Greek brunch menu, the Greek Coffee Waffles at Kapnos Taverna are adorned with chocolate espresso beans, cinnamon butter and crema.
Crossroads Kitchen serves up an innovative vegan version of a traditional Southern meat dish, delivering fried "chicken" on waffles with warm maple hot sauce.
Mussel Bar offers both sweet and savory brunch waffles to whet your appetite, preparing a Belgian Waffle with banana, hazelnut croquant (French for "crisp") and Nutella butter, as well as a Fried Chicken and Waffles dish with crispy natural chicken, chile butter and BLiS Bourbon Barrel maple syrup.
A delicious brunch dish to cozy up to with a Bloody Mary, the Chicken and Waffles at Kit Kat Lounge is a hearty delight with fried chicken, waffles, cayenne maple syrup and potatoes.