WASHINGTON — President Donald Trump's statement via Twitter last year that "there should be no further releases" from the notorious offshore prison at Guantanamo Bay could have the ironic result of giving some of the 41 remaining prisoners there a new avenue to challenge their detention there.
Lawyers for 11 men who have been held at Guantanamo without charge for over a decade have seized on Trump's bluster to lay out a clever new legal argument: Trump's plan to hold Guantanamo detainees forever, regardless of circumstances, makes their detentions arbitrary and manifestly unconstitutional, and U.S. courts must order their release.
"The President has explicitly endorsed indefinite detention rather than a detention 'informed by the laws of war,' which was the position of his predecessors," the detainees' lawyers wrote in a lawsuit filed in federal court on Thursday, the 16th anniversary of the opening of the prison camp.
The White House did not respond to request for comment.
Indefinite detention is prohibited under U.S. and international law. In the past, Presidents George W. Bush and Barack Obama pointed to the 2001 Authorization for the Use of Military Force as the legal justification for detaining suspected militants at Guantanamo. Both administrations had processes in place to review whether continued detention was necessary for each prisoner — and both presidents publicly stated their intention to close the prison.
Human rights lawyers sparred with the Bush and Obama administrations over whether the review processes were sufficient — but accepted the general premise that the U.S. government planned to eventually release or charge with a crime each prisoner at Guantanamo. During his presidency, Bush released 532 detainees. Obama transferred out another 197, leaving the current population at 41 men.
Since Trump came into office, there have been no prisoners released from Guantanamo. The review process to evaluate whether detainees continue to pose a threat has slowed to nearly a halt. Like the lawyers who fought Trump's travel ban against Muslim-majority countries, the legal team representing the 11 Guantanamo detainees turned Trump's own statements against him, using them as evidence of his intention to act in violation of the law.
The 11 petitioners come from Yemen, Pakistan, Morocco, Algeria, Kenya, Saudi Arabia and the occupied Palestinian territories. All of them are Muslim men who have filed habeas challenges in the past. The group of men includes Abu Zubaydah, a so-called "high-value detainee" who was waterboarded 83 times in one month after his capture in 2002. Two of the prisoners, Tofiq Nasser Awad al Bihani and Abdul Latif Nasser, have already been cleared for release.
"Both missed their chances at freedom by the slimmest of margins and thinnest of reasons," the lawyers wrote, referring to al Bihani and Nasser. Toward the end of Obama's presidency, prison officials put the two men through exit protocols, anticipating that they would be transferred to another country soon. Now, they remain in their cells with no prospect of freedom.
The 11 prisoners have been held between 10 and 16 years. "Another three or seven years under President Trump may mean a death sentence for men like Sharqawi Al Hajj, who is in poor health and damaged by past torture," Center for Constitutional Rights lawyer Pardiss Kebriaei, who represents al Hajj, said in a statement.
"Given the President's commitment, in fulfillment of a campaign promise, not to release any detainees during his administration, they face an arbitrary additional term of detention of four, or possibly eight, years," the lawyers wrote in their filing. "When fundamental legal principles — and human lives — are at stake, the judicial branch is compelled to act," they wrote.
Read the full legal filing here:
Support HuffPost
The Stakes Have Never Been Higher
Before You Go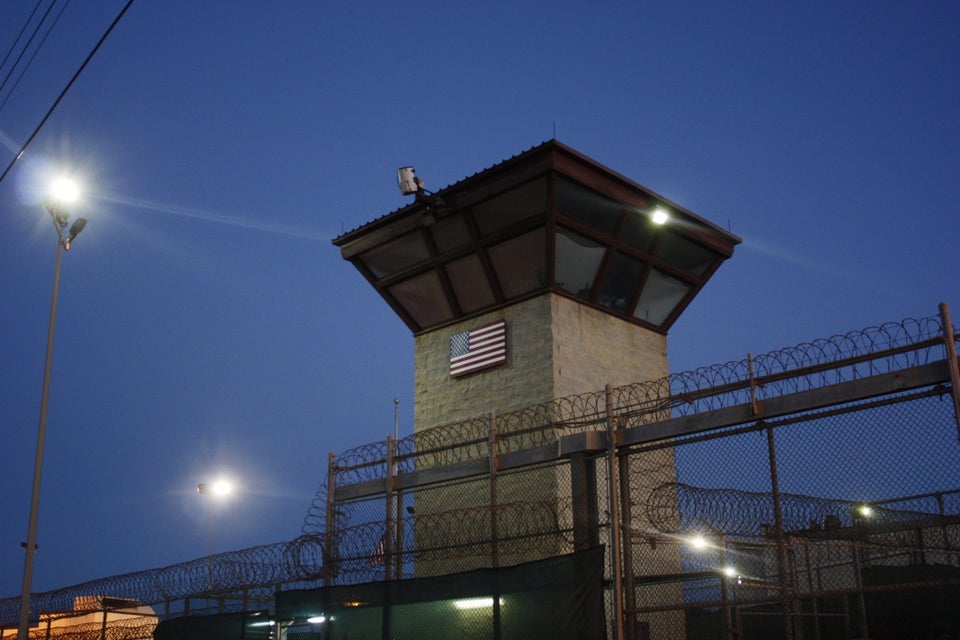 Inside Guantanamo's Prison Facility
Popular in the Community