The Super Bowl is all about watching the game, debating our favorite commercials and doing all of the above over the food table until the eats are demolished. Here are some fresh takes on game-day foods that your guests are sure to devour. Let me tell you, on the Today Show, the grab-and-go bacon was a huge, huge hit!
Build-Your-Own Bean Dip Bar!
Lots of folks don't like dip because they are afraid of double dippers, during what is arguably a germ-infested time of year. The solution? A build your own bean-dip bar! Here are all the ingredients of a typical 7-layer bean dip divided into separate serving containers. You layer and scoop in what you want into your personalized bowl. Grab some chips and viola! Your own dip to dip in! (And because you are building your layers fresh, it is less likely for bean dip separation to occur, which namely happens after dip has been set out awhile.)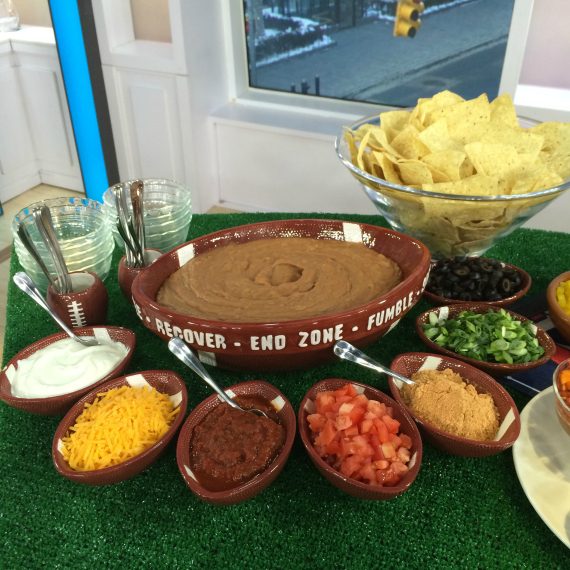 1 package taco seasoning mix
1 can refried beans
1 container sour cream
1 jar salsa
1 large tomato, 1 bell pepper, bunch of green onions: chopped separately
1 can sliced black olives
shredded cheddar cheese
Combine the taco mix and the refried beans. Optional: put a layer of this tasty bean spread at the bottom of your guest's individual small serving bowls just before their arrival: this is their base layer to get them started. In separate serving bowls, display the other ingredients with serving spoons so guests can personalize the layers of their dip. If a large number of party goers is anticipated, you can double the ingredients.
Egg Interception
I love deviled eggs at any fete, but they are arguably not the healthiest appetizers. My version of "egg interception" is healthier minus the mayo and packed with nutritious hummus and Dijon mustard. I used slivers of black olives for the football laces, and my family ate them up in a snap (nobody missed the mayo)!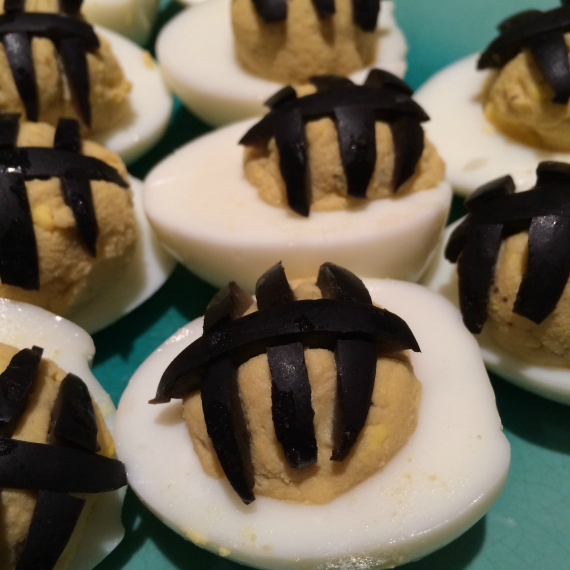 10 boiled eggs
6 tablespoons garlic hummus
2 teaspoons Dijon mustard
pepper to taste
1 can pitted large black olives
Halve each boiled egg, carefully removing egg yolk; place whites on a large serving plate and yolks in a bowl. Add hummus, mustard and pepper to yolks and mash. Using hands as the yolk mixture will have a slightly dry consistency, roll back into yolk-sized balls and place back into egg white. Use thin slivers of black olives to represent football laces, and gently press them into the remade yolks. The hummus and mustard adds such a great flavor, there is no need to add salt!
Half-Time Treats
All of these are tall treats presented in LIKE groups in tall glasses: crispy cooked bacon strips, tall pretzel sticks, celery stalks, raw asparagus spears, Slim Jims...with a side bowl of blue cheese dressing. Because they are long, they'll keep guests munching, wandering and satisfied.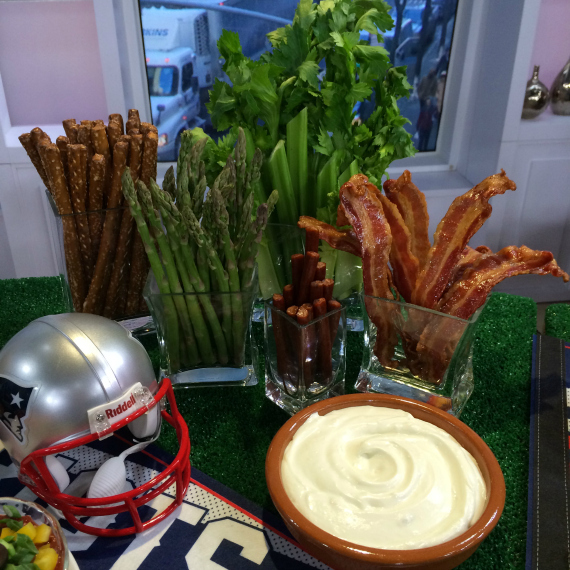 Game Plan Klondike Bars
These are a fun way to serve up a frozen treat to cool everything down.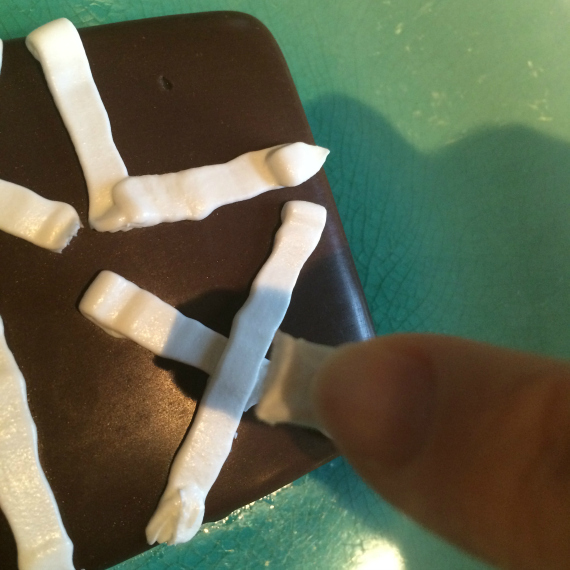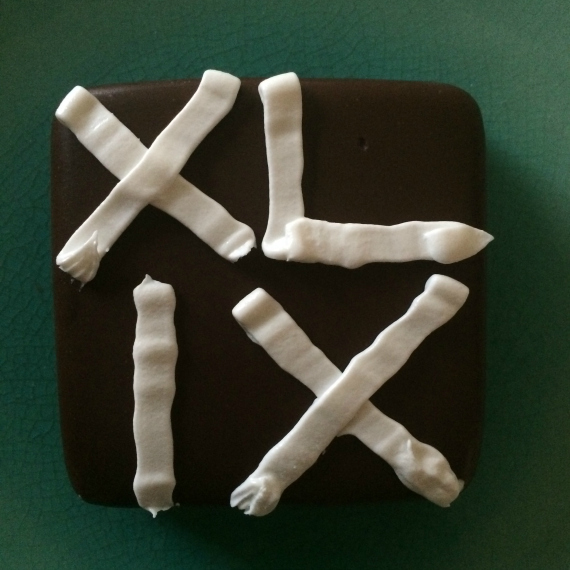 Line a baking tray with foil. Atop a Klondike bar, use white frosting to write a game plan with "X's," "O's," and arrows or "XLIX." I used a can of white, ready-made frosting with assorted frosting tips to save time. Any mistakes can be immediately wiped away gently: be careful of cracking chocolate! As you design, the Klondike will actually lightly freeze your frosting. Put completed bars on the baking tray and keep in freezer to solidify frosting, which will help the designs last longer before serving. Tip: do this the night before the party to avoid freezer burn.
NEW ENGLAND PATRIOTS THEMED-FOOD
No Offsides Sliders & Beans
Using your favorite slow-cooker pulled pork recipe, take a pretzel roll or bun with the butt side up (it's flatter) and layer inside the juicy pork meat and some sauce. Atop the butt, I recreate football laces with mayo or honey mustard. Serve with classic Boston Baked Beans on the side.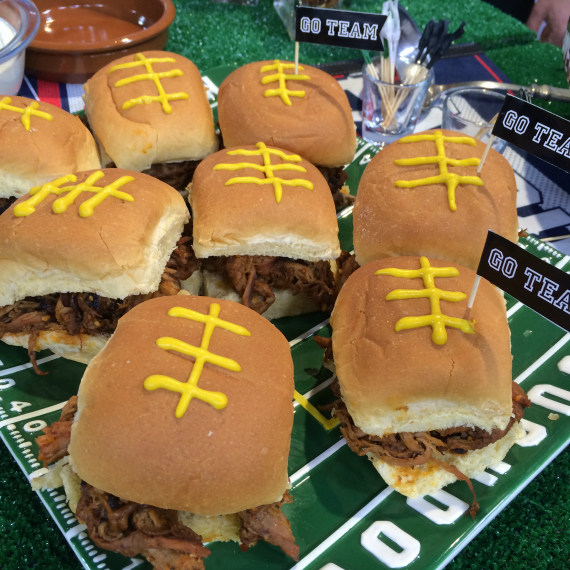 Clam Chowder Soup Shooters w/ smoked apple wood bacon crumbles on top
I love serving soup shooters on a cold day: nothin' better, and ALWAYS a hit at parties.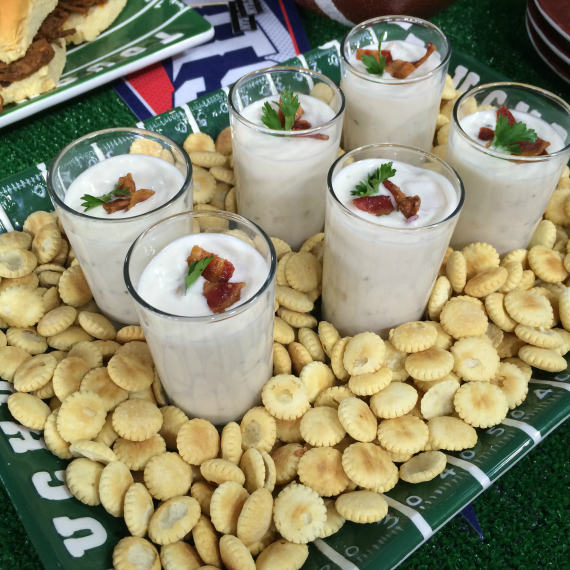 5 applewood smoked or smoked bacon strips
2 celery stalks, chopped
1 large onion, chopped
1 garlic clove, minced
3 small potatoes, peeled and cut into bite-sized cubes
1 cup water
1 bottle (8 ounces) clam juice
3 teaspoons chicken bouillon granules
¼ teaspoon white pepper
½ tablespoon fresh thyme
1/3 cup all-purpose flour
2 cups fat-free half-and-half, divided
2 cans (6-1/2 ounces each) chopped clams (don't drain!)
In a Dutch oven, cook and flip bacon until crisp. Remove and drain on paper towels. Using residual bacon oil, sauté celery and onion until tender (about 5 minutes). Add garlic; cook 1 minute longer. Stir in the potatoes, water, clam juice, bouillon, pepper and thyme. Bring to a boil. Reduce heat and simmer uncovered for 15-20 minutes or until potatoes are tender. In a small bowl, combine flour and 1 cup half-and-half until smooth. Gradually stir into soup. Bring to a boil; cook and stir for 1-2 minutes or until thickened. Stir in clams and remaining half-and-half and heat through. (Avoid boiling as this will create a skin.) Serve in tall shot glasses, crumbling the reserved bacon generously on top. Line up on a tray and amidst the soup glasses layer oyster crackers. (My daughter just said, "I LOVE those crackers!")
SEATTLE SEAHAWKS THEMED-FOOD
Teriyaki Salmon Skewers
Seattle folks are wild for their teriyaki, and this version celebrates another of their hailed culinary treats: wild-caught, Pacific Salmon.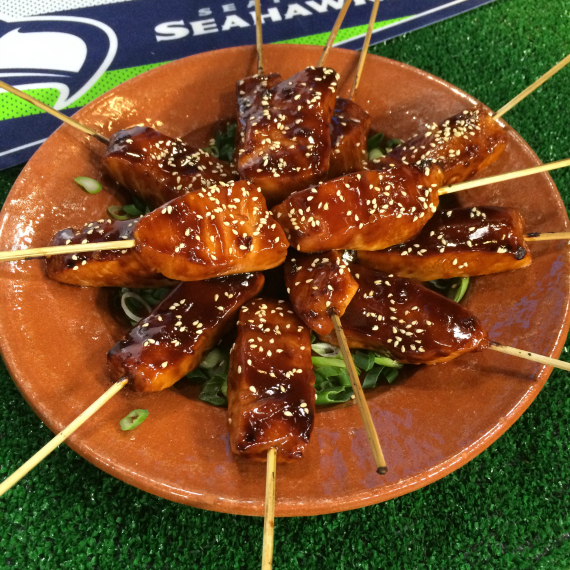 Marinate salmon in a teriyaki sauce of your choosing after separating it from the skin and cutting against the grain into strips. Skewer onto water soaked bamboo skewers and broil and baste in the oven until meat is opaque and fish flakes. Sprinkle with additional sesame seeds to taste. Serve on skewers.
Smoked Salmon Dip with Pita Crackers
My sister who lives in the Pacific Sound says this is a must have for game day: cream cheese, sour cream, smoked salmon, capers.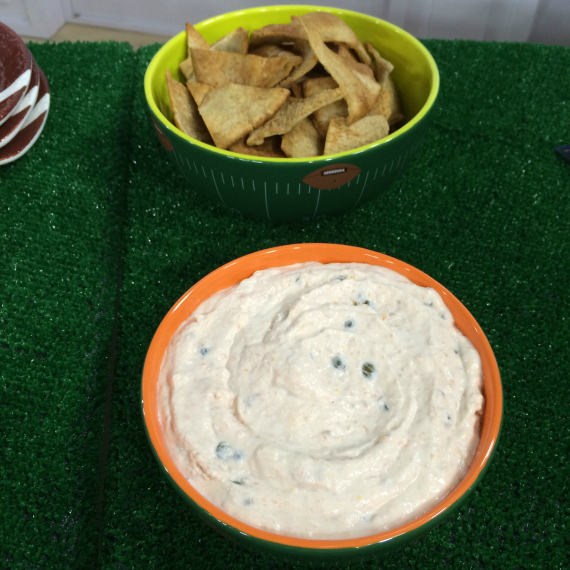 8 ounce package cream cheese, completely softened
6 ounces wild Pacific smoked salmon, chopped
1/8 to ¼ cup capers
1 ½ teaspoons minced fresh dill
½ cup sour cream
½ teaspoon kosher salt
dash cayenne pepper to taste
crushed black pepper to taste
1 tablespoon fresh lemon juice
Cream the cream cheese until utterly smooth using an electric beater. Fold in the rest of the ingredients and mix well. Serve with pita crisps and cucumber slices.
In honor of the Super Bowl XLIX host state.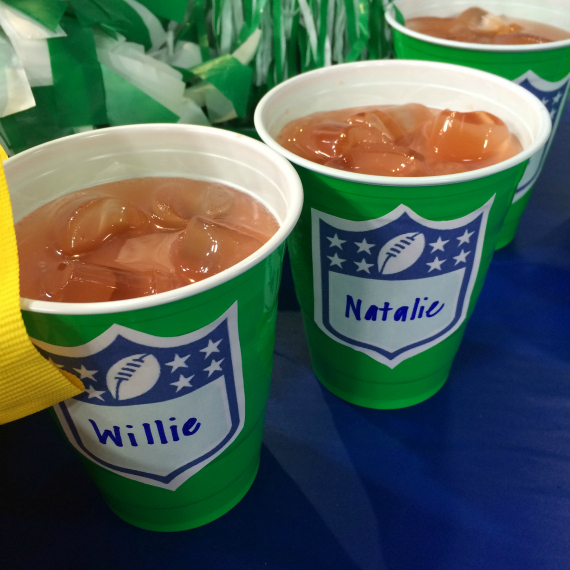 1 ½ ounces tequila (you can substitute seltzer for a delicious non-alcoholic version)
½ ounce Rose's lime juice
½ oz grenadine syrup
4 ounces orange juice
Fill a highball glass with ice and orange juice. Pour grenadine over the juice, which will sink to the bottom and slowly rise to the top as you drink. Garnish with a fresh orange slice.
Who doesn't love a milkshake? To really have some fun, you could serve these spiked! Because milkshakes sweat (as in their glasses bead up with condensation), I found these cool faux field number coasters to place them on.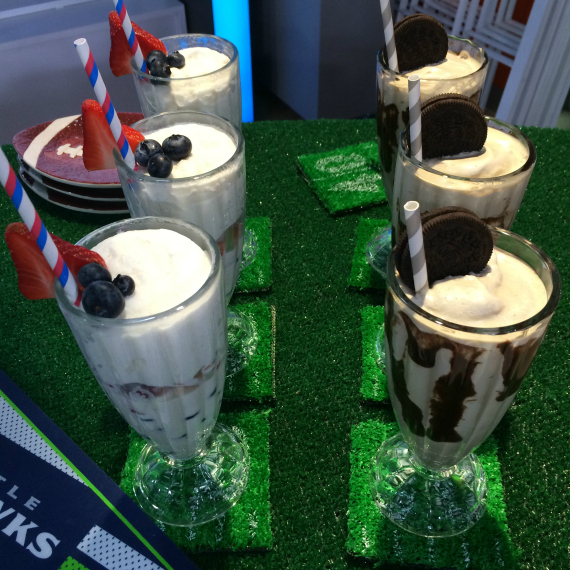 Patriots Shake
Featuring the Patriot's red, white and blue.
Strawberries
Raspberries
Blueberries
Vanilla ice cream
Milk
Whipped cream on top
Strawberry on side of glass

Seahawks Shake
Inspired by the famous Seattle coffees.
Coffee-flavored ice cream
Chocolate syrup
Oreos
Vanilla simple syrup