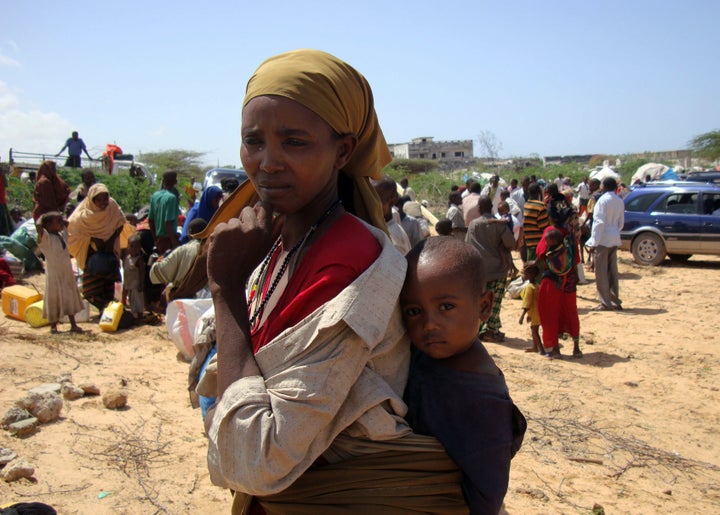 Last Saturday, I felt the elation of standing before 100,000 South Sudanese celebrating the fulfillment of their dream of an independent state. The next day, Sunday, I witnessed the tragedy of 100,000 Somali men, women, and children driven from their homes to refugee camps around Dolo Ado in eastern Ethiopia by drought, violence, and dire conditions in parts of their homeland. The sight of families -- mostly women shepherding their children -- stumbling into the camps after up to ten days of exodus through the bitter Ogaden desert and receiving their first nutritious meals in months is heart-breaking. They are joined in their flight by even greater numbers fleeing to Kenya in search of food, water, and security, as their crops and livestock wither around them and long-standing conflicts continue.
The number of people in the Horn of Africa affected by this tragedy is staggering. The refugees in Dolo Ado are among the more than 11 million people in Djibouti, Ethiopia, Kenya, and Somalia, who are in need of emergency life-saving assistance. While the recent surge of refugees across the region has found the international humanitarian community racing to keep up, we have long been at work to prepare for and address this latest tragedy. In the summer of 2010, the USAID-supported Famine Early Warning System Networks (FEWS NET) used satellite and ground analysis to predict this crisis, and we responded beginning in August of last year by pre-positioning food and other supplies for the affected countries. Shortly thereafter, our ambassadors in the region declared disasters in Ethiopia, Kenya, and Somalia, thus unlocking the door to life-saving assistance.
Since October 2010, the U.S. Government has provided more than $383 million worth of assistance, including 314,000 metric tons of food -- mostly a blend of corn and soy, legumes and vegetable oil. More than 4.1 million people have benefitted from this help.
Looking ahead, USAID is focused on three inter-locking challenges. In the short-run, we need to continue and to enhance our support of an aggressive and coordinated international response to the immediate humanitarian emergency. Working with the World Food Program, UN High Commissioner for Refugees, non-governmental organizations, international donors, and others, we need to ensure adequate shelter, food, and health conditions not only for the Somali refugees streaming into Ethiopia and Kenya, but for other areas -- like northeast Kenya -- where severe malnutrition is rampant.
Second, we need to help communities and individuals confront the drought and extreme food insecurity. For example, in Ethiopia, we are supporting a government-led "safety net" program through food and cash for work programs to provide boreholes for water wells, medical clinics, nutrition education, and sanitation programs. Such programs ensure that the people won't have to sell off their livestock and other belongings; as a result, some 7.5 million Ethiopians have been helped to avoid slipping onto the emergency assistance rosters and relying on international aid to survive.
Perhaps most importantly, we are working with governments and populations in the region to create sustainable food security thru strengthening agriculture and rural development. President Obama's innovative and forward-looking "Feed the Future" initiative is already at work to expand agricultural output, build strong markets, increase transport infrastructure, bring new technology and innovation, and address the entire value chain in these affected countries, from seed to market. We are pressing governments in the region to enhance their support for agriculture through transparent, market-oriented structures based on plans coordinated with local populations, and in most cases, we are fortunately pushing on an open door.
We insist that women be front and center in all of these processes, ensuring that they are addressed not just as victims of the current emergency, but as a key part of the solution. We are involving women as planners, beneficiaries and recipients of our programs, including an emphasis on relief to pregnant and lactating women and on projects to prevent and respond to disturbing reports of sexual violence.
USAID experts in food security, Africa, and humanitarian assistance are working together with partners from other U.S. Government agencies, especially the State Department. Working as an integrated U.S. Government team along with the international community, we will pursue a coordinated, forceful and comprehensive response.
The 11 million people in need in the eastern Horn of Africa deserve nothing less.
Related
Popular in the Community