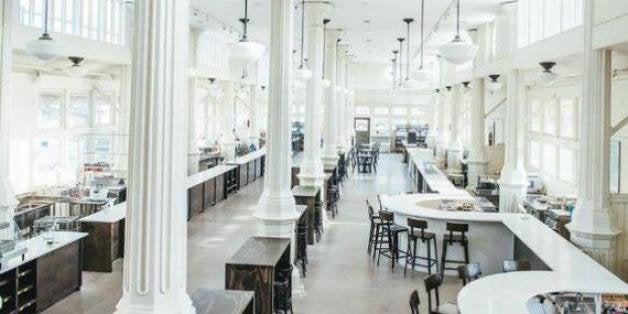 The word "food court" usually brings to mind the same-old joints serving the same-old stuff: sickly sweet chicken teriyaki, leaden slices of pizza and doughy, dry cinnamon buns. Not anymore. Today's food halls are far more ambitious, taking in some of the finest chefs, artisans and purveyors in town. Take a tour of 11 gastro-emporiums across the country that are redefining what it means to be a food court.
Krog Street Market, Atlanta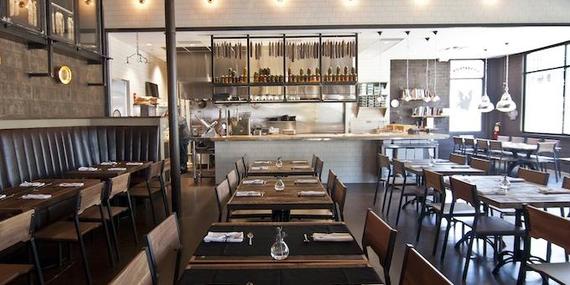 A sprawling complex located in one of ATL's hottest food 'hoods, the Inman Park hub boasts a dozen eat-in restaurants and bars, along with nearly a dozen more retail shops.
To eat there: Find Tex-Mex specialties (bean-and-cheese nachos, puffy tacos) at chef Ford Fry's Superica; meat-centric cooking (grilled beef-cheek bread pudding, braised brisket) at The Cockentrice; and Japanese small plates and cocktails by ace bartender Arianne Fielder at Craft Izakaya.
To take on the road: Grab a scoop from cult-favorite ice cream shop Jeni's Splendid or chocolate from bean-to-bar cocoa maker Xocolatl.
What's next: Krog Street will continue to bring in new vendors, including Spice Road Chicken stall chef Asha Gomez and another full-service restaurant and bar from some of ATL's top bartenders. (Photo by Sarah Dodge)
99 Krog St.; 770-434-2400
Gansevoort Market, New York City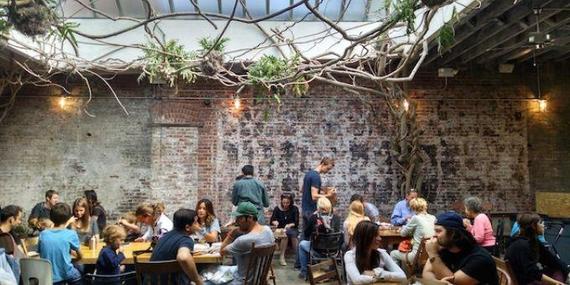 Chelsea Market has some new competition thanks to the recent opening of this industrial-chic food hall in the Meatpacking District boasting 24 vendors and a small but stunning skylit dine-in area.
To eat there: Taking a note from Basque tavernas, Donostia doles out pintxos that feature both fresh and preserved seafood. The Express outpost of David Bouhadana's Sushi Dojo, on the other hand, focuses on raw fish available in rolls or a chirashi bowl.
To take on the road: A treat from Dana's Bakery, which does French macarons in all-American flavors like s'mores, red velvet and Key lime pie.
Read more about NYC's thriving food hall scene here. (Photo by Kelly Dobkin)
52 Gansevoort St.
St. Roch Market, New Orleans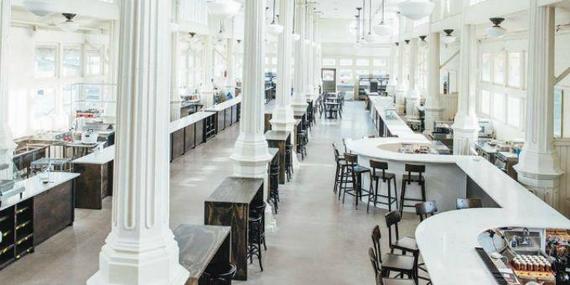 Set in the historic home of a 19th-century market by the same name, the icon — which had been closed since Hurricane Katrina — made a big comeback this April with a new roster of 15 artisanal vendors.
To eat there: Along with a number of seafood slingers (this is NOLA, after all) like Curious Oyster Company and Elysian Seafood, you'll also find spots such as Koreole — serving Korean-Creole mash-ups like japchalaya — and Mayhaw, an ingredient-driven cocktail bar from drinks maven Ali Mills (Dash and Pony, Patois).
To take on the road: Cochon Butcher alum Kristopher Doll's first solo venture, Shank Charcuterie, is stocked with his top-notch sausages and other meats. (Photo by Rush Jagoe)
2381 St. Claude Ave.; 504-609-3813
The Hall, San Francisco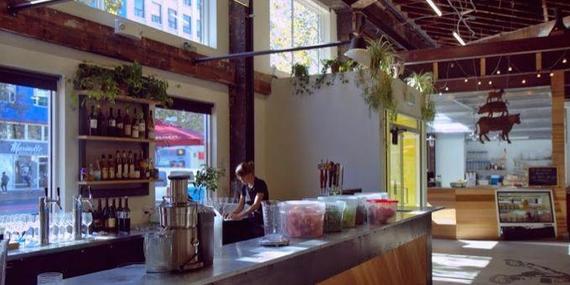 The Mid-Market revitalization took a delicious turn last fall, when this upscale food hall highlighting six local vendors and a bar (open till 11 PM nightly) made its debut. There's communal indoor seating, along with a space for outdoor dining.
To eat there: Scott Peterson and Ted Wilson, who opened The Hall, also run Fine & Rare, which turns out inventive seafood dishes (crab Louie salad, house-smoked salmon Reuben) and pours wines from Wilson's self-titled label. Food truck Little Green Cyclo has gone brick-and-mortar with Vietnamese dishes (beef pho, banh mi) that use sustainably sourced and organic ingredients. Click here for more recommendations.
To take on the road: Fuel up for your trip home with coffee at Dignitá. (Photo by Virginia Miller)
1028 Market St.; 415-558-8293
Union Station, Denver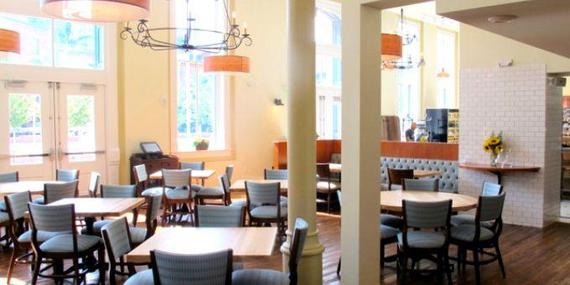 After a $54 million renovation, this restored train depot re-opened last summer with a slew of new food and drink establishments, including a burger joint, throwback ice cream parlor and a hidden bar.
To eat there: Located just north of the Great Hall, Mercantile Dining & Provision isn't just the biggest restaurant inside Union Station, it's also one of the hottest. Run by chef Alex Seidel (Fruition), the sprawling 5,000-sq.-ft. space houses a two-in-one concept: a restaurant with a European-inspired menu, plus a market selling artisanal goods. For details on more Union Station vendors, click here.
To take on the road: Grab a smoothie, sandwich or salad for your ride at Fresh EXchange or a boozy milkshake at MilkBox Ice Creamery.
1701 Wynkoop St.
Grand Central Market, Los Angeles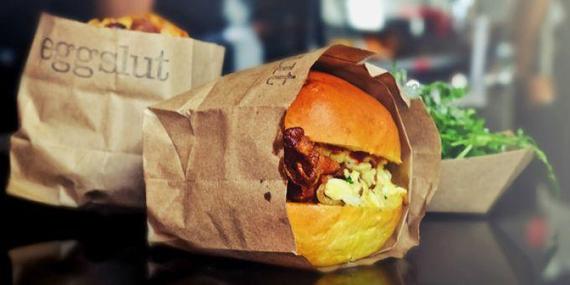 After a century of peddling food and wares in Downtown LA, this open-air bazaar has been undergoing a major revamp over the last year. A fresh wave of food vendors have breathed new life into the spiffed-up market, making it a true rival to West Coast counterparts like the Ferry Building and Melrose Market.
What's new: Newcomers include two new seafood options, Mark Peel's Bombo (serving steamed mussels, fish stew, etc.) and The Oyster Gourmet, plus Madcapra, the falafel spot from NYC transplants Sara Kramer and Sarah Hymanson (formerly of Brooklyn's Glasserie).
To eat there: Chase down smoked meats and Southern sides with an ice-cold Shiner Bock at Horse Thief BBQ or fill up on egg-centric specialties at the single-concept Eggslut.
To take on the road: Health-minded shoppers can pick up sips from Press Brothers Juicery — with combos like Liquid Gold (pineapple, lemon, mint) and Charge (carrot, celery, apple) — or kombucha by Better Booch. Those in need of a java fix should stop by G&B Coffee, co-owned by U.S. Barista Championship winner Charles Babinski.
317 S. Broadway; 213-624-2378