It's often hard to accept the end of summer -- gone are long days, plentiful sunshine, and weekends at the beach -- but there's actually so many things to enjoy when colder weather moves through. One of our favorite fall and winter perks? Beer selection is at its peak with many seasonal varieties. Even if a brew isn't your thing, there's plenty of tasty "beer"-based cocktails cropping up on menus this time of year.
Here's a list of delicious beer drinks -- and the restaurants that serve them -- that are sure to elevate your next seasonal soiree.
Perfect for both freezing cold and blistering hot days, the Farmer's Mule at Rouge Tomate is made with lemongrass tea infused vodka, fresh lime juice and zest, house made citrus ginger beer, muddled tarragon, and club soda. A popular misnomer, ginger beer is actually a soft drink that's spicy and robust in flavor, and commonly used in a Dark and Stormy or Moscow Mule.
<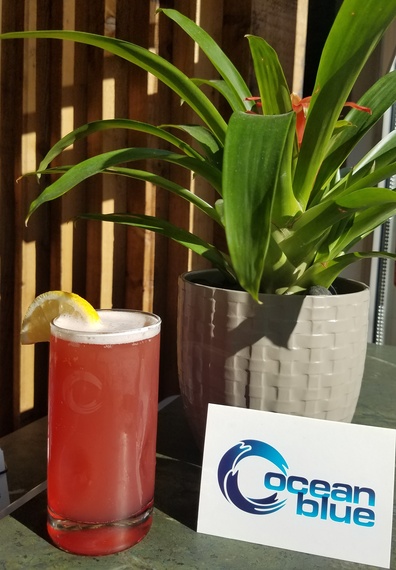 Photo provided by Ocean Blue.
Wishing it was still summertime? Throw it back to warmer, sunnier days at Ocean Blue with a Pink Big Wave made with pomegranate syrup, fresh lemonade, and Big Wave Golden Ale, a blonde beer brewed in Kailua Kona, Hawaii.
Nothing brings more holiday cheer than the Campanita de Navidad at Los Camaradas, which is made with pomegranate Reposado infused tequila, winter spiced syrup, Meyer lemon, Aztec chocolate bitters, Dopplebock (strong, malty dark German beer), and a syrup of cannella (a bark spice), star anise (fruit from a native Asian evergreen tree), nutmeg, and clove.


Cambridge Brewing Company's tap list changes with the time of year, offering beers that complement seasonal fare and cooler weather perfectly. This winter, try the Tall Tale Pale Ale (a hoppy, nectar flavored beer) the Charles River Porter (a rich, dark brew with caramel and toffee hints), or the Great Pumpkin Ale (brewed with fresh, locally grown pumpkins).
A pub and botanical brewery, Forbidden Root offers a dynamic list of its own plant-infused ales and other complex beers that complement the season, including a velvety Ocean Man Nitro Stout, a nutty ale named Hicktoberfest, and a tart Belgian brewed with cranberries.
A light and refreshing delight, the Bumble Bee Cocktail at Tavern Road is made with vodka, honey simple syrup, fresh lemon juice, and ginger beer, and garnished with a lemon peel.
We can't think of anything better to cozy up to than Ben's Upstairs' Fall Shandy, a mix of spiced apple, cider, lemon, maple syrup, and DC-brewed Hellbender Bare Bones Kölsch (a traditional German ale made with all American ingredients).
Presented traditionally in a copper cup for an extra-cool sensation, the Cider House Mules at Margo's are made with vodka, lime, cider, ginger beer, and bitters.
While Bravas Bar de Tapas may be known for its great selection of Spanish wines and sangrias that complement it tapas menu, the restaurant also pours awesome seasonal drafts that shouldn't be overlooked, including local IPAs, ciders, and lagers.
A classic drink from 1941, Moscow Mules are now extremely popularity and can be found on menus at restaurants and bars across the country. Originally made with Smirnoff Vodka, Ivy City Smokehouse's version is prepared with Civic Vodka (produced and bottled in Washington DC), Gosling's Ginger Beer, and lime juice.
Row 34 offers the perfect partners to its extensive raw bar selection -- over 24 seasonal tap lines, one cask engine, and more than 50 bottle and can selections of beer and hard cider.