Over 3 billion postcards made their way through the U.S. Postal Service last year. That's a lot of Hi Mom! Wish you were here's, and it gives you an idea of how ingrained those little picture cards have become in the travel culture, in human culture. The idea behind a "postal card" is as old as the stamp itself, and in those 171 years countless people have thrilled at hearing from loved ones participating in grand world adventures. Who hasn't smiled at receiving those little tastes of far away?
The romanticism behind the postcard was the seed of my idea to let complete strangers from around the world choose my next great travel adventure for me. I decided to create The 30 Postcards Project, a travel journey with a simple mission: to see 30 places in the world suggested to me by a person who cared enough to pop a postcard in the mail.
In the first two months of the project, which will last all of 2011, the response has been exactly what I'd hoped for. Many individuals have mailed cards suggesting typical tourist destinations such as museums, famous hikes, landmarks and beaches. Still others have gotten more creative, writing about unique cuisine, cultural festivals, strange natural phenomena, or humanitarian projects. It's easy to say that a local is the best tour guide, but it's quite powerful to be solicited into visiting the places these locals (and travelers) love!
I had no idea that there is the world's largest wine collection -- a 120-mile long cellar -- underneath a town in Moldova until it was suggested in a postcard that I check out great Moldovan wine. Has anyone ever thought of visiting an ecovillage in Iceland or possibly touring Europe's "greenest" city located in Sweden? A postcard from the Maldives suggested I visit the island paradise and get my scuba diving fix before rising sea level takes it away from us.
I've been known to try everything in this world at least once, but I fear it will be impossible to experience the entire collection of experiences that will be expressed within the postcards in one natural lifetime. So I've decided to choose 30 of them to visit this year and highlight as many of the remaining as I can in my blog. It is my hope that travelers from around the world will follow along on the journey (and by all means participate in it).
There's a story behind every inch of planet Earth and a lot of them have yet to be told. If you've got one, write it on a postcard!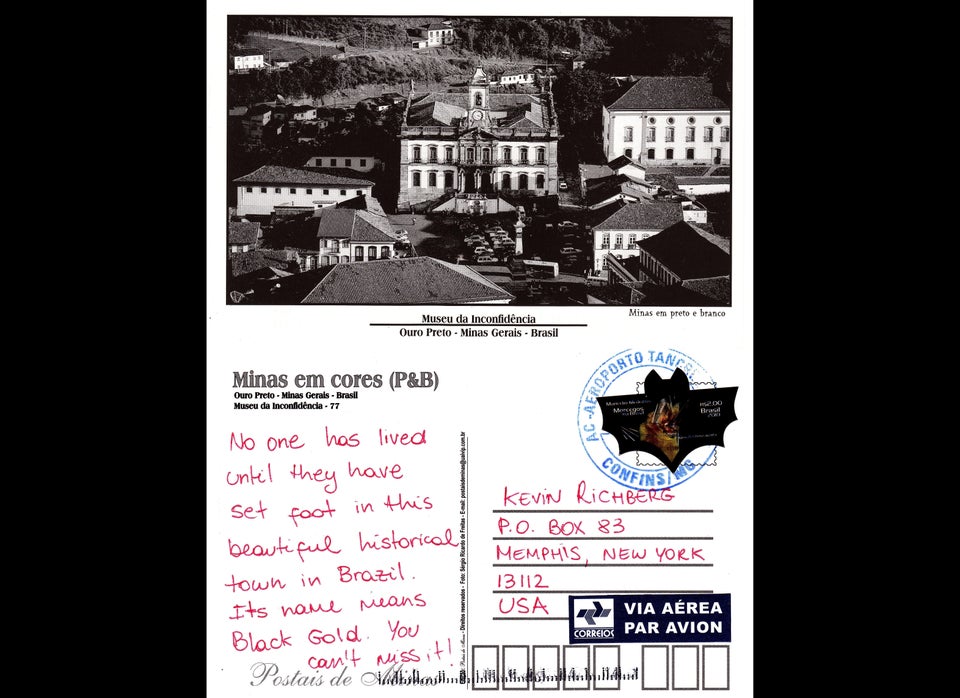 11 Postcards From The 30 Postcards project -- www.30postcards.com