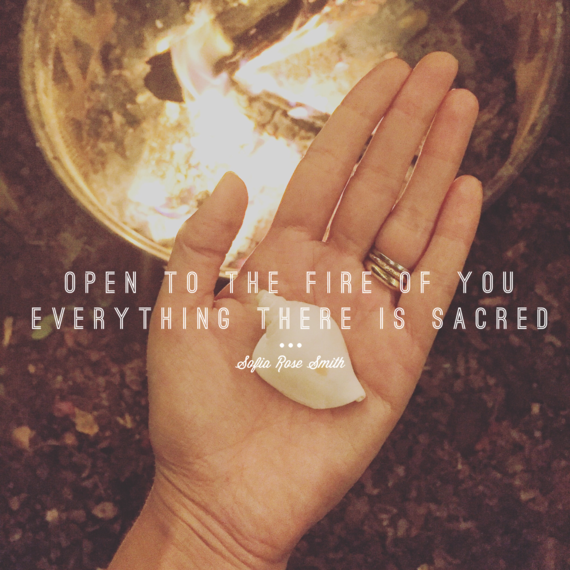 Photo Credit: SOFIA ROSE SMITH
For the past four years, I haven't gone to a party on New Year's Eve.
Before that, I'd have champagne with friends. A couple times I did nothing. Several times I dressed up; I even remember the year 2000 and the glittery spectacles I wore that night.
But every year, without fail, I felt a sense of emptiness on New Year's Day.
I never quite felt that sense of new beginnings.
I never quite felt the blank slate of myself the way I wanted to.
But then, a few years back, I began ringing in the New Year with ceremony and ritual.
It starts when I make my New Year's vegetarian chili. The stewing and brewing allows me to become present to the moment. Then, I go to the mountains with my loved ones. We bring the chili and meet up with a big community of spiritual kinfolk to sit in circle and reflect on our year. We light candles and burn sage. We don't rush. We take our time, as we pass around a talking piece and witness one another.
This is how we honor what has been. This is how we flip through the pages of the last year of our life. All of the events, growth, change, loss, leaps, and faith that have taken us through the year. We look into each others' eyes. We listen from the heart. We speak from the heart. We slow down. We spend a several hours in circle like this. It's ancestral, it's ancient. There is laughter, there are tears; there is quiet and you can feel your own heartbeat.
We are guided on a journey with prayer and song.
We emerge like new babies after midnight.
We sleep in tents and yurts that night and wake up New Year's Day feeling renewed and like anything and everything is possible.
So, if you're looking to ring in the New Year mindfully this year, here are a 11 rituals you can use:
1. Call a few intimate friends (and friends of friends!) together to sit in a Circle. Use a talking piece and share about what 2015 was for each of you. Be spontaneous, listen, and speak from the heart.
2. Allow yourself to slow down.
3. Before you share, light a few candles in the center of your circle. Bring together sacred objects. Make a small community altar with stones or sticks, something from nature.
4. Say your Thank You's. Do a round of Gratitude in your circle. Thank Spirit and the Universe for all that you're grateful for in your life.
5. Pray for your loved ones and for yourself (sometimes, we really need to pray for ourselves more than anything).
6. Give away and let go all that no longer serves you. You can speak this out loud. You can write this on a piece of paper to burn in the fire or by candle. Get it all out. Feel the muck leave you.
7. Do a group meditation or guided visualization. Listen to a guided meditation to help bring you into your creativity and imagination. Visualization is a powerful practice at any time, but especially to call in the New Year! I've recorded a New Year's meditation here that you are welcome to use!
8. Have a potluck feast with your loved ones. Have everyone bring something to eat after your ceremony.
9. Have an alcohol and substance-free evening.
10. Have a sleepover at home, camping-style. Go camping! Wake up under the Sky.
11. Have coffee, tea and breakfast with your community on New Year's Day. Then, sit in another circle and share about your experience of New Year's Eve.
See how it feels to bring in 2016 with ceremony and ritual.

If you're flying solo, all of these rituals can work as a journaling practice. You can take #1, #4, #5, and #6 and use them as writing prompts.
You can mindfully prepare a meal for yourself, light a candle, listen to music, do the guided visualization and be in quiet perfection of the moment.
Share in the comments below: how did it go?
Wishing you a glorious New Year's Eve and a 2016 full of light and love.
*I don't own and neither did I invent these practices. I've learned them from teachers in my spiritual community who learned them from other teachers. I honor and thank them for sharing their wisdom with me. Elissa Zimmerman, Paul Perrotta and Jared Seide are all reflected in these rituals, as well as all who came before them. If you want to learn more about circle work, you can check out the Center for Council, where I was trained in the practice.
Related
Popular in the Community