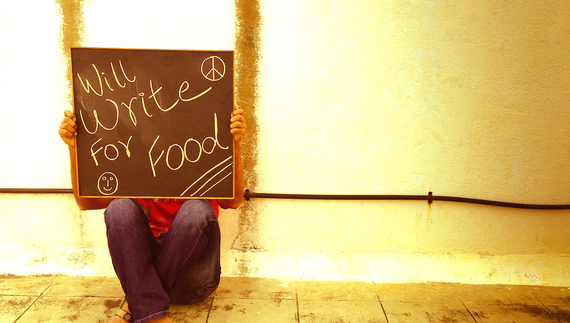 With thousands of books available to readers, how do new authors market and sell their books?
The Miami International Book Fair brought me to the magic city for the weekend as it did thousands of other authors, publishers, book agents, fitness models, race car enthusiasts and readers alike. Being the first book fair I have attended as an author, I have to admit how ill prepared I was. That being said, I was curious to learn from the experience and discover how other authors successfully market and sell their books.
While strolling down Writer's Row on Saturday at the book fair, I stumbled upon author and should-be standup comedian Christoph Paul who I watched sell book after book while many other authors had little to no movement at their booths. What is his secret?
"You're either going to really hate what you see or really love it," Christoph says as I approached his booth at the Miami International Book Fair. Being that the weird and bizarre isn't quite the genre I usually gravitate to, I leaned more toward the former. However, after watching the thirty-something year old, full-time author in action, it was easy to understand how he sold more books in fifteen minutes than anyone I had seen sell on Writer's Row. As a new author, I had to ask him to share his secret.
Here are 11 secrets on how author Christoph Paul successfully markets and sells his books.
1. Make marketing fun. "I've learned that although I love to write, you have to market yourself," Christoph says. Having worked in sales and marketing for well over a decade, I couldn't agree more. "Writers need to find a way to make marketing fun. I don't mind dressing up like Jason." Christoph's newest book, Slasher Camp for Nerd Dorks, has a Friday the 13th-ish cover and thus he plays up the "Jason" character as part of his marketing strategy at the book fair.
2. Elevator Pitch. "You have to have an elevator pitch or catch phrase," Christoph explains. An elevator pitch is a ten second description of your book or whatever it is that you are selling. With so many people and companies competing for the attention of consumers, it's important to engage potential customers within a few seconds. If we can do this successfully, this will open up more conversation allowing us to then sell our book, product or service. "It's kind of like if Woody Allen wrote a Friday the 13th movie" Christoph says to a couple who is eyeing his newest book. It's short, to the point, catchy and most importantly, people can immediately identify what his book is about.
3. Passion. "We need to have a love for our books, these are our kids," Christoph continues. When we're passionate about something, whether about books we have written, a product we really like or a new restaurant we recently tried, passion is an energy that resonates with people. Christoph is obviously passionate about his work. He loves his books, he enjoys interacting with people and he doesn't mind if people visit his table to laugh, buy something or walk away in disgust.
4. Entertain the Muse. "The muse wants us to keep writing," he says. "You're human, you're not one of the gods. The muse will continue to inspire as long as we continue to inspire the muse." I remember while writing my book, I stayed awake night after night typing. As long as the muse kept my fingers dancing on the keyboard, I continued to dance right along beside her and she never left me short of inspiration.
5. Don't quit your day job. "Start off part-time. You're going to have to have a day job." Christoph is happy to admit that now he writes full-time, but that wasn't always the case. This lesson took me a long time to learn. We have to work. There is no such thing as an overnight success. It comes down to dedication, perseverance and work. Entrepreneurs, artist, creatives, writers alike, regardless of what we want to do, we all have to start somewhere and sometimes that somewhere is closer to the bottom of the ladder. The important thing is to keep moving, to take a step everyday in the direction of our dream, so that one day our passion will be our career and our career our passion.
6. Build a platform. "An agent will not pay you any attention until you have a following. Marlon James was rejected 74 times before he found a publisher who would take him," Christoph continues. This is probably one of the biggest things I hear from publishers and book agents--platform, platform, platform. We have to have a platform, a following, people who care about what we do or write about. Otherwise, we could have the greatest piece of literary work ever to be written but without an audience to buy it, it would have little to no impact.
7. Write. "Books sell more books. People don't want to see one book, they want to see many books." This strategy is obviously working for Christoph. With a table covered with a dozen titles, people flock to his booth. Eric Shelman, another author at the Miami International Book fair who has written and self-published eleven books since 2011 advises, "You have to stay on it. With independents like us, never let up. Get a book out quickly. Unless you're Stephen King, you should have a book out every four or five months."
8. And write some more. "Keep writing. Treat marketing and sales with half the reverence of writing," Christoph says. Although he has been writing since he was a kid, he says that he's been writing more seriously during the last four years. Writing is a practice, a discipline, a muscle that has to be exercised. Hemingway wrote every morning. Stephen King writes everyday. Many authors will say we have to have discipline, we can't wait on the inspiration muse, somedays it's all about discipline.
9. The audience. "Think of who your audience is. I like this term, it's a little sexual but I'll say it anyway. Get yourself and your audience off." Judging by some of Christoph's book covers, titles and elevator pitches, I was curious to know what more he could possibly add to the mix. "I'll even get a little more risky--and finish together." Let's just say, consider who the target market is for your book.
10. Where to publish. "I believe in being published all three ways--self-publish, small press and big five." I asked if Christoph had tried Kickstarter, a crowdfunding platform where I recently launched my book to raise money to assist with the printing, editorial costs and so forth. "No, but I will one of these days." With twenty thousand followers on Twitter and the luxury of being able to write full-time, Christoph probably has his bases covered, but even still I think Kickstarter is a great platform for entrepreneurs and creatives.
11. People buy people. I'll add one last thing that Christoph didn't say but was obvious from watching him interact with people. At the end of the day, people buy people. There are so many options available to consumers--books, restaurants, cars, vacations, etc. Therefore, often times it boils down to this: people buy things from people they like. Christoph is likable. He knows some people are going to hate his books, while others love them and he's okay with that. But because he is likable, people stop at his booth to look at his books and many times leave with one of his books. So what's next for Christoph? "I'm going to be a publisher in 2016, that's my next big step. To help publish the weird, bizarre, crazy stuff."
Calling all HuffPost superfans!
Sign up for membership to become a founding member and help shape HuffPost's next chapter