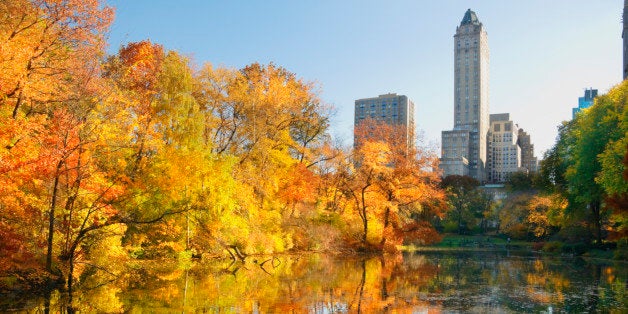 1. The temperature confuses you.
People from warmer climates always get excited about experiencing "the seasons" for the first time, but they're never prepared. The new NYU students from Florida and California claim they're freezing, swaddled in purple logo sweatshirts and UGG boots. The Québécois guy and the entry-level employee from Minnesota, on the other hand, bond over how balmy their walk to the Google Headquarters is.
It's tough for locals too -- the Union Square Farmers Market sells pumpkins next to peaches, and the Top of the Strand can't figure out if it's too cold, or not cold enough, to close the retractable roof.
2. You're surprised how easy it is to find fall foliage.
Beyond Central Park, you begin to explore places like Fort Tryon Park, Wave Hill, and Queensbridge Park. For a city so many people claim is a "concrete jungle," you admire the efforts employed to ensure NYC citizens have some bits of natural space, and are thankful you don't have to drive all the way to the Hudson Valley to watch the leaves change color.
3. You invest in a pair of good gloves.
Fall Fashion Week (you know, when they show off the styles for spring / summer... I don't get it) forces you to look as good as the toothpick-thin models walking around Bryant Park in early September. You step up your wardrobe by purchasing your first pair of leather and cashmere gloves, a knee-length coat (probably red wool, or houndstooth patterned), brown boots, and one of those chunky-knit infinity scarves. You also live in dark denim jeans, beanies, and/or leggings until about late April.
4. You're more attracted to random people you see on the street.
Maybe it's the wind blowing through the hair of that hipster dude sitting on a bench in Washington Square Park, or admiring the healthy, pink cheeks of the toddlers and their families on their way to preschool somewhere on Lexington Avenue, but New Yorkers look their best in the fall.
Men begin to sport scruffy beards and bring out their collections of flannel shirts, and ladies dye their hair from beach blonde, to auburn or chestnut. Even the joggers in Central Park look healthier and more comfortable, and less like sweaty hot messes.
5. You overdose on the "fall products" stocked by your local bodega.
It goes beyond pumpkin-everything -- with all the gourmet and specialty restaurants in NYC, you gorge yourself on butternut squash ravioli at Jack the Horse, Turkey on Rye cocktails at Enduro, and mulled-wine-cranberry-compote from a recipe you saw on that Park Slope mom blog.
6. You notice that the city no longer smells like garbage.
Walking down Houston Street on your way home from work, the putrid scent of wet trash is suddenly sterilized by the colder air that sweeps through. You begin to notice the smell of dry leaves, and a somewhat subtle firewood odor; it's finally cool enough to put your AC into Manhattan Mini Storage and keep your windows open at night.
7. You carefully plan out your Halloween costume.
Anyone can march in the annual Greenwich Village Halloween Parade, so figuring out what you're going to wear, and who you're going to represent, suddenly occupies a lot of your time. You enjoy the trek up to 14th street dressed like a Ghostbuster, or a slutty nun, having random parade viewers Instagramming your "authentic costume," and local newscasters interview you on television.
If you're smart, you test out your costume at ComicCon a few weeks before.
8. Sports inadvertently become part of your daily routine.
The summer sunbathers of Central Park's Great Lawn are replaced with sweatshirt-clad, dirty-jean-wearing touch football players. You find yourself going to some cheap weekday Mets or Yankees games. The massive Monday night crowd at the otherwise chill Ainsworth bar shocks you, but then you remember the Giants are playing again.
You don't recall signing up to be on a kickball-and-keg team, but going to Baruch Field is a great excuse to hang out in the Lower East Side after everyone is too drunk to finish the game.
9. You live vicariously through the September sweeps.
Watching episodes of Boardwalk Empire only feels right in the fall, and spotting locations from your favorite films and television shows becomes a daily game. You wonder if your friends at Buzzfeed are anything like the crew from The Newsroom, and try not to listen to your inner monologue while on a date like they do in Manhattan Love Story.
Passing by the Atlantic Terminal clock tower reminds you of Bored to Death reruns. Binge sessions of Gossip Girl make you think differently about all those Dalton School kids who judge you on the subway each day.
10. You overthink about where you're going to watch the Macy's Thanksgiving Day Parade.
Maybe you've decided to brave the cold and strain your neck to watch country singers lip sync along 6th Avenue. Or maybe it's in your pjs, on the couch that your Filipino neighbor found at the Brooklyn Flea Market, the color of which matches the slice of pumpkin pie you both decided to indulge in before heading out for Chinese food later.
If you're lucky, your boss will invite you to their private suite at The London, but sometimes it's just easier to watch the balloons be blown up the night before, near the Museum of Natural History.
11. You're overwhelmed by the romanticism of nighttime in the city.
New York looks its best in the evening, when the fluorescent streetlights enhance the orange color of the changing leaves along the sidewalks, and couples making out can be found in dark, quiet corners around Grand Central Station. People will grumble about the days getting shorter, but they all secretly adore this time of year, because it means they get to admire the sparkling city skyline for a few more hours each day.
This post originally appeared on Matador Network, and has been reprinted here with permission.
REAL LIFE. REAL NEWS. REAL VOICES.
Help us tell more of the stories that matter from voices that too often remain unheard.