How DCI built a multi-million-dollar international consultancy and training business starting from ONE guy and no money.
Arthur Carmazzi started alone and half a million dollars in debt from previous business failure. Today Arthur Carmazzi and his team have built the DCI consulting practice to 384 independent DC Psychology licenced consultants that DCI supports in 14 different countries, three of these making over $1M per year in revenue. So what changed? What strategies took Arthur Carmazzi from desperation to global powerhouse?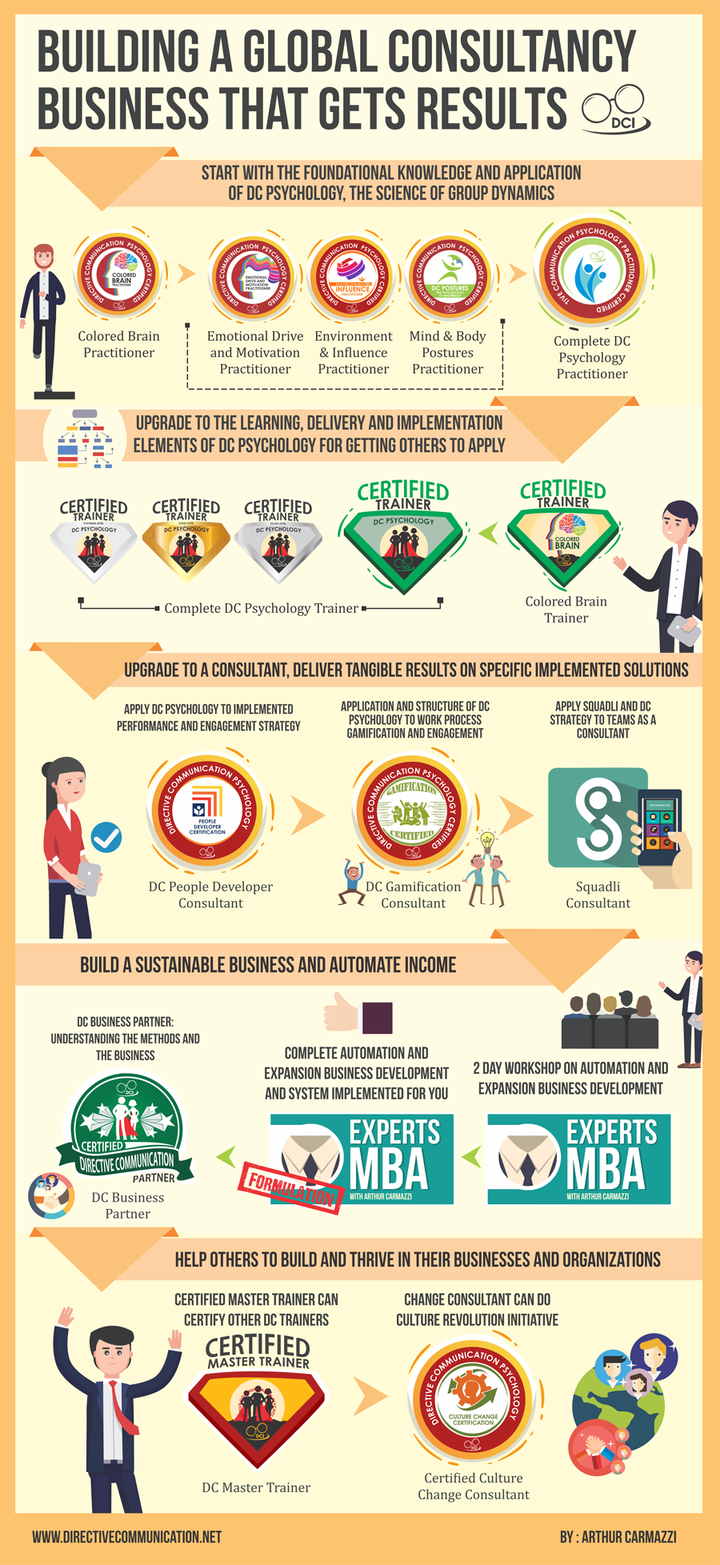 "There were 11 factors that we "Eventually" figured out that led to our current level of success as a Global People Development Consultancy and Training Organization …and it is replicatable!" says Arthur Carmazzi
1. Have very specific and unique methodology to achieve results. Everybody says they can get results and achieve your goals! "I am an Expert", "I have Experience", they say… But HOW? Few will have a specific system or process that clearly shows "HOW" they will solve your problems or get the required results. Without a system or clear process clients find it difficult to review or scrutinise. By having a "Specific" and well-defined methodology, clients can feel comfortable knowing there is a clear procedure to achieve the desired results.
2. Get academic research that is exclusive to your unique methodology. When the methodology itself is credible, then your processes, tools and personal competency to achieve results is also credible. There are so many "processes", tools and psychometric assessments, but most have no scientific empirical foundations, they are merely someone's "idea". When a client gets Facts and sees there is real science behind a methodology, they feel secure that hiring you is a good decision. Here is a sample of Arthur Carmazzi's work.
3. Get accreditation and validation for the methodology. Yes, more credibility that you are "unique", that your process "works", that a independent body says that this will get a result. This was key for us as a new player. Accreditation is especially important if others are using and getting certified in the methodology. An accreditation shows you have a standardized process to maintain a specific quality standard... which should lead to expects results, regardless of Who is applying it. DCI used AIOBP for accreditation.
4. Build credibility by applying the methodology in organizations and measuring results on completion and 3 months after to maintain it sustainability. The key to value is sustainability. Show the methodology is Sustainable and not just some "Training" and two things happen.
a. You instantly are ahead of most other organizations who provide a "solution" without proof that it will actually make a visible impact.
b. Because you stand out more with proof of sustainability, you can charge more. As a premium service with long lasting results, you are a "Premium" provider and will easily be in a position to bill accordingly.
5. Build a replicatable system that around your methodology that allows other trainers/consultants to augment it with their own unique experience and skills to make them distinctive. This is the "secrete sauce" that has helped us expand our brand, globally and without financial investment. By developing other qualified trainers and consultants who make an impact and apply our marketing processes with our HQs marketing support, the brand expands and there is more business for everyone. Each consultant also brings in new ideas and perspectives which keeps the Methodology growing.
6. Create specific solutions for specific problems using the methodology then package and brand them individually under the same credible methodology. Clients and Licensees alike need structure to make it easy to apply and understand a methodology. By creating a few (not more than 12) structured programs/initiatives that solve specific issues… and creating "Before and After" tables, Infographics, and the background science for each. It becomes Easy to understand the results each program/initiative will deliver and how those results will come about. Clarity provides credibility and a sense of security. We have also made specific tools and games that are required to implement these programs and ensure IP integrity.
7. Train and credential intelligent, capable individuals as trainers and consultants in the methodology and then help them to succeed in their business by applying it. Unless you are blessed with huge budgets for expansion, the Licence Model is the best to build brand equity and an international force. The Arthur Carmazzi Trainer/Consultant Licence and Certification model does not charge royalties but it has 4 revenue generating avenues through the licenced trainers and consultants… but these ONLY work if the trainers and consultants are successful themselves. This is why DCI has invested in lifetime support for their licensees. Here are the 4 additional review centres.
a. DCI Credentialed Trainers/consultants buy tools, assessments and manuals from DCI at wholesale and then mark them up to their clients
b. DCI Credentialed Trainers/consultants have partner links to engage their clients or fans to sign up for Practitioner certifications and make partner commissions
c. DCI markets programs and pays Credentialed Trainers/consultants to do the programs and keeps a percentage.
d. DCI Credentialed Trainers/consultants upgrade to other certifications or business development programs to support their success.
8. Automate lead generation and marketing for the organization. DCI uses multiple automated avenues to find, segment, and nurture clients. i.e. the "Which HR Superhero are You?" quiz identifies the area and scope of work HR professionals are and puts them into the database to be specifically followed up with relevant free content and occasional offers. Downloading the "3 Facts You Need to Know to Prevent Sure FAILURE in any Organizational Culture Initiative" PDF puts you in a Organizational Culture interest sequence with relevant information and occasional offers… Leads are automatically converted to potential customers who are then followed up with personally.
9. Develop automated systems that can be transferred to each consultant/trainer you have trained so they can succeed on autopilot too. Having great success in our own marketing, and the fact that it is in our best interests to help DCI trainers/consultants succeed, it made sense to build it for our independent trainers as well, this not only helped them make more money but helped us make more tool and assessment sales. Everybody wins!
10. Expand the system laterally with multiple facets of the methodology in technology, products, online courses, webinars, and apps… besides the apps like Squadli for performance measurement, assessments like colored brain and others for multiple areas like organizational culture and management gaps, and our own online courses… Webinars are big too, but many of our more successful webinars which appear to be live, are actually recorded "EverWebinars" that are fully automated. Wasting time is bad and once you have a winning webinar, it's just good business to recycle the success over and over again.
11. Use all these to support consultants and trainers you have trained to expand their business. People who feel ownership of your business will do more to support it. We supported our DCI credentialed Trainers/Consultants to do research and develop their own tools and games which we sell and they get royalties and credit from. Each consultant also applies their own unique experience and expertise with the DC Psychology for influencing group dynamics to create industry specific programs they own and we support (as long as our tools and branding are used). We have conventions and give them awards for different efforts relating their contributions to the methodology and its further expansion.
Arthur Carmazzi took 12 years to fine-tune this formula. These 11 steps are exactly what is working now but things do continue to change, and to stay ahead, we must be flexible and openminded to try new ideas that may require a little stretch.