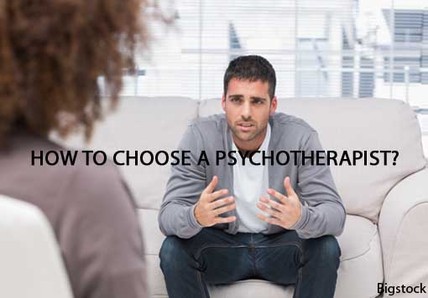 Psychotherapy isn't just for people who are anxious, depressed, or experiencing a dramatic life crisis. In fact, most people stand to benefit from talking openly about their thoughts and feelings with a neutral, nonjudgmental professional who guides them through their challenges.
But how to choose one? What to look for? Finding a therapist is more of an art than a science, but there are principles and guidelines that can help. These tips will help you assess the ability of any therapist to meet your needs and provide you with effective counseling treatment.
1. Find a psychotherapist who makes you feel comfortable.
Take the time to speak with a few different therapists until you find one who is warm and accepting. Find a good match for your personality and situation, someone who respects your opinions and background and is never condescending. The therapist should create a safe and nurturing environment for therapy based upon trust, yet be willing to challenge you when necessary.
2. Make sure the therapist is experienced and professional.
A therapist must be licensed in the mental health profession and a competent expert in the field you're looking to address. (Specialties include marriage counseling, sex therapy, anger management, and self-esteem.) If a therapist breaks appointments often, arrives late, or allows interruptions, consider going elsewhere. What's more, he or she should be calm and collected during therapy and never anxious, arrogant, or depressed. You shouldn't be distracted by your therapist's personality or demeanor.
3. Check that the counselor allows a phone interview.
Before your initial meeting, a therapist should be available to have a 10- to 15-minute phone conversation so that you can get a sense of his or her style, philosophy, and counseling orientation. Professionals should know that clients are entitled to shop around before they commit to a specific practice. You should also be offered a clear policy and therapeutic guidelines, including confidentiality, a consent form, clients' rights, etc., at your first appointment.
4. Be suspicious of guaranteed results.
Regardless of the effort put forth by the therapist and the client, virtually no one can guarantee results. So, be cautious if a therapist seems eager to please and promises any kind of results. What's more, you should be able to explain your problems thoroughly as your therapist listens patiently without diagnosing you prematurely. However, if after two months you don't notice a positive change, consider replacing your therapist.
5. Look for authentic engagement.
A therapist who is either excessively silent or overly talkative is not going to be a good fit for most people. If the therapist does not promote interactive dialogue or usefully answer questions, or simply pretends to be a "blank screen," consider finding someone who is more proactive and engaged.
6. Expect a flexible and customized approach.
Therapy is somewhat of a two-way street and just as a patient needs to work outside of his or her comfort zone, a therapist should be flexible in his or her clinical orientation to fit the client's specific problems and needs. A good therapist begins with the needs of the client and then moves forward to find the appropriate intervention. And a consultation or a second opinion should never be out of the question. Moreover, patients should be allowed to bring along a friend, partner, child, parent, or any other participant for productive dialogue.
7. Be open to assignments.
Your therapist should recognize your needs to think and work outside the therapy room. From time to time, you should receive assignments to reinforce the process and whatever issues you're working through.
8. Focus on the present.
While it's important to discuss the background and childhood of almost any client, the therapist should be addressing and dealing with present life issues. If your professional seems too focused on the past, ask some pointed questions about why it's so relevant to your current situation.
9. Be sure boundaries are set.
While your therapist should be personable and approachable, it's critical to maintain clear and healthy boundaries. No business offers should take place, and any sexual relationship is malpractice. If you feel exploited in any way, seriously consider leaving the therapist.
10. Assure that no decisions are made for you.
A therapist should provide you with the perspective and skills to better understand your situation, plus the available options and their consequences to empower you to make any decisions. He or she shouldn't be pushing you in any one direction or have a clear agenda about how you proceed in your life.
11. Offer feedback of your own.
A qualified therapist should conduct ongoing evaluations regarding the progress of the therapy and revise his or her intervention accordingly. Client feedback should not only be welcome but invited. In return, a therapist should be direct, open, and honest while communicating effectively with all types of patients.
Related