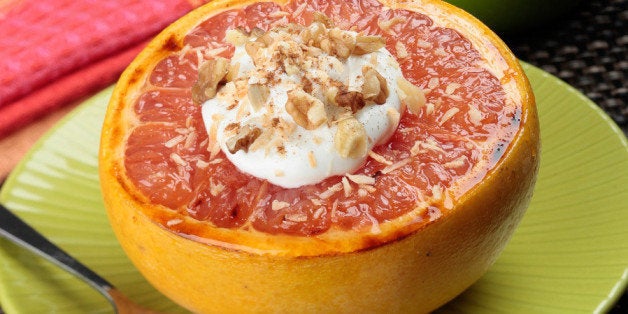 During the winter while many fruits are out-of-season and nowhere to be found, it happens to be the peak season for Florida grapefruit. The extreme weather conditions the fruit experience throughout the growing season, including heavy humidity and rain, actually help the fruit's sweetness despite causing minor exterior blemishes. OK, but how can you use them for everyday eats outside of cutting them in half?
And if you haven't broiled or brulee'd your grapefruit yet, you're missing out on that sweet, honey-charred brilliance fit for your oven or, better yet, your blowtorch. To be honest, we were just looking for another reason to use a blowtorch. Without further adieu, here are our top 11 grapefruit creations we found on the World Wide Web.
--
Pink Grapefruit Buttermilk Muffins

--
Honey-Broiled Grapefruit With Yogurt, Coconut & Walnuts

--
Grapefruit, Fennel and Grilled Shrimp Salad

--
Honey Roasted Grapefruit Parfait Popsicles

--
Grapefruit Avocado Bruschetta

--
Citrus Salad With Honey, Vanilla & Pistachio

--
Kale Salad With Citrus, Avocado & Feta

We didn't forget about you, Kale. You're not dead to us yet.
--
Fish Tacos with Grapefruit & Avocado Salsa

But really, give me any type of taco with that salsa. OK, maybe not cabeza.
Photo Credit Ascending: Florida Grapefruit, Daring Gourmet, Florida Grapefruit, Camille Styles, Melanie Makes, Florida Grapefruit, Tastes Lovely, No Recipes, The Healthy Chef, Two Peas and Their Pod, Sugar and Charm, Jason and Shawnda
Related