We initially brought out the book to get an idea for my daughter's birthday party. (A doggie theme, we quickly decided; she'll be turning four, and if a low-key doggie cut-up cake and an offhand game of Pin-The-Nose-On-The-Doggie will make her happy, so much the better.) But we kept looking at the book long after we'd settled on doggies.
Called The Beta Sigma Phi International Party Book, it offers "hundreds of proven party ideas", as the cover puts it. I scored this spiral-bound beauty (publication date: 1973) at a huge thrift sale last winter in the cookbook section. But the Party Book is not a cookbook. It's an anthology of Beta Sigma Phi members' parties, and even though it's nearly devoid of graphics, it reads very Pinterest-y.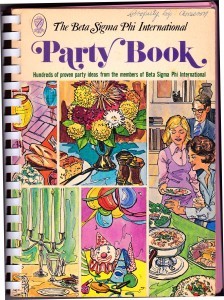 Beta Sigma Phi was a women's non-academic sorority, and it still exists. (My own mother, as it turns out, was a member herself; at the time, she was a stay-at-home mom who was new to town, and it was an important way for her to get out of the house and connect with other women). The Party Book fêtes that members recap in their own words are not as racy as the key party or hot-tub clichés we default to with the 1970s, but there is evidence in its pages of high-concept get-togethers that put my tepid hummus-and-carrot-sticks affairs of today to shame. Next time I start acting like I'm all fun and edgy, just smack me in the face with the Party Book. I wonder if my mother, with her succinct account of her time in Beta Sigma Phi, is withholding details of puckish lady shenanigans.
Here are excerpts of my favorite Party Book parties. Really, I did not make them up.
SUPPRESSED DESIRE PARTY: "Held in an unfinished basement we called the 'spook cellar'. Costumes worn to depict something each person always wanted to be or do but kept suppressed. " Then what? They brought out the Gimp?
MEN'S BABY SHOWER: "Baby shower for the 'second' baby. The men played games like how many nursery rhymes you can name in one minute? (You would be shocked at what they termed a 'Nursery Rhyme'.) Prizes for the games were bar accessories."
GYPSY CARAVAN: "Used bales of hay for a ring around the campfire. Goulash was served from a big pot. 'Game of Thievery' was played throughout the evening. Everyone stole items from each other such as jewelry or anything you could. At the end of the party the best robber was awarded a pair of earrings." The Party Book is free of political correctness. This stealing gypsy affair is a milder example.

COME AS YOU ARE SNATCH BREAKFAST: "5 AM at my home. We just went and picked up the girls and surprised them. They had to come just as they were dressed when they opened the door. We served bacon, pancakes, eggs, juice, and coffee when they all arrived. The fun of the party was seeing how guests looked when they woke up in the morning." This party sounds alternately terrifying and terrific.
'HAIRY' PIZZA PARTY: "We invited a local beautician who used guests as models for wig and makeup demonstrations. Each girl was asked to model one or more hairpieces. Menu: Pizza, beer, punch, and coffee." Wigs? Sure! Pizza? Why not! Beer, punch, and coffee? An unusual combo, yes, but it's the party's name that needs work here.
HOBO PARTY: The Party Book lists no fewer than six Hobo Parties. Baked beans, logs for seating, and invitations written on torn brown paper bags seem to be a common thread with this theme. They all manage to strike me as wholesome gatherings, but I can't imagine them translating to our times. A homeless party or a crusty-punk squatter party sounds like, at best, a huge drag.
ORIENTAL KARATE PARTY: "After the karate practice, we awarded throat lozenges to the guest with the loudest yell and a broken brick to the least adept participant." More parties should incorporate a karate practice.
ROMAN HOLIDAYS PARTY: "Invitations were written to husbands; women were their slaves that night. The women 'babied' their husbands, fed them grapes, etc. This was an uproarious good time and everything was taken in good spirit." God, I hope so. Call me when you throw a man-slave party.
POT PARTY: "Special dress: Hippie. The menu consisted of cheese and chocolate fondues--thus the 'pot'. Through secret prearrangement with the local and state law enforcement officer, the party was 'raided' with each guest being frisked for dangerous drugs. Officers then gave an informative talk on the dangers of drugs and displayed various types of narcotics. Other prizes were bubble pipes and bubble gum." Nice to know the law enforcement had the free time to do a drug education talk to a group of buzzed suburbanites, all in the form of a very clever prank.
POVERTY PARTY: Thrown the weekend after taxes are due, this party is similar to a Hobo Party, only with a worse name. It also appears in the guise of a "Poor Taste" party, which I think we would now call a White Trash party.
COME AS A DRINK PARTY: "Each guest received an invitation placed in an empty liquor bottle or wine bottle and left on his doorstep. Everyone was asked to come as a mixed drink." Brilliant! I have dibs on the Angel's Tit costume.
Obviously our little-girl Doggie Party is not in the same league as the parties above, but I am now inspired to make it both as memorable and as free of stress as possible. Loosen up! Be silly! Let people wear bathrobes or dress up like a cocktail! Because that's the connecting thread of all the ­Party Book occasions: a party is only as fun for the guests as the enjoyment had by the people planning it. There's a surplus of goofiness and a refreshing lack of stuffiness. Throw in a little cultural sensitivity and its content is both inspiring and timeless.

Read more at Food Riot