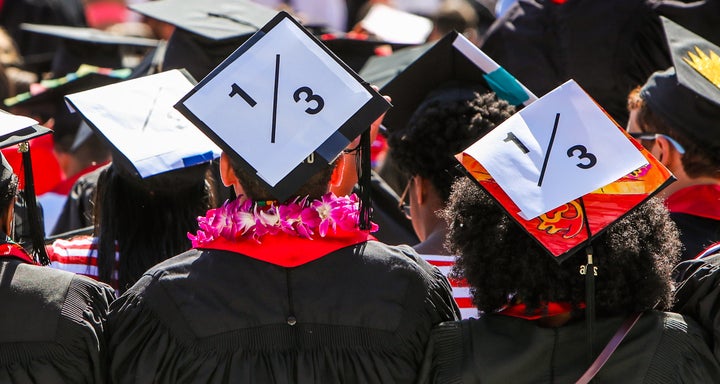 The letter, published on Wednesday morning and signed by 118 student sexual assault survivors from 25 states, urges Trump and his administration to guard the civil rights of sexual assault survivors on campuses, and encourages vigorous enforcement of the federal Title IX gender-equality law. Schools often ignore Title IX guidelines, leaving survivors unable to get help, the letter says.
"From the moment we were raped or assaulted, the question of who protects us has haunted us all," the letter reads. "Collectively, we represent thousands of instances of institutional failure at colleges, universities, and K-12 schools. We suffered immensely, as did our academics, relationships, and overall well-being. Institutional betrayal forced many of us, and countless others, to leave school."
Title IX is "a comprehensive federal law that prohibits discrimination on the basis of sex in any federally funded education program or activity," according to the Department of Justice. While the law is best known for demanding equal treatment of female and male student athletes, it also offers important protections in areas including sexual harassment, sexual assault, and for trans and parenting students.
The idea for the letter came after the Department of Education requested a meeting with survivors and advocates, Jess Davidson, managing director of the organization End Rape On Campus, told HuffPost.
The meeting is set for July 13, with three different groups getting a 90-minute time slot to speak about specific issues concerning campus sexual assault, Davidson said. The first 90 minutes will be allotted to survivors and advocacy groups to tell their stories and discuss why it's so important that Title IX is enforced. Another session will be given to people who want to speak on behalf of the "wrongly accused," Davidson said. The last session will involve college and university legal teams.
"The fact that this is the first time, to our knowledge, that survivors are meeting with the secretary of education and that they're only being given 90 minutes is very frustrating," Davidson said. "Knowing that survivors' voices are going to be heard, but they're not being heard as much as they should, was the inspiration to gather as many survivors as we could to write in a single unified voice."
"From the moment we were raped or assaulted, the question of who protects us has haunted us all."
Davidson said the session for the "rights of the wrongly accused" includes members from the National Coalition for Men, which she described as a "hate group."
"They have viciously and very intentionally harassed rape survivors online by exposing their identities and posting pictures of them," Davidson said. "From our perspective, they really have no place in a conversation about civil rights, and it shows that this administration will either turn a blind eye to or actively participate in hostility toward survivors of sexual violence."
The Education Department's Office for Civil Rights currently has 339 open investigations involving allegations that colleges and universities mishandled reports of campus sexual violence, according to The Chronicle of Higher Education.
The letter also asks Trump's administration to uphold guidance former President Barack Obama's administration gave to colleges and universities in 2011. The guidance, in what's known as the "Dear Colleague letter" for its salutation, admonished that schools are legally obligated to address campus sexual violence and offered guidelines for enforcement.
"The administration has signaled that it is seriously considering further dismantling protections for survivors of sexual violence by weakening the oversight and enforcement mechanisms of the federal government ― enforcement that many vulnerable students and survivors need," the survivors' letter reads. "We come forward with a simple request: Don't."
Davidson said that the Trump administration, encouraged by men's rights activists, are attempting to make campus sexual assault a "Republican versus Democrat issue." But that's not the case, she said.
"Folks of all political perspectives, all backgrounds, men, women, trans, non-binary survivors from 25 states all felt that this was important enough that could write in a single unified voice," Davidson said.
Scroll below to read the full letter.
Popular in the Community