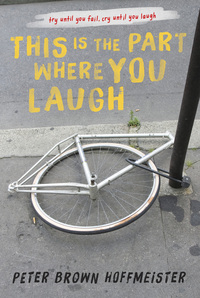 Because Natalie's got swagger, let's start with her favorite four (the recs are all in her own words) -
New school: "Yoncé" by Beyoncé. Short. All beat. Own the club. Dance all night with your girlfriends, and don't give a ____ about anything.
Then there's the old school: "Paper Planes" by M.I.A. If you're the baddest girl anyone's ever seen...If you don't care about your mom AND her new husband...about moving schools...about what anyone else thinks about you.
I'm a cruise-around-on-my-bike-in-the-sun type of girl, so Lily Allen's "LDN" is my jam. Plus...that red dress.
And next up, the five songs Travis wants you to listen to (again, descriptions in his own words) -
Arcade Fire's "Here Comes The Night." I found the video on Youtube this year. Casino scene carnival. Changing speeds. The feel of it. I don't know all the reasons why I like this song, but I do know this: It's more than just a song.
What I'm saying is that one person can't sing it because it's not possible. If I had to explain, I'd say the idea of one person making "Here Comes The Night" is like a baker trying to make an apple pie out of random items he found in the city park's garbage can.
Most people think of "Holy Grail" because it still gets play on the radio, or something from Blueprint because that's his classic. But for me, it's "Hard Knock Life (Ghetto Anthem)," by Jay-Z. Shawn Carter's come up, he's worked hard, a third studio album, but he still has a long way to go. Like me. He makes his break, but you can still hear the raw. The Godfather. Scarface. Young Hova.
Listen to that song and dream.
For old school, listen to "Da Mystery of Chessboxin," Wu-Tang Clan. Creature told me that they're the greatest of all time, and I don't know if that's true because I haven't heard everyone who's ever rapped, but I know that they're pretty good. Chessboxin. Ninja masks and hoodies. Chains. Sometimes when my grandparents are out, I plug a speaker into the computer and jack it up. Make a plate of food and listen to the track on loop, especially verses 4, 5, and 6. ODB, Ghostface, and Masta.
"Love Is All" by The Tallest Man On Earth. I guess he's Swedish but I didn't know that. I thought he was sort of like a new Bob Dylan, and when I first heard him I thought that was his whole deal: Be like Bob Dylan. It reminded me of my mom - how much she loved Dylan - so I kept listening. But I was wrong about the Tallest Man's roots. If you've ever listened to this song, have you thought about the lyrics? I've listened to it maybe 30 times and I'm still wondering what some of those lines might mean. Like "a house made from spider webs and the clouds rolling in?" Are you the spider or what's caught in the web? Are you the clouds? Are other people the clouds? Are the clouds our circumstances, our choices, or our consequences? And can anyone stop the weather? I guess it doesn't matter. I like the feeling of the song even if I'll never know exactly what he means.
And - finally - from Creature, the god poet of ballers -
On a bad day, I gave "Worst Behavior" by Drake to Travis a few months ago. Wrote in Sharpie on the disk: THIS IS OUR SONG TO OUR FATHERS
"Why?" he said.
"Because, motherf****** never loved us."
People say this is an angry rap song, say Drake is messed up, say he needs to go back to his smooth R&B style. But to be honest, this song makes me happy. When I listen to it, I smile the whole time it's playing, now matter what mood I'm in.
For straight lyrical, theatrical spit, listen to Das Racist's "Rainbow In The Dark" two or three times in a row. Every time that secondary snare-beat drops, I feel like, "Get ready. If they don't know enjambment, then no poet ever did.
Sometimes I'll close my eyes and wag my head back and forth. Call out, "Who's got the yams?" or "A ghost-writer for a rapper? What the ____ happened?"
Related
Popular in the Community