Global charity auction site Charitybuzz.com is kicking off the 2012 holiday season with 12 Days of Giving, a holiday auction for social good, featuring 12 of our most philanthropic celebrity partners.
Justin Bieber, Chevy Chase, Andy Cohen, Kathie Lee Gifford & Hoda Kotb, Hunter Hayes, Padma Lakshmi, Cyndi Lauper, Russell Simmons, James Taylor, Charlize Theron, Bruce Willis and Harvey Weinstein have auctioned off incredible experiences throughout the year to help us raise millions in dollars for charity. This week, they're each hitting the auction block for their favorite causes one last time in 2012, and sharing what giving means to them during the holidays.
"The holidays are a time when ...more than ever...people need a little extra love. The funny thing is that by 'giving' you end up 'getting'... you get filled up by the very people who you are trying to help out. What a beautiful thing," said Hoda Kotb. Kotb is joining Today Show co-host Kathie Lee Gifford to auction the chance to join them for a glass of wine (or two!) on set to benefit Autism Speaks.
Other experiences include everything from the chance to hang with CMA's new artist of the year Hunter Hayes on the set of his newest music video to a night on Broadway with Cyndi Lauper to scoring one of Bruce Willis' custom motorcycles.
"Each and every day I try to positively impact someone else. During the holidays, and every day really, this is the most important message I can spread," said Russell Simmons, who is auctioning the chance to join him for yoga in NY or LA. "People become busy and often lose sight of this. Good givers are great getters. Do something good for someone else, it helps bring you happiness too."
Learn more about why these celebs love giving back in the slideshow below!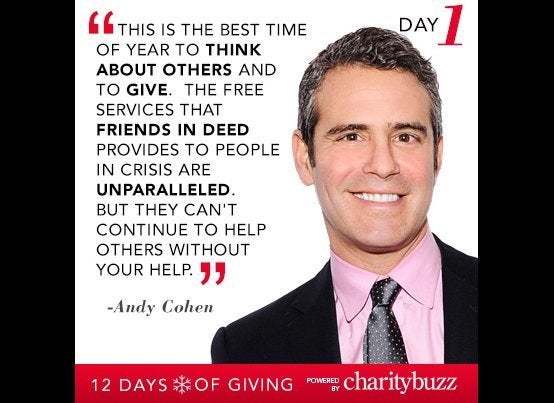 12 Days of Giving: Celebs Share Their Holiday Giving Stories
Popular in the Community