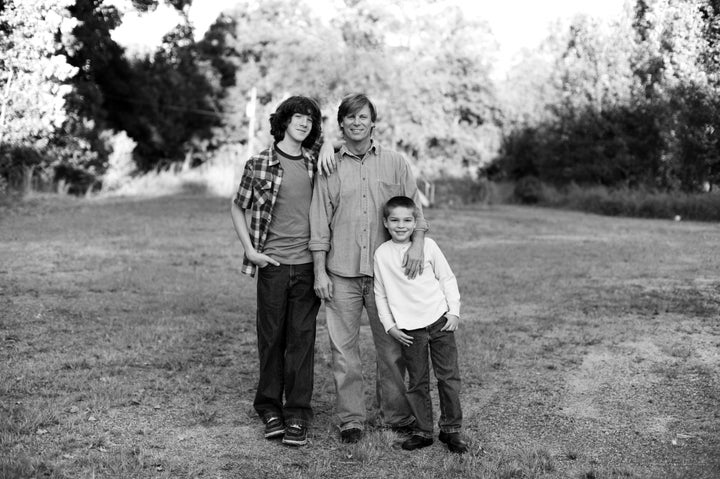 Like so many Americans, I was trapped in a cesspool swirl of middle-aged single-parent mediocrity. Waking up, caffeinating, making breakfast, packing brown paper bag lunches, getting my two boys off to school, working, re-caffeinating, working, picking up the kids from school, homework, dinner, half-caffeinating, working, bed. Wash, rinse, repeat.
Of course, I have no room to complain. I adopted both my sons at birth, as a single gay man, and, quite frankly, it's the wisest choice I've ever made. But loving your kids does not necessarily save you from the ominous swirl.
And then one day, a startling declaration fell from my 13-year-old son's mouth... "Dad, we have this great life, how come we're not doing more to make a difference in the world?" My initial reaction was, "Who are you, and what have you done with my son?" Then, that thought morphed into a sense of pride. You see, when I was a teen, I had no social awareness beyond The Sonny and Cher Comedy Hour and Hawaii Five-O. My world revolved around "the California promise" -- smoking pot, flipping burgers at Bob's Big Boy and hitchhiking to the beach with my friends.
But because the gods are kind, my sons are different. I'm proud to say that they actually care about their fellow man. And my eldest's query sparked the beginning of a mystic journey around the globe that we would call Twelve in Twelve. My two sons and I traveling around the world for a year, doing humanitarian work on all seven continents (12 countries in 12 months). I introduce you to the Lewis family: J.D. (middle-aged), Jackson (15) and Buck (10). Three boys on a mission to try and make a difference...
The decision was made to pack up the house, take the kids out of school and embark on a yearlong sojourn. We hadn't a clue how to go about it, but we trusted it would somehow unfold. Ignorance is bliss.
First off, I dove face first into the world wide web and landed on the Peace Corp's site. As fate would have it, there was a telephone number posted for the office of the Global Director, Esther Benjamin. Being ballsy or naïve, I'm not sure which, I got through to her assistant and left her a lengthy message. A few days later, I got a call and this is pretty close to verbatim: "I don't know who you are, but I'm a single mom with two kids the same age as your boys, and I know the benefit of this trip you are thinking about. My kids have traveled all over the world with me and it's changed their lives." I listened intently and then responded, "Who is this?" It was Esther. And that conversation set in motion a friendship that I am immensely grateful for.
Esther made it clear that because of age restriction and length of commitment, the Peace Corp was not an option for us. But, she said she was happy to give me advice, if I needed any. A week later, I flew to Washington, D.C. and we had dinner. I left that meal excited, scared and inspired to make this thing happen.
But I was still clueless about how to go about it. To be honest, I wasn't even really sure what the actual needs of the world were. I did know one thing... what we needed were funds, because we didn't have any. None.
The only thing that we had going for us was a desire to do something good. So with the help of a lawyer, we tackled the terrifying task of creating a not-for-profit foundation. We then hit the pavement running to see if this idea would resonate with anyone else besides us. Luckily it did. We found a few corporate sponsors and organized a 12K trail-race fundraiser. Mostly, it was our nearest and dearest friends who came to the rescue with donations. You gotta love your die-hard pals.
But after doing the math, we were still coming up way short. It didn't look like this trip was going to come together. I spent a few days unable to function because this project had become far too daunting. I was overwhelmed. I couldn't form thoughts, let alone get on the phone to organize our efforts. Then, as if things couldn't get worse, within two weeks of each other, my aunt and uncle, who had raised me, both died unexpectedly and I was diagnosed with lip cancer. Holy crap! You've got to be kidding. The trip's a bust.
"My kids are going to be so ashamed to face their friends at school," I thought. Not to mention the fact we had just done a number of local talk shows claiming that we were off to save the world. In my mind, I had just gone from global humanitarian explorer to laughing stock loser.
I was at my wit's end. We hadn't raised enough money. I was freaked out about my cancer. I was deeply mourning the loss of my aunt and uncle. And now I was going to have to let the kids know that the trip wasn't going to happen. One night I took Jackson and Buck out to dinner. I was in a black hole of disappointment and shame, feeling like I had fallen flat on my face. I had come to the place that every father dreads, my kids were about to lose faith in me.
And then an extraordinary thing happened. While slumped in the booth at the restaurant, I looked down at my phone. There was an email from imaginepeace.org. At first, I thought it was spam, but I clicked on it anyway. There was a message that read, "I'm glad that you are doing it with your sons. Do it! Lots of love to all three of you, Yoko." I was floored. Being a believer that there are no mistakes in the universe, I took it as a sign. And trust me, I was in dire need of a sign. See, Yoko Ono and I are not exactly personal friends. Nor do I even know anyone who has six, seven or eight degrees of separation from her. She had come upon our Twelve in Twelve website seemingly by chance and, for whatever reason, she felt the need to reach out. It was just the kick in the butt I needed. I went home on fire to make this thing happen. I mean, come on, now Yoko was counting on me!
So with a fat bandage on my lip (operation successful), having buried my aunt and uncle, and with limited funds, we eventually set out from Charlotte, North Carolina on our way to the global portal, New York City.
Panic first struck while walking down Columbus Avenue at 3 p.m. "What the hell am I doing? I haven't a clue what's out there in this big scary world. I'm no world traveler or global adventurer. I'm already freakin' intimidated by the Upper West Side. How on earth am I going to groove with the entire third world? And have I really just moved out of my house, left behind my two dogs and my business, and yanked my kids out of school?" Apparently, yes, I had, and I was having a hard time breathing.
After a few days in New York to renew, recharge and regain my bravado, we boarded an airbus heading east to Berlin, beginning a journey around the world that would forever alter the course of our lives.
Popular in the Community