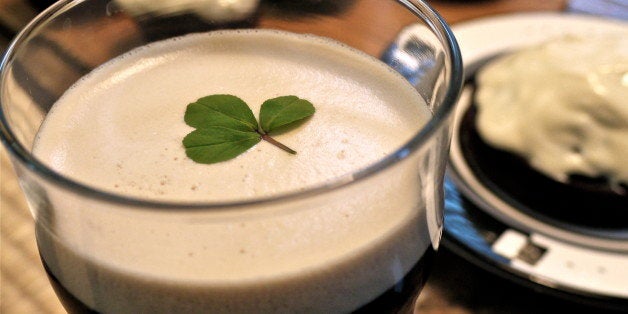 St. Patrick's Day is coming up! Whether you're planning to go all out in all green or not, downing a pint or two of the good stuff (along with some tasty bites) is never a bad idea. Guinness -- the gold standard of Irish stout and the best-selling alcoholic drink in Ireland -- has a creamy malt character that goes well with cakes, sweets, desserts and breads, as well as savory roasts, seafood and spicy food. Thirsty yet? You're in luck! (See what we did there?) Here are some fantastic ideas for what to pair with a dark beer.
Freshly battered cod served with malt vinegar mayonnaise and a side of beef fat fries.
Drippy, warm and delicious, these guys come topped with savory garlic butter.
A warm sammie on marbled rye with coleslaw, Swiss cheese and Thousand Island dressing, served up with a side salad and duck fat fries.
A succulent whole or half organic Amish chicken, roasted with fresh lemon and herb jus. Be sure to grab some extra bread for sopping up all that heavenly sauce.
Tap into your inner chocoholic with this flourless chocolate cake, chocolate crunch and chocolate ice cream.
A hearty selection of house-made sausages alongside smoky, charred scallions.
A luscious, creamy, crunchy butter-with-scotch pot de crème, brown butter sable cookies and crème chantilly.
A sesame bun piled high with cheddar cheese, crunchy bacon and a juicy patty, served with a side of crisp, golden potatoes.
This delectable dip is creamy, cheesy and served with crispy crunchy baguette slices.
The juicy, signature sliced brisket sandwich comes with tangy red cabbage slaw, pickled shallots, green sauce and fresh pickles.
A fresh tortilla filled with tender pork, chile-mezcal sauce, avocado, seasonal pickles, cilantro and pepitas.
Served with ooey gooey caramel, this pillowy cake melts in your mouth.
Popular in the Community