It's such a simple concept, yet the qualities of being friendly and considerate appear to be more of a rarity than ever.
Yesterday I watched a Facebook video of young Keaton Jones, a middle schooler in Tennessee who was bullied at school. With tears streaming down his face, he told his mom, "People that are different don't need to be criticized about it. It's not their fault."
The video has gone viral with over 17 million views in 2 days.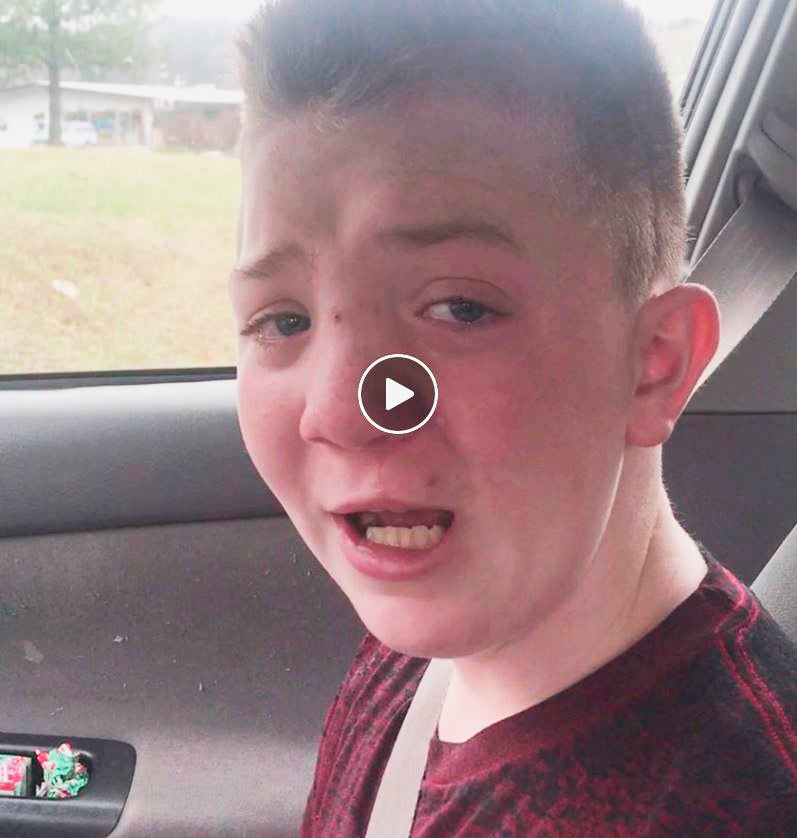 Keaton goes on to say, "It's hard but it will probably get better one day."
His optimistic outlook reveals a wise but tender heart.
We hope it will get better one day, too, Keaton.
But kids learn by example from adults. In an era when the media is rife with unchecked bullying between politicians, societal newsmakers, and media darlings, we can't always blame the homefront. Children learn how to socially interact by watching and imitating others, and one of the most powerful influences are examples set by adults.
The good news is that we can use that in our favor. Just as children learn bullying from example, they can also learn kindness.
Kindness can be demonstrated any time of year, but the holiday season—a time when many feel sad and lonely—is loaded with opportunities.
It's never too late to start, and I offer my own family's tradition as an easy fun-filled way to show kids that giving is just as fun as receiving. We call it The 12 Nights of Kindness.
Otherwise known as Secret Santa, I came across the concept years ago while reading "In Search of the Real Spirit of Christmas," by Dan Schaeffer. Beginning on December 13 and ending Christmas Eve, every evening the author's family placed on a neighbor's porch a small treat paired with a poem based on the 12 Days of Christmas. The fun for the kids was that it was done under secrecy until December 24, when they finally had to reveal themselves.
I embraced the concept and immediately proposed the idea to our own. It turns out that twelve nights sneaking around the neighborhood wasn't a hard sell. Our kids were thrilled with the idea of playing a holiday version of ding dong ditch with Mom's permission, and we adopted the tradition as our own.
As a family of six with one in college, we were on a budget. Armed with a shopping list, my first stop was our local dollar store. This turned out to be our only stop—everything we needed was there. Taking home our supplies, I got to work printing the poems while the kids prepared the bags.
The next matter to settle was deciding who would be the lucky recipient. A few months earlier, neighbor Tom lost his wife to breast cancer. I couldn't imagine what the holidays must be like for him, and we all agreed his home could use small doses of nightly cheer. The matter was settled.
On the evening of December 13, my two youngest elves bundled up and we headed out into the frosty air. In the darkness of night, the silent snowy neighborhood transformed into an enchanting winter wonderland. Our boots trudging softly through the shimmery white snow was the only sound heard as we made our way to Tom's house. While I watched from the street, the kids snuck up to his porch, rang the doorbell, and ran to hide until the coast was clear to return to me in the shadows.
Returning home, we warmed our hands around a mug of hot cocoa and our hearts around the notion that our little gifts of kindness might cheer neighbor Tom. With the first night behind us, we now looked forward to each evening, and treasured memories in the making.
The next eleven nights flew by and soon it was Christmas Eve, the 12th day when we had to reveal our identity.
Truth be told, I was nervous. Not having experienced loss myself, I worried that maybe our nightly treats had been a bit too much for Tom's fragile emotions. But there was no backing down now. We had to finish.
That afternoon we arranged a dozen homemade cookies on a holiday plate, covered it with red cellophane, taped the final poem to the top and—not trusting my children to walk two blocks with a plate of goodies—we drove to Tom's house. We climbed out of the car, gathered on his front porch, and I rang the doorbell.
When Tom opened the door, our task was to sing:
We wish you a merry Christmas
We wish you a merry Christmas
We wish you a merry Christmas,
Although I've been accused of being tone deaf, I was determined to set a good example for my children. I exuberantly sang the first few words until realizing I was solo—my choiring elves just stood there with mouths frozen shut. I had no choice but to finish on my own, tone deaf and all. That's when I saw tears in Tom's eyes. Oh, dear. Was my voice that bad, or was our mission just one big flop?
No matter the reason, I quickly decided the most graceful way to handle the situation was to explain we were the elves responsible for the surprise treats, and then leave Tom to his own devices. After all, it was Christmas Eve and here we were intruding on his very tender emotions.
But I soon discovered I had nothing to fear at all. Tom was crying because he loved the nightly gifts, and now they were coming to an end! It turned out that not only did he enjoy the element of surprise, but the nightly anticipation was a wonderful respite from the constant sadness.
That first year proved a wonderful experience, and we continued the tradition choosing a different neighbor each year. Until 2009, when tragedy struck our own family. At summer's end that year, our now 15-year-old elf was killed in a car accident. Caught in my own fog of grief, I had no desire to carry on the family fun with our youngest, now 13. With a broken heart, our beloved tradition came to an unexpected end.
In the years since losing our daughter, our family has learned to laugh and feel joy again but I've never forgotten how bleak those first holidays felt. I've also learned that helping others helps my own heart to heal, and how the power of small acts of kindness can go a long way.
Last year when our grandson was 9, we reinstated the old family tradition. He was the perfect age to become a secret elf, and I knew it would offer us all a nightly dose of good cheer. Once again it proved good fun and enriched our holidays just as it had in years past.
This year's unsuspecting recipient is a neighbor dying of cancer. She loves the holidays, and her home is often decked festively year round. It's warm, bright greeting to the neighborhood will be sorely missed in the years ahead. In the meantime, I hope our nightly surprises bring cheer to her final holiday season.
The real beauty of our family's tradition is that it transcends all ages and situations. One need not be a bully, a victim, a dying neighbor, or the newly bereaved to be a recipient. While there are many ways to teach the value of kindness, leaving a small gift every night for 12 nights on the porch of someone in need leaves a lasting impression—and with heartwarming memories everyone will treasure for life.
As Keaton Jones said, "It will probably get better one day."
Thanks in part to his courageous video, I believe that day will come.
It all starts with one act of kindness at a time.
If you would like to adopt The 12 Nights of Kindness as your own, the instructions and printables can be found at www.LyndaFell.com.
Calling all HuffPost superfans!
Sign up for membership to become a founding member and help shape HuffPost's next chapter
This post was published on the now-closed HuffPost Contributor platform. Contributors control their own work and posted freely to our site. If you need to flag this entry as abusive,
send us an email
.