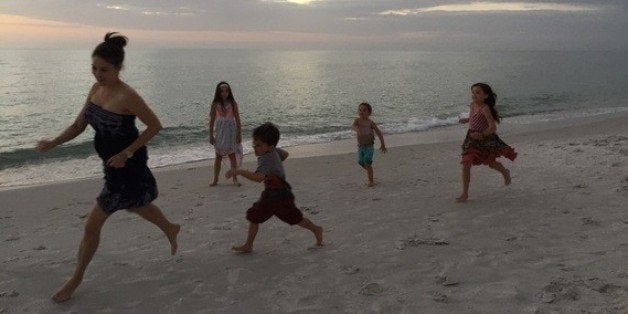 You could hear the sighs and sly comments around us as our huge crew approached the security line at the Kansas City airport.
Our party of seven was ready to escape the cold in Kansas City for a week of sun in Florida.
There is this stigma when you travel -- that it sucks to get stuck next to the young families. That you'd rather sit near the bathroom than the car seats. Or be squeezed in a middle seat rather than sit by a child. You'd prefer to stand in the terminal before you'd dare engage them in conversation.
A pillar theme for our 2015, what we're calling the year of hope, is that we're choosing experiences over things. Adventure over ordinary. Memories over material.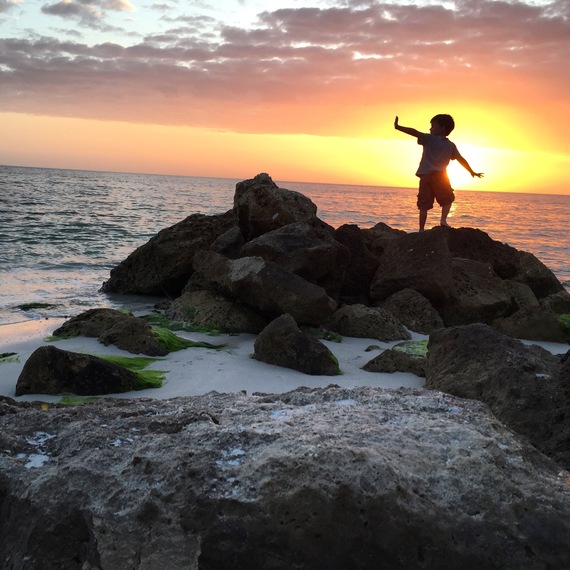 Writing that is easy. Doing it is hard. And it requires planning, daring and going.
We had an incredible week in Florida. As far as vacations go, this was our best one yet. Some reasons were far outside of our control, but many were because we had a great plan (translated as my wife is a stud and prepared us well) and full hearts.
Here are 12 travel tips for you families with young children. Not to make the inconveniences go away (because they won't) but to make more space for memories and the meaningful.
1. Travel Light. Shed the excess, you won't need it. Pack light and pack with intention. You're staying a few days, not a few months.
2. Book the Rental Car Early. We used Priceline and got a brand new Suburban for $33 a day. It took a few days of hunting on different sites, but because we booked over a month out, we got a great deal.
3. Bring $40 in One Dollar Bills. Whether it's the skycap, the rental car shuttle driver or the bellhop at the hotel, it pays to have a few extra bucks in hand to take care of those that are taking care of you. Be remembered for your generosity, not your nuisance.
4. Buy Snacks Before The Airport. Brooke loaded up the carry-on bag with granola bars, gum (for ear-popping), crackers and fruit snacks. The Cinnabon smell still called out to us, but this saved us a few bucks at the airport while we waited to board the flight.
5. Be Grateful. Traveling with children isn't easy. There are fights over beds, electronics and pool toys. There are encounters with waiters, flight attendants and other travelers. Choose to stick out because of your grateful attitude, not your entitled one. Things won't always go your way, the weather won't always be perfect and your accommodations won't always be ideal. But choose gratefulness instead of bitterness. People notice.
6. Put Your Phone Away. Time away needs to be exactly that. Time away. From Facebook, work email, scheduling craziness, Twitter, endless text conversations... the list goes on. This one is hard for me. I run to my phone before my own family many times. I try and get the best picture for Instagram, not just the memory. I check in with work stuff even though I have people covering for me. Chances are pretty good that your world won't fall apart if you leave your phone behind for a few hours at a time.
7. Check Luggage Curbside. It took us a few trips of schlepping bags and kids onto the rental car shuttle before we realized there was a much smarter way. Now we take everything and everyone to the curbside check in, unload the bags and car seats, check all of that stuff and then Brooke goes into the terminal with the kids. And I go back to the rental car return with one carry on bag and maybe one adventurous kid.
8. Pack Small Individual Bags Into Bigger Bags. For seven of us for an entire week (actually eight days), we only checked five bags. Part of that was because we are learning to travel light. Another part of that is that Brooke packs small individual bags for each kid and then we shove those into bigger bags that we check.
9. Dress with the Airport in Mind. The dreaded security line with multiple young kids. Wear slip on shoes (with socks, that floor is nasty) and leave the belt in the bag. If you're leaving cold and headed to warmer weather, wear light layers that you can shed easily when you arrive.
10. Soak It Up. The sun, yes, but also the memories. No vacation will perfectly satisfy you, but work to be engaged and present during your short trip. These trips, whether they're across the world or simply down the road, are opportunities to forge deep meaning into your families. The bills, the work and the chaos will be there for you when you return.
11. Bring Cards, Books, Even Homework for Flights and Layovers. We'd be lying if we said we didn't put the iPad, iPod or other mind-numbing electronic device in front of our kids to entertain them. Especially on the plane. But we are also deliberate with them on these trips that we want their minds to wander, explore and create. It's not simply another place to go to watch Netflix or play Crossy Road. Books, playing cards, even homework can do the trick.
12. Find a Song. For us this trip it was "Geronimo" by Sheppard. We saw them play on "The Today Show" and loved the song. So we bought it and played it every single time we were in the rental car. Windows down, laughing, singing. Music is part-magic, part-mystery. There's no doubt in my mind that every time our kids hear this particular song, they'll think of this specific time in Florida.
Related