The best way to tell your hostess thank you -- and to assure you get invited back -- is with a special gift she's sure to love.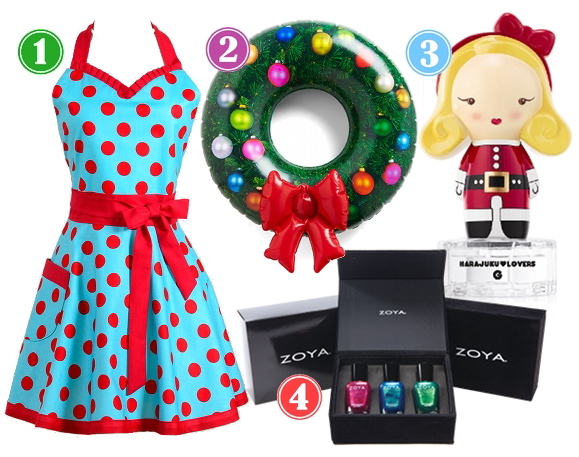 1. Polka Dot Sweetheart Apron: Protect your hostess' dress while she works her magic in the kitchen. $35 at the Creative Chics Etsy store.
2. Inflatable Wreath: Instant holiday cheer with a couple of deep breaths. $24.99 at ModCloth.com.
3. Jingle G Perfume by Harajuku Lovers: The bottle top of this fun, fruity fragrance doubles as an adorable Christmas tree ornament. $25 at Sephora.
4. The ZOYA Color Box: Three beautiful nail lacquers elegantly displayed in a black velvet jewelry box. Polishes available in a variety of color combinations. $24 at Zoya.com.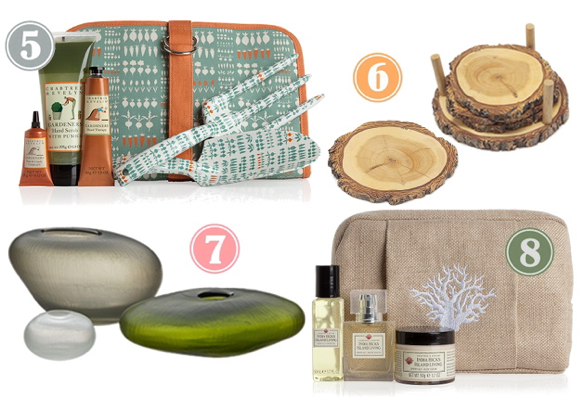 5. Gardeners Shed Bag by Crabtree & Evelyn: Comes with charmingly patterned gardening tools and a trio of nurturing hand care products that smell faintly of green clover and sage. Practical meets adorable. $48 at Crabtree-Evelyn.com.
6. Tree Ring Coasters: Beautiful and environmentally responsible, these wooden coasters are made from the small trees removed from overgrown forests to prevent devastating wildfires. Each set contains four coasters and a stand. $60 at UncommonGoods.com
7. Sea Glass Vases by CB2: Sculptural earth-toned vases mimic glass shards tumbled smooth by the sea. $7.95 - $24.95 at CB2.com
8. India Hicks Island Living Getaway Bag: An elegant flaxen clutch, detailed with silver coral, contains a bottle of the lush, tropical fragrance Spider Lily, plus scented shower gel and body cream. A touch of the Bahamas to get her through those cold winter months. $38 at Crabtree-Evelyn.com.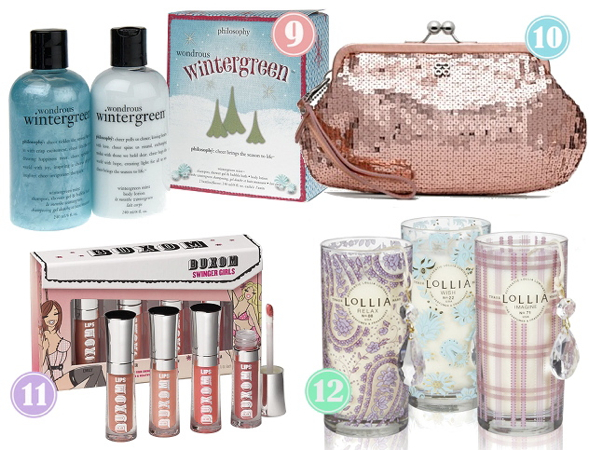 9. Philosophy Wondrous Wintergreen Duo: A set of body lotion and a 3-in-1 shower gel in a festive wintergreen mint scent. Shower gel can also be used as shampoo and bubble bath. Perfect for the multi-tasker! $20 at QVC.com.
10. Coach Sequin Wristlet: The shimmering rose gold sequins will see her through the holidays and beyond. Also available in black and gunmetal. $128 at Coach.com.
11. Buxom Swinger Girls Lip Gloss Set: Four shimmering lip glosses in Buxom's signature lip-plumping formula. $19.50 at Sephora.com.
12. Lollia Petite Luminaries: Soy candles scented with natural floral perfumes and silkscreened in romantic prints. $32 each at LolliaLife.com.
Related