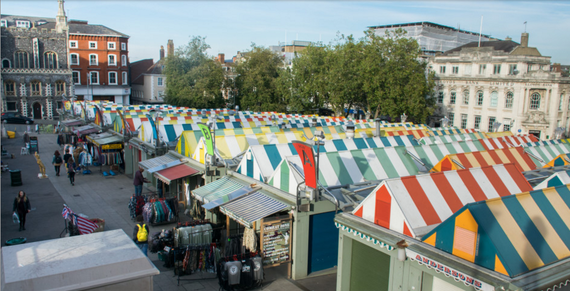 By College Tourist; Author: Veronica White, University of East Anglia
Just two hours by train from London, Norwich has the sort of charm that can only be found in British towns, but with the excitement of a small city.
Once the biggest city in England following London, Norwich is a city full of history - and full of medieval churches! One of the greatest things about Norwich is that it has the small city feeling and yet, because everything is so close together, there's no need to take public transport while you explore the centre - everything is within walking distance. If you're spending the day in Norwich, here are a few things that you can add to your itinerary:
10:00AM Breakfast at Harriets Cafe Tearoom
What better way to start off your day in this medieval English town than with a traditional British breakfast? This adorable tearoom is situated along the main pedestrian street and offers a range of breakfast treats for you to try. For a true British breakfast experience, order a "Traditional Breakfast Grill," composed of eggs, bacon, baked beans, hash browns and toast.
11:00AM Visit the Cathedral
Just a 10-minute walk from Harriets Cafe Tearoom, you'll find the gorgeous Norwich Cathedral. Entrance to the whole site is free, and as you walk around the cloisters, you'll definitely feel like you've just stepped into Hogwarts. The stunning cathedral grounds feature a labyrinth which forms a continuous path to represent the Christian idea of a spiritual journey. If you've got a few minutes, take a walk around the labyrinth and reflect on life.
12:00PM Wander around downtown Norwich
Norwich is known for its extensive shopping variety and is the only city in England other than London to have all of the major department stores! The adorable High Street has lots of winding alleyways branching off with many cute shops for you to discover. Stroll through Norwich Market - the largest open air market in the country - and window-shop at the cute boutiques in the gorgeous Royal Arcade. If you're into theatre productions, make a quick visit to the Norwich Theatre Royal and inquire about last minute tickets for the evening - sometimes there are seats as cheap as £8 to national touring productions!
1:00PM Enjoy a traditional lunch at West Cornwall Pasty Co
Also located on the main pedestrian shopping street, this British chain restaurant is a cheap and delicious place to stop for lunch. Choose from the many types of traditional Cornish pasties (all for under £6!) then people watch from their outdoor seats or relax upstairs in their vintage-themed seating area. Cornish pasties are D-shaped savoury pastries filled with variations of meat, vegetables and cheese. Similar to a chicken pot pie, these are the perfect hot - but affordable - lunch, especially when the weather is a little chilly outside! If you're spending more time in Norwich and are looking for other fun places to eat, make sure you don't miss eating at The Waffle House, a unique restaurant where everything is served on - you guessed it - waffles!
After lunch, head over to the Norwich Forum, a huge modern building located at the far left corner of the market. Here, you can find the tourist information centre where you can learn more about local festivals, concerts and plays that are going on during your stay. In addition to hosting the tourist information office, The Forum is also home to the public library, a handful of places to eat and the BBC's Broadcasting Centre for the East of England. If you're considering visiting Norwich and are interested in touring the BBC Studio, try to plan your visit to coincide with the last Sunday of the month as this is when they run tours. Make sure you pre-book a tour online for a chance to see behind-the-scenes of the working TV and radio station. Even if it doesn't work out to do a tour, The Forum is still a worthwhile place to visit to appreciate the interesting architecture, grab a coffee or explore one of the many free exhibits throughout the year.
3:00PM Shop in a converted church
When walking around Norwich, it's difficult to go far without seeing a church - there are still 31 of them standing inside the historic city walls! An especially unique one is St Gregory's Church, which has been converted into an antique shop filled with an eclectic mix of clothing, jewellery, lamps, silverware, records and much more. Wander through the colourful alleyways filled with trinkets - you never know what kind of bargains you might find in this store set in such a unique building.
4:00PM Discover historic Norwich on the Riverside Walk
In the afternoon, follow the River Wensum around the outskirts of the historic city centre. This two-mile walk starts near the train station and takes you along the river, where you can discover some beautiful buildings such as the Pulls Ferry arch, which was built in the 15th century. Just off the path is one of the oldest pubs in Norwich, Adam and Eve, where men building the cathedral in the 13th century would drink on their breaks. Stop by this adorable pub, covered in flowers, and grab a pint of local ale or a warming cup of tea.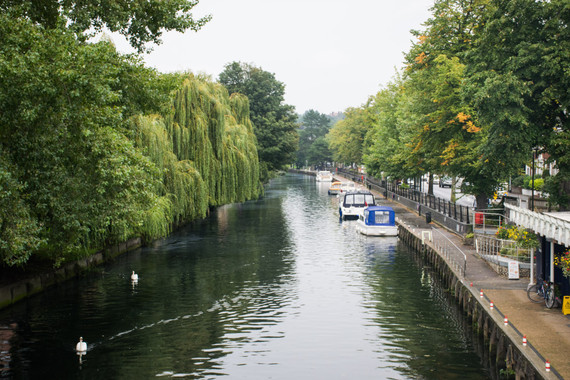 6:00PM Dinner at Grosvenor Fish Bar
Across the road from the converted church, this fish bar is one of the local's favourite spots for food in the area. Not only are the prices perfect for a student budget, but the atmosphere is warm, the staff are friendly and the food tastes wonderful. With a huge range of dishes - from the classic Fish 'n Chips (don't forget - in the UK "chips" are French Fries!) to more exciting fish tacos, burgers, and salads - if you like fish, you'll find something you'll love here. Although the Fish Bar looks small from upstairs, there is plenty of seating underground to escape to on a chilly British evening. If you're not into eating fish, try Donnelli's Pizzeria for fresh wood-fired pizzas.
7:00PM Go on a Ghost Walk
Starting at 7:30 just outside the Adam and Eve Pub, these two-hour ghost walks take place from April to November (days of the week vary depending on month). Discover a different, darker side of Norwich as you learn about the real-life stories of murder, disease and other tragic events that have graced the streets of Norwich.
10:00PM Drinks at the Norwich Playhouse Bar
In the 19th Century, Norwich boasted about having a pub for every day of the year and had more pubs per square mile than any other city in the country. Now, although many have closed down, there are still a wide range of pubs and bars that the locals make use of on a regular basis. Just a 15-minute walk from the market, the Norwich Playhouse Bar is a pub favoured by students and locals alike. With unique decorations and a lovely outdoor seating area, this pub is a great place to relax after your day out in Norwich.