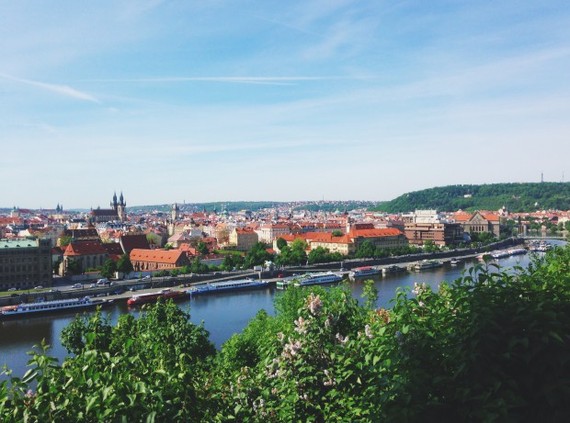 By College Tourist; Author: Nóra Horváth, Syracuse University
Hundreds of years of Czech history and culture in only one day? No problem.
So you've made it to Prague - the capital city of the Czech Republic, and a city practically untouched by the destruction of the World Wars - but you only have a day to see it all? No problem. Not only is Prague insanely cheap for American tourists, but also its historical center is rather small, making it possible to see the big sites all in one day.
Prague's historical center is broken up into a few main parts. Old Town Square describes the area generally built before the rule of Charles IV, a main Czech historical figure and one of the emperors of the Holy Roman Empire. This part of Prague is full of narrow and windy streets lined with old stone buildings. New Town is the part of the historical center that was built during and after the rule of Charles IV. Last, Mala Strana, known in English as "Lesser Town," is the red-roofed neighborhood that surrounds the Prague Castle.
It might sound overwhelming, but I promise it's easy to maneuver - just follow this guide:
10 am: Start your day with a big breakfast - you've got a lot of walking to do today! I recommend heading to Bakeshop near Old Town Square - not exactly typical Czech food, but an amazing café/bakery and definitely a favorite amongst Czechs living in the city center. Not only do they make great breakfast entrees, but also their cookies and cakes are to die for. Get a few for the road!
11 am: After breakfast, stroll around Old Town Square and really immerse yourself in the classic architecture of the city. During the warmer months there are vendors all over the square in wooden booths, selling everything from hot wine to watercolor paintings and everything in between, so shop around. If you can arrange your timing right, check out the astronomical clock while it changes hours. It was built in 1410, and is the oldest one of it's kind still working. When you've seen everything there is to see in the square, head through the Jewish Quarter towards the Vltava river.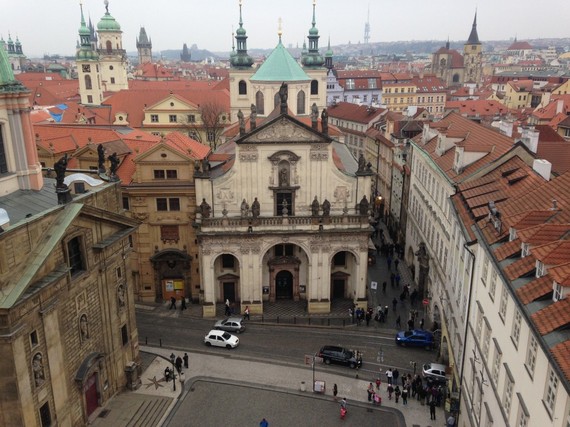 12pm - 2pm: At noon, head across the Charles bridge and up into the Prague Castle. If you don't want to make a trek up the hill, take the tram across the river and around the backside of the castle - public transport is affordable, and you'll save time and still be able to walk back down. The Prague Castle is the one place in the city that's worth the money for a tour guide - the history of the area is so rich, and it's definitely easier to get around with someone who knows the way.
2pm: Time for lunch! If you're still up in the castle after your tour, head to the Strahov Monastic Brewery, located closely nearby. Here you can have one of the best craft beers in Prague, and enjoy some traditional Czech food. I'd recommend the goulash soup served in a bread bowl.
3pm: After lunch is a good time to walk around Mala Strana. There are lots of government buildings around, including most of the international embassies, so it's a really interesting neighborhood. Additionally, there are a ton of cool sights to see - including the Lenin Wall (a great photo opp) and the giant David Cerny babies, both of which can be found on Kampa island right off the Charles Bridge. And don't forget to try a trdelnik - a chimney stack of fried dough, one of the most popular Czech street foods.
4pm: In most European cities, I would say that 4pm is a good time for a coffee break - but not in Prague! Instead, head to one of the city's famous beer gardens. My favorite is the one in Letna park, which is conveniently located just a short tram ride from Mala Strana. Letna has the best city views - and Kingswood Cider (the Czech hard cider) on tap. The most famous Czech beer is Pilsner Urquell, so make sure you have one of those too! Another great beer garden to check out is the one in Vyshehrad, the other big castle in Prague.
6pm - 8pm: It's time for dinner! One of my favorite things about Prague is that it has great restaurants. Head over to Lokal if you're craving more Czech cuisine, but definitely make a reservation before you go. If you're looking for something different there are tons of great options: Cantina for Mexican, Kitchen the Address for ramen, and SaSaZu for some Asian fusion (make a reservation at all of these places, too!)
8pm and later: It's time to explore Prague's nightlife! If you're interested in the club scene, there's lots of cool places to check out - if you only have one night, try Chapeau Rouge, which has 3 levels, each with different music and different atmospheres. Clubs don't get crowded until pretty later in the evening, so hang at one of Prague's bars beforehand. Try U Sudu, it's pretty centrally located and its cave-like rooms and windy stone hallways really create a good atmosphere. As far as what to wear, Czech bars are pretty diverse, so wear whatever makes you feel comfortable. I wouldn't recommend high heels though - walking can get pretty tricky on the cobblestone streets!