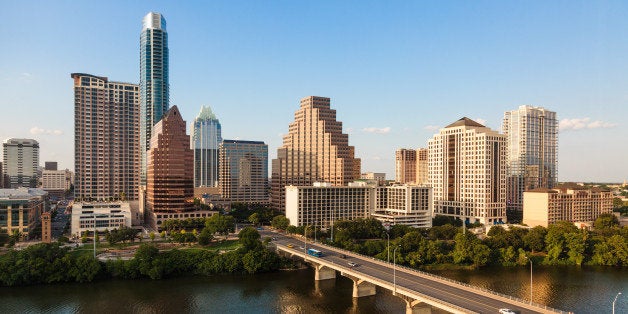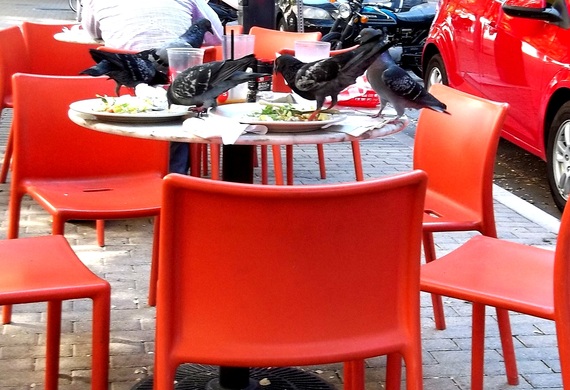 Having just about 12 hours to spare between two connecting flights (can you believe it? mystery of cheapo travels!), we decided to visit the hip town of Austin. Consecrated as the music capital of the country -- yes, before Nashville -- I must say that during the day, not much music was heard in the streets, besides from a couple of bars on 6th street. But musicians are known nocturnals, so we will have to miss that, as our 12-hour window is just the day long.
We started at the bottom of downtown, where the river marks the beginning of that area. Not very many terraces along the water, I was a little disappointed. It seems strange to me that so few cities actually develop a walking waterfront with many shops and restaurants overlooking the water. It's a very Australian thing -- but I guess the rivers here are too unpredictable to be safely allowing businesses to install outdoor areas, although they could always raise them -- but I am no architect.
After visiting the obligatory Whole Foods Market, born here in Austin, having been created in 1980 by John Mackey. The legend has it that he borrowed money from his family to open a small natural foods store where he was also living, showering with a water hose attached to a dishwasher.
We then walked (that is all we did all day) to a nice little café (Jo's Coffee on Second street) with outside seating. Plenty of dogs and water bowls were a proof that Austin is pet-friendly and many hipsters have dogs of all sizes. The joint serves griddled sandwiches, not just toasted, but with big black stripes on them, a delight. I ate fried avocado for the first time, divine. Their hibiscus red ice tea is a real treat too, no sugar.
The pigeons around were frightening, landing on the tables to try to steal your food, as you sit there, they are so daring! And when customers leave the table, the rush hour of birds is an insane thing to see; the voracious pigeons steal the leftovers in an instant. I am used to Parisian pigeons, but those are fierce, they're from Texas!
Then we hiked to the Texas State Capitol building, a grand edifice shaped as the rounded ones like those in every other state, but this one is of pinkish-ochre color. The inside rotunda has a whispering gallery spot in its center, at the hemispherical enclosure right under the center of the dome, where a whisper is supposed to be heard loud and clear in other parts of the gallery.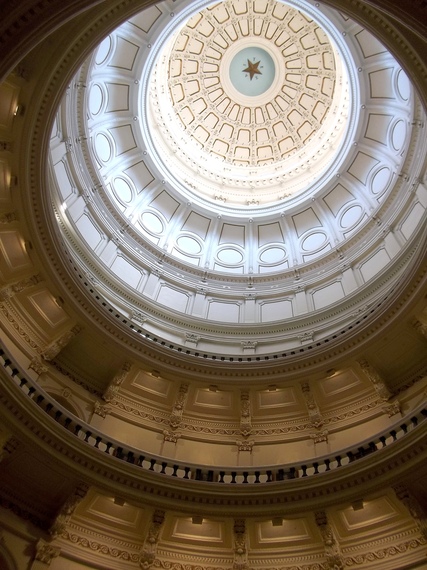 We tried, but all we got were nice pictures, our whispers did not get transmitted, maybe because of my French accent! Many people tried, some claimed they heard the echoes. Everybody was setting their smart phones under the dome to get a picture of it, see mine here.
Then we crossed over to exit on the other side of the tall building to walk another four blocks to the Blanton Museum. A magnificent blue ombré wall and stairs welcome you inside, a very spectacular effect, somewhat similar to the grand entrance of a blue aquarium.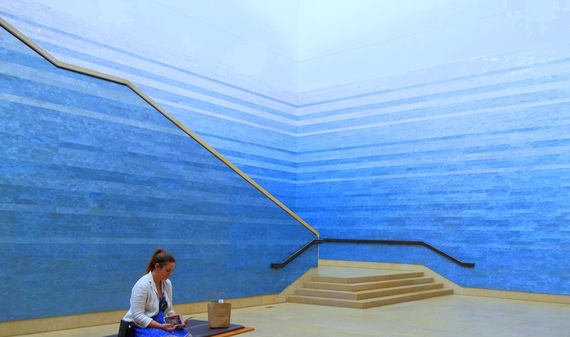 The exhibits on show now include Moderno: Design for Living in Brazil, Mexico, and Venezuela, 1940-1978 (till Jan. 17, 2016). Mostly furniture of a certain style, sometimes very kitschy, showing how to live in warm countries.
Another exhibit was Natalie Frank: The Brothers Grimm (till Nov. 15). Some 30 gouache and pastel drawings by Frank, a New York-based Austin native. A personal representation of the 19th-century fairy tales of Jacob and Wilhelm Grimm -- such as Cinderella, Snow White, The Lettuce Donkey and The Ungrateful Son.
Buses on Congress Avenue do not ever show up, so we walked down back to where we had left our car, a downtown garage on Lavaca and Willie Nelson street (!) where the stamping machine was broken so we ended up not paying for parking at all! Not bad in a city famous for its high rates.
The traffic is notoriously hell in Austin, and even thought we left after rush hour, we still had to sit idle many-a-time on the expressway back to the airport. My recommendation: do not rent a car, take a shuttle to the center of town and walk, or even rent a bike. The city is part of the Hill Country and small hills and elevations are everywhere, making its streets sometimes steep and probably hard on a bike.
This also makes for marvelous views of tree tops and undulating river bends. The phenomenal amount of construction cranes you see everywhere in the center of the city is a testament to the growing pains Austin is still going though, even if they run out of land space, it seems that they are determined to grow upwards. The very modern skyscrapers cityscape is gorgeous as you leave the city behind at dusk.
We had a good time and a nice day. We shall return at night for certain, we missed the nocturnal ambiance and the music everywhere in the streets. We also did not see the city's 1.5 million Mexican Free-Tailed Bats that live and fly out from underneath the Congress Bridge at dusk. Darn! It would have been a perfect Halloween wink!