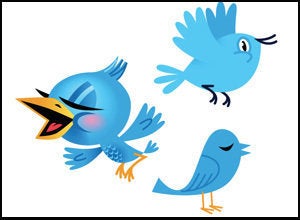 Since $#*! My Dad Says was such a ratings success, I heard you're looking to do lots of big deal memos and turn more stuff from the Internet into hit TV shows.
Well, here are 12 ideas for ratings juggernauts that will jack your viewership so hard that the Nielsens' heads will explode. I'm ready to do these deals right now, so call me. And you're welcome.
1. Wacky Stuff I Just Made Up About a Fictional Person on Twitter -- A hilarious buddy sitcom about a Regular Dude who has to go live inside of the Internet with his made-up imaginary friend, who says all this really salty-yet-wise stuff, but only on Twitter. There's also a cartoonishly gay character (maybe Perez Hilton?), just for extra laughs.
2. America's Next Top Social Media Guru -- A group of jerks who aspire towards the arbitrary title of being "Top" something compete in a series of ridiculous and contrived challenges that test their skill in seeming competent and successful despite having no actual skills. Each show there is a SuperJargon Pitch Challenge, after which one contestant is eliminated by a panel of self-proclaimed expert judges who, impossibly, have even more hubris about themselves than the competitors. Only potential drawback: Bravo is probably doing this already.
3. To Catch A Chatrouletter -- Basically Chris Hansen just sets up on Chatroulette and starts somberly shaming people for playing with their wiener on Internet webcams.
4. Blog Men -- A gritty period piece looking back at New York City circa 2006, when mysterious and inscrutable creative visionary (and insatiable womanizer) Ned Denton is just starting out in his mission to build a scrappy startup blog called Gawker into the powerful media empire we know it as today.
5. Crunched By A Super-Angel -- After being ousted from AOL for trying to bite off CEO Tim Armstrong's ear in an "unproductive" meeting, suddenly jobless blog impresario Mike Arrington finally meets a beautiful and intelligent woman who might be just the escape from the tech world he was looking for. But things take a turn for the weird when he finds out that she also happens to be part of a secret cabal of "Super-Angel" investors hell-bent on ruling Silicon Valley. And she also happens to be a real angel, from heaven. Will they work out their differences, or will she "crunch"... his heart?
6. Double Reading Rainbow -- PBS show in which kids try to teach a forest-dwelling hippie acid casualty how to read, but he keeps breaking down and crying over each endorsement deal he signs to do his "What Does It Mean!?" catchphrase for new "viral marketing" ad campaigns.
7. Glee Gets Auto-Tuned! -- Basically, it's just Glee. But auto-tuned! Because everything is automatically hilarious and viral when it's auto-tuned!
8. How To Make Internet In America -- A perfectly multi-ethnic group of friends has to hustle the mean streets of Silicon Valley to get their luxury designer jeans group-buying startup off the ground before their Puerto Rican ex-con angel investor roughs them up or turns them into permanent energy drink sales reps (could also be called Groupontourage).
9. Stratervention -- Harrowing docu-drama portraits of businesses and brands whose lack of a cohesive social media strategy has downward-spiraled them into oblivion, where they suffer in hits-less misery, with a complete lack of self awareness, until Alex Blagg gives them a miraculous, game-changing opportunity to jack their strat... and maybe save their lives.
10. Hollywood Foursquares -- A game show in which host Ashton Kutcher basically just jokes around with his celeb pals about what they're up to, and two contestants try to guess where they ate/partied at the night before in order to win meaningless "badges". Lots of shouting.
11. Mac 'n Tosh.2 -- Comedy Central's weekly round-up of web goodness is already a total ratings juggernaut, so let's create a "spin-off show" by having Apple sponsor the whole thing, giving Daniel a talking computer sidekick named "Mac", slapping another digit on it, calling it "different", and scheduling it to directly follow Tosh.0. Pretty sick product-integrated brand-expansion strat!
12. Commenters -- Reality show in the style of Hoarders, but looking at the garbage-filled sadness-houses of people who spend all day obsessively leaving barely-literate comments on YouTube videos and blogs, in which they express foolish outrage about things they read on the Internet.
Calling all HuffPost superfans!
Sign up for membership to become a founding member and help shape HuffPost's next chapter