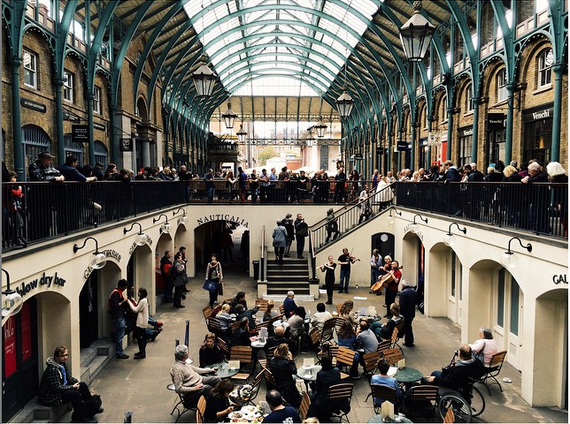 By College Tourist; Author: Amanda Tempesta, Hofstra University
A guide for market lovers in London and how to find them.
Whether you're looking for a stroll through fresh air down a line of shops, or searching for a trendy bar or restaurant to rest your feet, Camden has a spot for you. Vendors have their own unique flare which make this market one of the most diverse in London. This market features an abundance of jewellery, vintage shops, food stands, handmade vendors, and just about anything else you can think of.
Daily 10am-6pm
Unit 215 - 216,
Chalk Farm Road, NW1 8AB
Closest tube station: Camden Town
020 7485 7963
camdenlockmarket.com
This world famous market curves through the heart of Notting Hill, and won't disappoint. Within this trendy spot are two miles worth of antiques, jewellery, second hand clothing, and more. It's a popular destination for Londoners and tourists alike.
Sat 8am-6:30
partially open Mon-Fri,
Thursday 8am-1pm
Portobello Road, W10 5TA
Closest tube station: Ladbrooke Grove
020 7727 7684
portobelloroad.co.uk
An indoor market with a diverse collection of antiques to hunt through. With two levels of antique dealers it won't be hard to find a hidden treasure of your liking...but it might take a while.
Mon-Fri 10am-6pm,
Sat 11am-5pm
58 Davies St, W1K 5AB
Closest tube station: Bond Street
020 7629 7034
graysantiques.com
The Apple Market, the East Colonnade Market and the Jubilee Market are located in Covent Garden. Monday's are dedicated to antiques, and any other day of the week you can find an array of arts and crafts, household goods, jewelry, leather goods and more.
Daily- 9:30am-6pm
Closest tube station: Covent Garden
coventgardenlondonuk.com
This south London market dates back to the 1960's when it was an organisation for street traders. Since the 1990s it has evolved into an official street market supplying exotic food, lively vibes, cut-price music and clothes.
8am-6pm
Electric Ave, SW9 8JX
Closest tube station: Brixton
brixtonmarket.net
It's easy to walk past this treasure, but if you're in search of quality antiques it's worth stopping by. For over half a century Camden Passage has attracted collectors from all over the world. A variety of boutiques and thrift shops have opened in recent years and add to the retro feel in a modern society. The vendors have a true passion for collecting interesting items. Don't be afraid to ask about the story behind their pieces, they can be richer than their value.
Wednesday & Saturday
N1 8EA
Closest tube station: Angel Station
camdenpassageislington.co.uk
Looking for a Sunday adventure? Brick Lane is your answer. The streets are bustling with artistic personalities in search of second- hand clothing, furniture, and the occasional street performer. You can end the day in an authentic Jewish bagel shop, Bangladeshi curry house, or any other ethnic restaurant you stumble across. Perhaps the best part of exploring Brick Lane is that you never know what you're going to find.
Sundays 8am-3pm B134
Closest tube station: Liverpool Street
020 7770 6028
bricklanemarket.com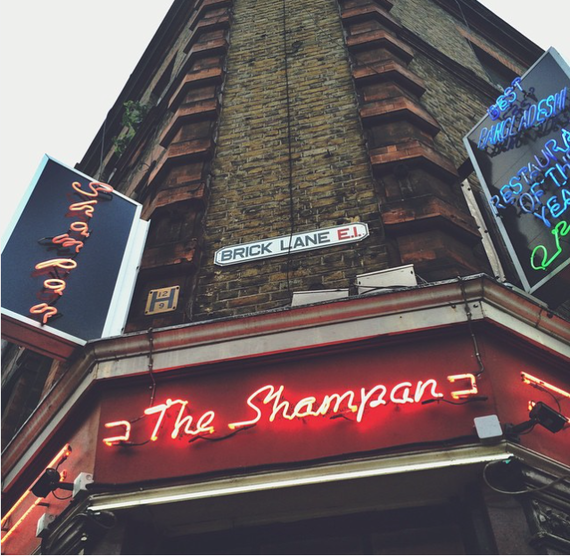 The perfect destination for shopping. Sun-Wed are the general, but impressive Market stalls from all over South East London, Thursdays are for vintage item seekers, Friday is where the fashionistas and art enthusiasts come out to explore, and Saturdays are for playfully themed market days. Oh and any day of the week you can get the best falafel sandwich you'll ever eat.
Mon- Wed 10am-5pm Thurs 9am-5pm
Fri 10am-4pm
Sat 11am-5pm
Sun 9am-5pm
16 Horner Square, Spitalfields, E1 6EW
Closest tube station: Liverpool Street
020 7375 2963
oldspitalfieldsmarket.com
Looking for something to do on a rainy Sunday? Look no further than UpMarket. This indoor market is home to more than 140 vendors, selling items from, clothes, accessories, music, household items, food, baked goods, and more!
Sun 10am-5pm
The Old Truman Brewery
91 Brick Lane, E1 6QL
Closest tube station: Liverpool Street
sundayupmarket.co.uk
Hundreds of stalls selling cut-price clothing for the men, women, and children. Stocked with pieces in every style; including last years must haves, club wear, and designer brands. Asian enriched fabrics and leather are the pot of gold at the Aldgate east end.
Mon-Fri 10-2:30,
Sat closed,
Sun 9am-2pm
Middlesex St, E1 7JF
Closest tube station: Liverpool Street
020 7364 1717
A early riser's market. Originally the ideal destination for delicate china and silver, but now also features furniture and glassware. The market wouldn't be complete without it's 200 stalls vending food, clothing, and crafts. The early bird catches the best antiques, so rise and shine.
Fri 6am-2pm
Bermondsey Square, Southwark, SE13
Closest tube station: Camden Town
bermondseysquare.co.uk/bermondsey-antiques-market
Most known for its gourmet food, Borough market brings a special personality to eating, buying, and trading produce. There's an option for every pallet... even the picky eaters.
Mon-Wed 10am-3pm,
Thurs 11am-5pm,
Fri 12am-6pm,
Sat 8am-5pm
8 Southwark St, SE1 1TL
Closest tube station: Camden Town
020 7407 1002
boroughmarket.org.uk