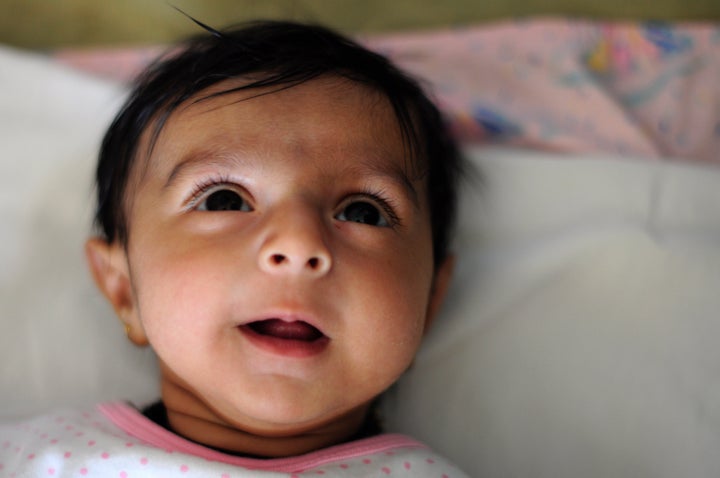 I never cease to be intrigued by the fact that not only do names go in and out of style, but letters do too. Especially vowels, and especially vowels at the start of names.
We've had a long period of names, particularly for girls, beginning with the letter A, which was followed by E-names for both girls and boys, and lately parents have been showing their love for names started with O.
But the letter I has had a pretty paltry presence on the Social Security Administration's list of popular names. There are only 16 I-initialed girls names out of the 1000 total, and of those, four are Isabel-related, with just Iris, Ivy and Isla in the Top 150, and then Ingrid and Iliana just hanging on in the Top 900s.
But there are still a number of other 'I' candidates there for the taking for those avoiding popular examples. Here are some recommended off-list possibilities:
Ianthe
This lovely Greek mythological name of a daughter of Oceanus means purple flower or violet (so called because she was so beautiful that after she died, the gods made purple flowers grow around her grave). Ianthe would make a distinctive alternative to that flourishing flower name. Romantic poet Percy Bysshe Shelley chose it for his daughter, as did writer Richard Brautigan. Nameberry users have placed her at No. 589. Iolanthe has the same meaning and is familiar via the eponymous Gilbert & Sullivan comic operetta and is a character in the X-Men universe.
Ida
With all the love for Ava, Ada, Eva and Isla, you might have thought the vintage Ida would be a likely candidate for admission into that group, but not so far. This wasn't always the case. Ida was the seventh most popular girl in the U.S. in the 1880s and would inspire songs like 'Ida, Sweet as Apple Cider', staying on the list till 1986, and is still No. 9 in Denmark, 10 in Norway and 61 in Sweden. Could she make a comeback here?
Imogen
A Nameberry fave (No. 21) and Top 40 in England and Australia, Imogen has not succeeded in finding national success in the US. Despite the fact that it has so much going for it — Shakespearean cred (via a charming character in Cymbeline), a great artistic namesake (photographer Imogen Cunningham), book and TV appearances ("Artemis Fowl," "Pretty Little Liars") and a cute nickname (Immy). It's only a matter of time.
Indigo
Indigo is my favorite of the blue names—even though I do have a nephew called Cerulean. This rich purplish-blue dye from plants native to India is completely gender neutral, an equally arresting choice for both girls and boys, emphasized by its o-ending. Actor Lou Diamond Phillips named his daughter Indigo Samara in 2007.
Ines/z
This multi-cultural variation of Agnes has an exotic charm in both its spelling and it's achieved new notice via Inez being the choice of media stars Blake Lively and Ryan Reynolds for their second daughter ― a far cry from their first girl's name James. Inez hit the Top 100 mark in the early years of the 20th century, falling off the list in 1976; she's now 570 on Nameberry, while Ines is 124. Which do you prefer?
Io
Would you be short-changing your daughter by giving her a name with only two letters? Not at all if it were as richly resonant as this one. She has an interesting story in Greek mythology. Io is also one of the moons of Jupiter and the possible namesake of the Ionian Sea. It stands out as being the rare two-letter name with two-syllables and, unlike Jo and Bo, Vi and Ty and Si, isn't a nickname. And there were only seven girls with the name born in 2018.
Ione
Another violet-hued name, this was the name of one of the 50 sea nymphs ― Nereids ― in ancient Greek myth and has been used in the English-speaking world since the 19th century. It's become familiar via actress Ione Skye, daughter of 60s folksinger Donovan. It's another substantive alternative to Violet.
Ireland
Were Kim Basinger and Alec Baldwin the first to use this place name for a baby in 1995? Probably not, but the name is very much associated with their now grown model daughter. Ireland appeared in the lower limits of the popularity list sporadically from 1998 to 2015 and still stands as an untouristed place name.
Isobel
Yes, there are four versions of this name on the list, including Isabella at No. 4, but this somewhat more buttoned-up Scottish version (it's that 'o' replacing the 'a'), although it's pronounced the same as Isabel, has an image and charm all its own. Think Isobel Crawley in "Downton Abby" and Isobel Flemming in The Vampire Diaries. Isobel is No. 136 in England and 313 on Nameberry.
Isadora
The much-neglected Isadora is well-worth considering as an alternative to Isabella. Assets include the namesake of iconic modern dancer Isadora Duncan, the liberated Isadora Wing character in Fear of Flying, the daughter of Bjork ― and of course the nickname Izzy she could share with all those Isabel/Isabellas
Ismay
If you can't decide between one of those Is-names and the springtime name of May, here is your perfect smoosh-like solution. It's been a favorite of modern fiction writers from Robertson Davies to Ken Follett to Ruth Rendell and is an unusual name that would be easy for any girl to handle.
Isolde
A name associated with the popular medieval Arthurian legend of an Irish princess and her love for the knight Tristan ― which did not have a happy ending. The story was told in Richard Wagner's 1865 opera Tristan und Isolde. Variants include the old French form Iseult, and the Italian Isotta. The romantic Isolde has had some mid-list popularity in the Netherlands since 2008.