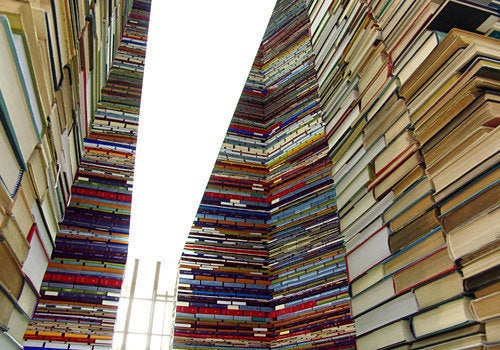 When my friend, the illustrious blogger Book Club Girl, asked me to come up with a reading list for a year's worth of book club reads, I thought, "Oh easy. I just wrote Don't Know Much About Literature with my daughter Jenny Davis. I can come up with twelve great books."
But then I started to think about the question and it became daunting. Should they be Great Books? Must reads? My favorites? I'm a historian-should it be a whole list of historical fiction? What if they hate everything I suggest?
In a panic, with the choices threatening to overwhelm me, I hit on some ground rules.
I had to love the books. And, I didn't want them all to be historical fiction. But as a historian, I thought that some of them should have a little historical flavor. I also tried to avoid the obvious, so I wouldn't recommend anything that too many people have already read. And I wanted to keep them on the shorter side: all but two are under 300 pages. No War and Peace here.
Then I thought it would be fun to connect them to the calendar. So here are my twelve: Each book celebrates the birth month of an author, a holiday or some other event connected to that month. Like most such lists, this one is very arbitrary. These are all among my favorite authors and books, with a mix of classic and contemporary. So, Book Club Girl, here goes--
Click here to visit the Book Club Girl site.
January
The Age of Innocence by Edith Wharton (born January 24, 1862). When I was in school, Edith Wharton was not in vogue. That has changed. The Age of Innocence is as timely today as in 1920 when it first appeared and won the 1921 Pulitzer Prize, the first won by a woman. Juicy buzz: I don't watch Gossip Girl, but its creator reportedly modeled that series on Wharton's novel of turn of the century New York society.
February
A Portrait of the Artist as a Young Man by James Joyce (born February 2, 1882). Joyce's semi-autobiographical novel is simply the most influential book I ever read. (Alternate: Dubliners, a collection of short stories including the great novella "The Dead.")
March
Alice Walker's The Color Purple, in honor of International Women's Day (March 8). The 1983 Pulitzer and National Book Award winner is the story of a woman in the 1930s Deep South, told through her letters and diary entries. One of the best books I have read in the last 30 years.
April
The Natural by Bernard Malamud (born April 26, 1914). April might be the cruelest month, as T.S. Eliot said. But it also means baseball season and Book Club Girl's World Champion Yankees take the field. So it's only natural to read one of the best novels set in the world of baseball. (Alternate: Malamud's The Fixer)
May
The Remains of the Day by Kazuo Ishiguro. This is my birthday month, so as a present to myself, I will pick one of my favorite books that has nothing to do with May. Turned into a memorable Merchant-Ivory film, it is the story of a proper butler in a British aristocratic household in the years leading up to World War II. A contemporary masterpiece.
June
The Killer Angels by Michael Shaara. May closes with Memorial Day, a holiday inspired by the Civil War, and the battle of Gettysburg was fought over the first three days in July. That makes June a good month to read this Pulitzer-winning novelistic retelling of the events at Gettysburg in 1863.
August
Midnight's Children by Salman Rushdie. No brief description does justice to a sweeping allegorical novel that commences with the births of some highly unusual children at the moment India gains its independence on August 15, 1947. One of the great books of our times, I had the privilege of reviewing it for Publishers Weekly as young, aspiring writer.
September
Ken Kesey (born September 17, 1935). A tossup here between One Flew Over the Cuckoo's Nest or Sometimes a Great Notion. Go with Cuckoo's Nest if you haven't read it or only seen the movie.
October
The Lone Ranger and Tonto Fistfight in Heaven by Sherman Alexie (born October 7, 1966). Born and raised on the Spokane Indian Reservation, Alexie is a highly praised poet, novelist and filmmaker. This is a collection of his stories. (Alternate: Reservation Blues).
November
Blindness by José Saramago (born November 16, 1922) Saramago is Portuguese and won the Nobel prize in 1998. This is his most famous book - the story of a city in which suddenly and without explanation, people go blind. It is dazzling. (If you have time, add this short story by Irwin Shaw: "The Girls in Their Summer Dresses," a perfect story set in New York on a November day.)
December
Very torn here. Willa Cather was born this month. How about O, Pioneers!? But there's no Dickens. There should be Dickens. And I left off Of Human Bondage. But in honor of Christmas, I suggest reading y favorite holiday story, Truman Capote's A Christmas Memory. And since that is so short, you can also read Capote's Other Voices, Other Rooms.

What else did I leave out? No Updike, Steinbeck, Flannery O'Connor, Faulkner, Dos Passos. Oh well, wait until next year.
Calling all HuffPost superfans!
Sign up for membership to become a founding member and help shape HuffPost's next chapter