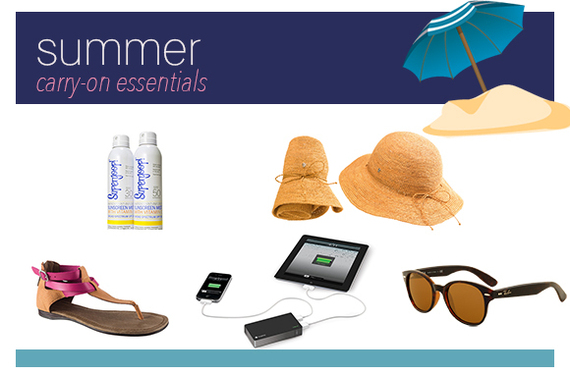 (Photo: SmarterTravel)
Savvy travelers know how to pack a week's worth of wardrobe changes into one carry-on year-round, but even the most packing-challenged among us can do it like a pro when summer rolls around. See ya later, bulky sweaters and jeans, make room for gauzy tops and easy dresses. Summertime shoes and sandals are light, so you can always get away with bringing an extra pair. The key is zeroing in on pieces that work together and in different ways. We've packed a carry-on full of ideas that will take you from the beach to the museum to dinner, with enough room left over for a few little luxuries.

Keep on Top of It
Whether you're stretched out at the beach or beating the big-city pavement, a physical shield between you and the sun not only keeps you cool and shaded, it's an absolutely necessary barrier that prevents sun damage. (And, we admit, hats really come in handy on those less-than-perfect hair days.) We love the rollable, packable, crocheted raffia Helen Kaminski Caicos Hat ($195), with its rounded crown that offers SPF 50-plus protection and a casual, angled brim. It comes in several colors and has a detachable lightweight cotton lining in the crown, a sateen elastic inner band for a secure fit, and hand-rolled raffia string for adjusting the size.
If you're looking for a piece to pull double duty day in and day out, a cotton tunic is as versatile as it gets. It can go from poolside, where you can throw it over a bikini as a cover-up, to a casual dinner, where you can wear it with leggings. If yours is a little longer, pair it with sandals or flats for an easy dress. One of our favorite looks is a tunic worn over wide-legged pants for a casual-but-polished outfit. We're crazy about this Moroccan Dreams Tunic ($118), with its bold colorful accents, twisted ties, and sequined medallions for a little extra kick.
Who knew anything this simple could be so indispensable? Whether called a pareo, sarong, or shawl, this large oblong stretch of cotton is the do-all workhorse in your luggage. On the plane, you can wrap it around your neck for warmth. Once you land, it hits the ground running, too. It's a quick cover-up over a swimsuit--just wrap it around and tie or tuck it in the front. Wear it as a shawl in the evenings. We even use ours to sit on for impromptu picnics and, in a pinch, as a towel. Best of all, you can simply wash it out and hang it up and it will be dry in a matter of minutes. We like the crisp white Shadow Fish Cotton Shawl ($62.99) because it goes with so many different items in our bag.
Espadrilles are a summertime classic, evoking sailboats, tanned legs, and Greek islands. We particularly like the way Sesto Meucci has gussied up the traditional kicks with his Jose Metallic Espadrille Wedges ($95), by adding a 1.75-inch heel and stretchy silver metallic fabric where the utilitarian canvas cloth used to be. The relatively modest heel height makes it sporty enough for day (with pants and casual dresses), and the metallic glint lends some pop to nighttime dressing.
Do you know anyone who has only one pair of sunglasses? We don't either. But if we had to choose just one to put in our bag, it might very well be these Ray-Ban Cat-Eye Sunglasses ($145). These sturdy but stylish glasses have a more sophisticated look than the brand's classic Wayfarer style, making them a strong choice for casual and dressy occasions. And unlike some trendier styles, these are flattering to most face shapes. And let's not to forget how these soft-brown-colored lenses will make your eyes go "ahhhhh" with relief the second you slip them on.
We're going to assume that wherever you're headed, you're probably going to take a sundress with you. And since you can easily roll a sundress up into the size of a deluxe burrito, it leaves room for a dress that's classy enough to take you from day to night. This Capuchina Dress ($138) by Vanessa Virginia flatters almost every figure, with a V-neck that's not too plunging, sexy straps that cross in the back, a sash that self-ties at the waist, and draping fabric that hides almost all bumps and bellies. It comes in both tried-and-true black and a gorgeously rich blue print. For daytime, add some cute flats and simple earrings, and step it up for night with metallic sandals and bold jewelry.
The best thing about buying travel-sized toiletries is that it allows you to test products before going "all in" and paying for the full size. One to try is Arcona's Basic Five Travel Kit ($87), part of a skin-care regimen that promotes fresher, glowing skin. Golden Grommage scrub and White Tea Purifying Cleanser are particularly popular, and the kit also includes Magic White Ice moisturizer, Gentle Solution nighttime treatment, and Desert Mist for hydration. Need a lift after a long flight? Klorane's Dry Shampoo with Oat Milk ($9) has been a bestseller for more than 40 years: A few well-placed sprays of this all-botanical formulation will lift out oil and restore volume to your jet-lagged locks. And we always throw in a few sticks of Burt's Bees Replenishing Lip Balm with Pomegranate Oil ($3.30) to add moisture and just a touch of color to lips. Last but not least, make sure you bring along a good sunscreen, such as Supergoop's SPF 50 Antioxidant-Infused Sunscreen Mist with Vitamin C ($13 for three ounces).
Where the Leather Hits the Road

When we travel, we want sandals that not only look great but are as pleasing to our toes as they are to our eyes. Flats, wedges, chunky heels--choose the style that works best for you, but whatever you do, wear them a few times to make sure the pair you take isn't going to chafe or give you hot spots after a full day of sightseeing. (Providing the fit is right, we like a sandal with a toe thong because it helps keep the foot from sliding in the footbed, which can cause blisters.) These Burnberry Zip Sandals ($114.95) from Emu Australia fit our sandal criteria to a T: seriously stylish, with textured nappa leather contrasted by oiled-leather straps. As for road testing, we put literally dozens of miles on these, and they only got softer and more comfortable with time--so we bought another pair.
Skinny jeans are a staple of most closets, but they're not always the best choice for travel, especially if you'll be hand-washing your garments in your resort or hotel room. That's why we opt for a pair or two of wide-legged cotton or washable linen pants. And of course, they're as easy to wear as they are to care for--they look equally smart with silky camis or boho blouses or tunics. Michael Stars makes his Solid Linen Drawstring Pants ($128) in a heap of colors, so consider buying one pair in a neutral shade and one in a fun, bright hue.
Just because you're traveling light doesn't mean you can't travel pretty. Statement necklaces and chandelier earrings are good for a bit of drama but can feel a little heavy when the weather heats up. Oakland-based Philippa Roberts crafts just the kind of jewelry we want to wear all summer long, especially from her Fig Collection. The green amethyst on a gold vermeil chain ($156) casts a lovely light-green or light-blue reflection, depending on the light, and the gold vermeil drop earrings ($110) complement it perfectly. The watery-blue chalcedony and silver earrings bring a little bit of the beach with us wherever we are.
If there's one thing more frustrating than helplessly watching your smartphone or tablet bleed its charge before your very eyes, it's the mad search for the nearest place to plug it in. That's why we never leave home without the Mophie Powerstation Duo ($99.95). With two USB ports, it can simultaneously and fully recharge both a smartphone and a tablet (or any other device with a USB charger) in an hour or less--while you're on the go. Trust us: At under 12 ounces and just slightly larger than a deck of cards, this sleek little beauty has proven to be a lifesaver many times over.
There are times when you just don't want to--or can't--put your headphones on. The UE Mini Boom Bluetooth speaker ($99.99) is one of our favorite travel luxuries, and at a mere 10.6 ounces, there's no reason not to pack it. A tough rubberized shell protects the speaker, which comes in several fun colors (we're partial to the cheerful green), and the up/down volume controls are big and easy to adjust. We use it to listen to live radio or podcasts (using the Stitcher app on our smartphone or tablet) while getting ready for the day, or we set it to an iTunes playlist while poolside with friends.
Related